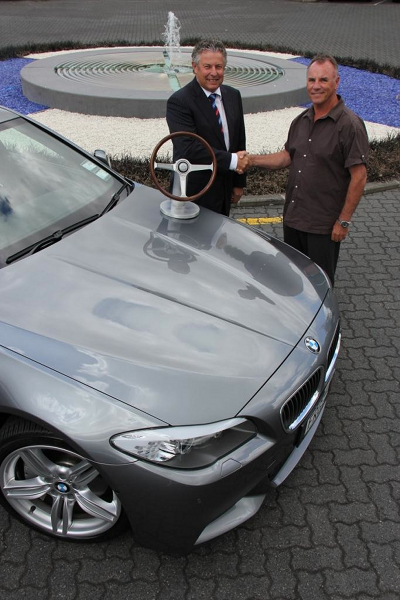 The BMW 5-series has become the first car in the history of the New Zealand Motoring Writers' Guild Car of the Year Award to lift the top prize three times by taking victory yet again.
Presenting the Peter Greenslade Trophy – named after the late motoring editor of The Press in Christchurch, who was one of the instigators of the Car of the Year award – to BMW NZ's managing director, Mark Gilbert, Guild President John Oxley said "It has often been noted that the 5-series' balance between the needs of passengers and its driver is particularly appreciated in New Zealand, because this country lacks the extensive high-speed motorway networks on which larger luxury cars such as the 7-series excel."
Gilbert also made comment on the 5-series' unique appeal to New Zealand conditions and noted how he felt a "kind of ownership" towards the Guild award, as the inaugural award – and the first of the 5-series' three wins – was presented to him in his first year with BMW in 1988 for the E34 5-series.
The next-generation E39 5-series would again win the award upon its launch in 1996 and while that car's successor, the E60, would miss out, the new F10 has reclaimed its crown.
In accepting the award, Gilbert jokingly put the E60's failure to carry on an unbroken run of wins for the 5-series down to the fact that he was working for BMW in Thailand at the time of its launch…
The New Zealand Motoring Writers' Guild Car of the Year award is the latest in a line of awards bestowed on the BMW 5 Series, having already taken out the National Business Review Supreme Overall award winner for automotive excellence and Autocar Magazine Luxury Car of the Year title.
It was also winner of the Safest Car at the AA Motoring Excellence Awards and the 520d won the large car class in the AA EnergyWise Rally, when it returned a consumption figure of only 5.1 litres per 100km.
The 5-series was one of 10 finalists for this New Zealand Car of the Year award, which is open to new models launched in New Zealand during the 12 months prior to 1 November 2010. The others, in alphabetical order, were the Audi A5, Hyundai ix35, Jaguar XJ, Kia Sportage, Peugeot 3008, Peugeot RCZ, Porsche Cayenne, Skoda Yeti and Suzuki Kizashi.
Recent past winners of the title, which is now in its 23rd year, have been the Ford Fiesta (2009), Ford Falcon (2008), Mazda 2 (2007) and Porsche Cayman (2006).
Because all members of the New Zealand Motoring Writers' Guild are eligible to vote for the award, it embodies the opinions of experts from across New Zealand, representing major daily and weekly newspapers, several automotive websites, the main car and lifestyle magazines and a number of radio and television outlets.