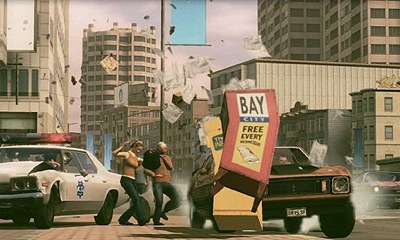 While it has its faults, Driver: San Francisco is a triumphant return to form for the once-great Driver series, following the awfulness that was the clunky DRIV3R on PS2 and Xbox.
It dumps all the Grand Theft Auto-inspired on-foot missions and shooting and returns to the essence of what made the original Driver games great – lots of free-roaming, tyre-smoking carnage in a completely open-world environment.
You still retain the ability to swap cars though, through an innovative "shift" function that allows your character – undercover cop John Tanner – to jump into other driver's bodies and control their cars. This is explained in the story via a clumsy Life On Mars style he-had-an-accident-and-is-dreaming-it-all-in-a-coma plot. The story is nonsense, but the action the plot device allows is fantastic.
The handling is strongly on the arcade side of things, with lurid drifts and lots of tyre smoke the nature of the beast in Driver: San Francisco, but this all just adds to the sense of fun in the game.
Although it is set in the present day (with fully-licensed, photo-realistic cars) Driver: San Francisco still carries a strong '70s vibe, thanks to the music selection and large selection of classic (and not-so-classic) cars from the era.
Downsides? The missions do tend to get a bit repetitive, the voice acting is only barely above terrible and the controls are locked into and annoying Xbox 360-style layout that forces you to use the PS3 controller's shoulder triggers to accelerate and brake, which is a hand-cramp-inducing nightmare for anyone (like me…) with larger hands…
But the big upside – one that makes up for any and all of those annoyances – is the inclusion of subtle (and not so subtle) nods to classic movie and TV cars and car chases. Of the many cars available in the game you can drive a 1981 De Lorean DMC12 (Back to the Future), a 1974 Ford Gran Torino (Starsky and Hutch), a 1970 Dodge Challenger R/T (Vanishing Point), a 1968 Mustang Fastback (Bullit), a 1969 Dodge Charger (Bullit and The Dukes of Hazzard), a 1974 Dodge Monaco (The Blues Brothers), a 1971 Pontiac Le Mans (The French Connection), a 1964 Aston Martin DB5 (numerous James Bond films), a 1977 Pontiac Trans Am (Smokey and the Bandit) and a 1973 Ford Mustang Mach 1 (the original Gone in 60 Seconds).
Even better, you can collect "movie tokens" that are scattered around the city that will open up special missions allowing you to take part in a number of classic movie and TV chases from the likes of The French Connection, Bullit, The Dukes of Hazzard and The Blues Brothers in a step that moves ever-closer to my ultimate dream of a Blues Brothers game… Oh yes…
Rated: PG
Reviewed on: PS3
Also available on: Xbox 360, Nintendo Wii, PC
Rating: 4/5 Tyre-frying fun!