The Skoda Superb has always been car that – to use an over-used cliche – has earned its name. And when you think about it, it really does take some balls to call your car "superb" no matter how old a nameplate it actually is. I mean, you are really not making life easy for yourself…
While the last Superb was an excellent car, it was a bit, well, shall we say "awkward looking", with slightly uncomfortable proportions that were a side effect of its massive interior space and staggering practicality.
Well, now there is a new one and it looks superb. Fantastically proportioned and sexy, the new Superb surely must sacrifice some of that massive space and practicality to achieve the sexy looks, right? Wrong.
We headed to the local launch to find out.
What is it?
Skoda have taken to screwing around with segments somewhat over the last few decades by producing the largest cars in any particular segment. Anyone else would simply say they are in the next segment up, but then the prices would suggest otherwise, so who really knows?
To that end, while everyone else – and logic itself – would take the Superb to be a large car, Skoda say it is a medium car. With large car space.
But given that the large segment is vanishing rapidly and the medium segment isn't doing much better, it really makes no difference anyway.
Instead, let us just say this; the Skoda Superb is a thoroughly excellent car, regardless of what segment you want it to be in.
The new Superb comes to New Zealand with a choice of four different engines and two different body styles – sedan or wagon. This time around the "sedan" loses the trick double opening boot of the last car for a traditional lift back style hatch, meaning it isn't really a sedan.
The engines on offer are all four-cylinder turbos and start with a 132kW/250Nm petrol or a 110kW/340Nm diesel on 2WD cars and a choice of a 206kW/350Nm petrol or a 140kW/400Nm diesel on the AWD cars. The 132kW petrol 2WD has a 7-speed DSG transition, while all the others have a 6-speed DSG.
All variants come standard with autonomous braking, a driver alert system, heated electric folding side mirrors, cornering lights, front and rear parking sensors with a backing camera, dual zone climate air conditioning, an electrically adjustable driver' seat, heated front seats, an electric rear hatch, LED interior and ambient lights, Bluetooth with a signal booster, satellite navigation and Apple CarPlay/Android Auto phone integration. The 2WD cars have leather/alcantara interior trim and 18-inch alloy wheels.
The AWD cars gain full leather trim, 19-inch alloy wheels, lane assist and blind spot detection, keyless entry and start, rear privacy glass and electrically adjustable front seats with lumbar support, while the top spec 206kW 4X4 also adds radar cruise control, a park assist function, heated rear seats and an upgraded infotainment/navigation system.
The 2WD 132kW petrol Superb starts the range at a deeply impressive $44,900, while the 110kW diesel 2WD costs $47,900.
The AWD 140kW diesel lands at $54,900, while the top-spec 206kW AWD costs $59,900. A wagon version costs an additional $3,000 across the range.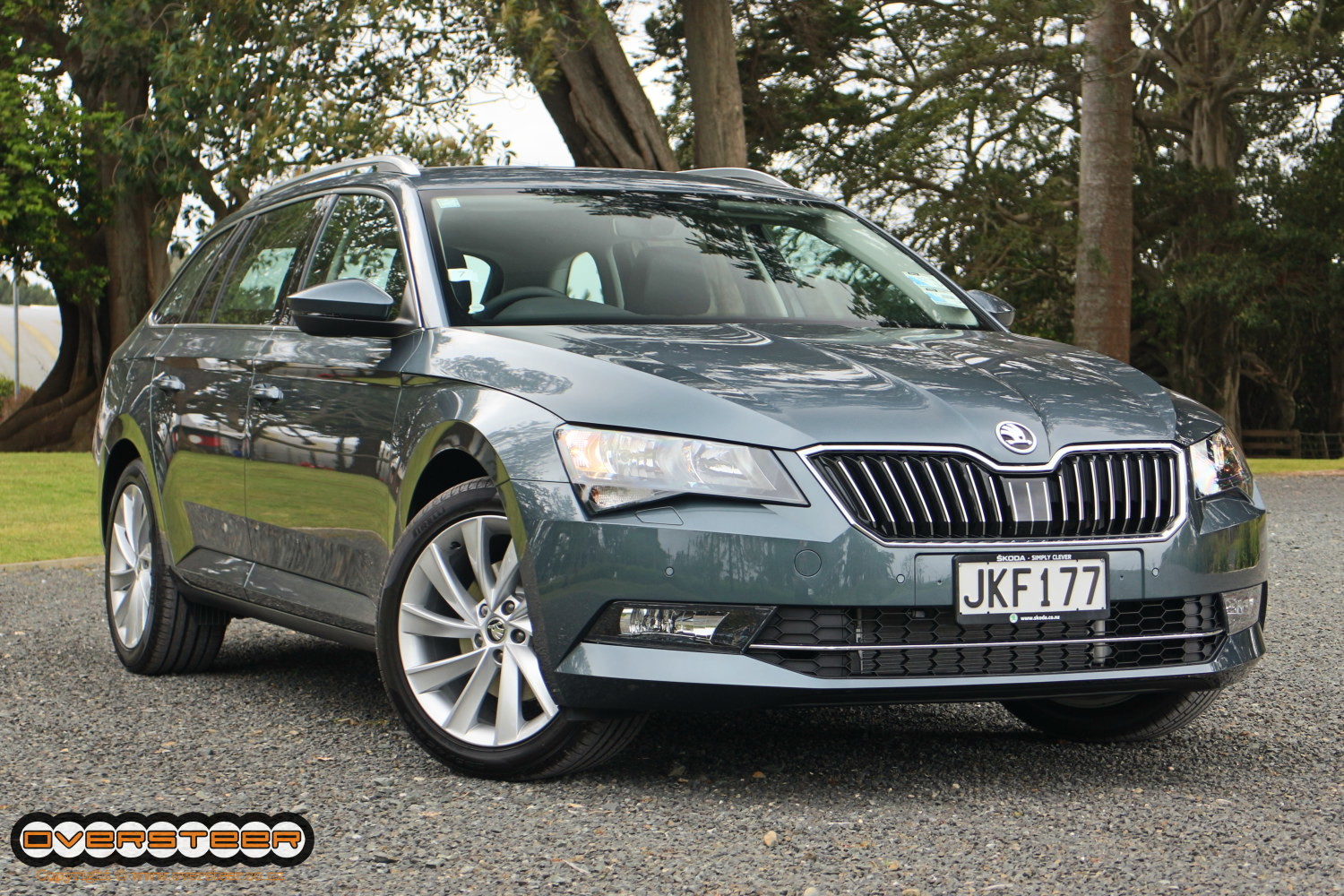 What is it like?
The old Skoda Superb was a remarkably good car; the new one is even better. And it looks fantastic as an added bonus.
Somehow Skoda's designers and engineers have somehow managed to retain the last cars massively impressive interior space while managing to actually make the new car look smaller and far, far sexier.
The Superb retains its huge rear leg room (with the same knee room as the previous model – 175mm) and utterly massive boot – and therefore its almost ridiculous amount of practicality – yet adds the sexy looks, as well as ratcheting up the comfort, equipment and handling ability.
The ride is noticeably firmer than the old car, but this isn't at the expense of comfort or ride quality. As a result the new Superb is a far sportier and agile car than it was previously, with the AWD being particularly adept at powering through corners with ease.
On the launch we were only able to sample the diesel models as the petrol versions don't get here until December. The 140kW AWD car felt nicely muscular across the rev range, while remaining smooth and civil at all times.
The 110kW 2WD was the real surprise, however, as it certainly didn't feel like it was down by 30kW on the 4X4. Shorn of the extra weight of the AWD system and still packing a healthy 340Nm of torque, the 110kW car was every bit as quick, relaxed and impressive over the winding back roads.
Where the AWD car had a notable advantage was where you would expect it – out of the corners. While the FWD car was perfectly good, the AWD car simply belted out of corners, more than ready to dive into the next.
Of course, the 110kW car was also the sole example of the "entry" level Superb, which felt like anything but that. The level of ride quality, comfort build quality and equipment was simply staggering for a car that costs $44,900 in sedan form…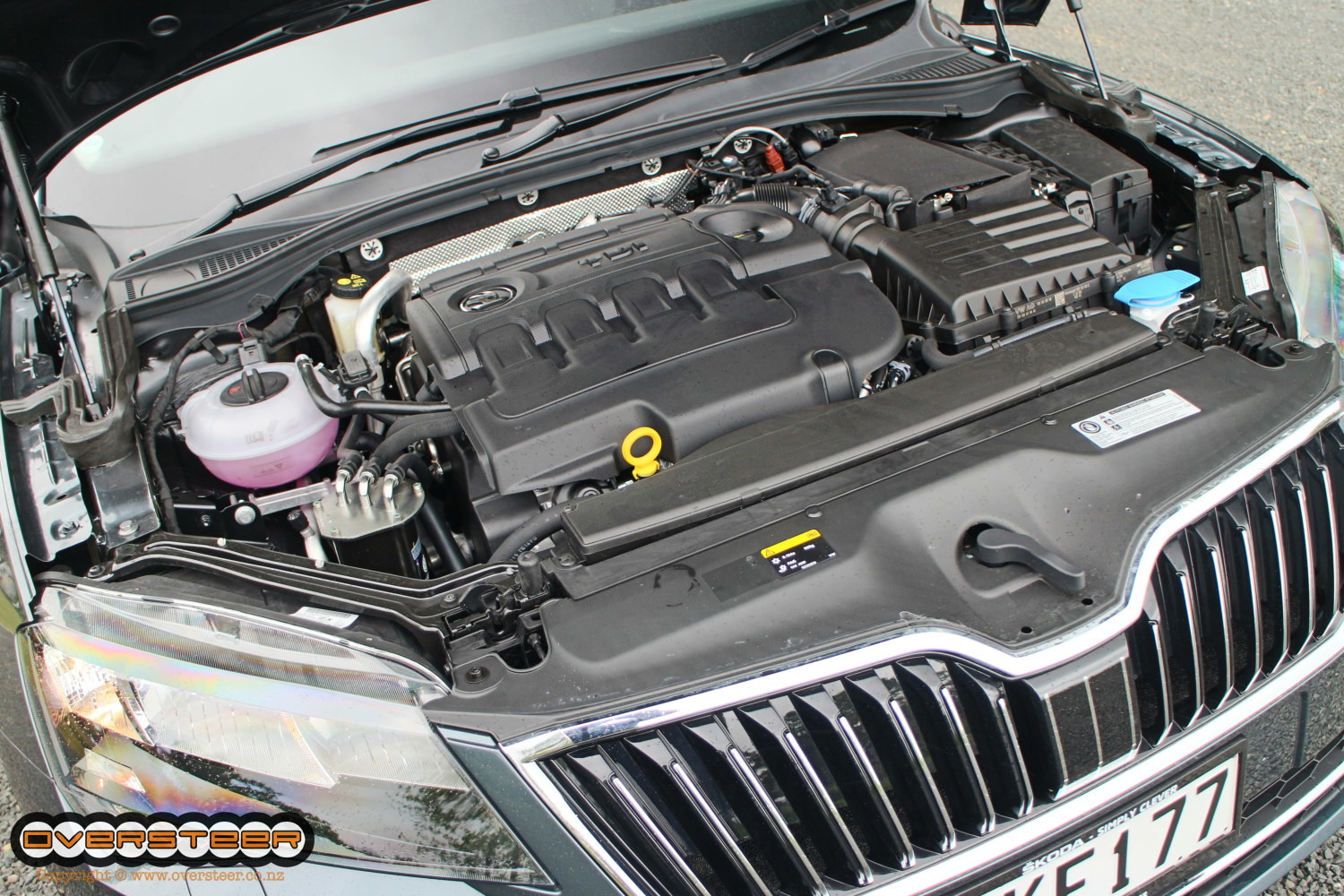 What's good about it?
It looks fantastic, retains all the space and practicality of the last car and has fantastic diesel engines. A huge amount of equipment comes standard across the range and even entry level 2WD cars can be optioned up with everything the 4WD cars get as standard. And, yes, you still get umbrellas in the rear doors!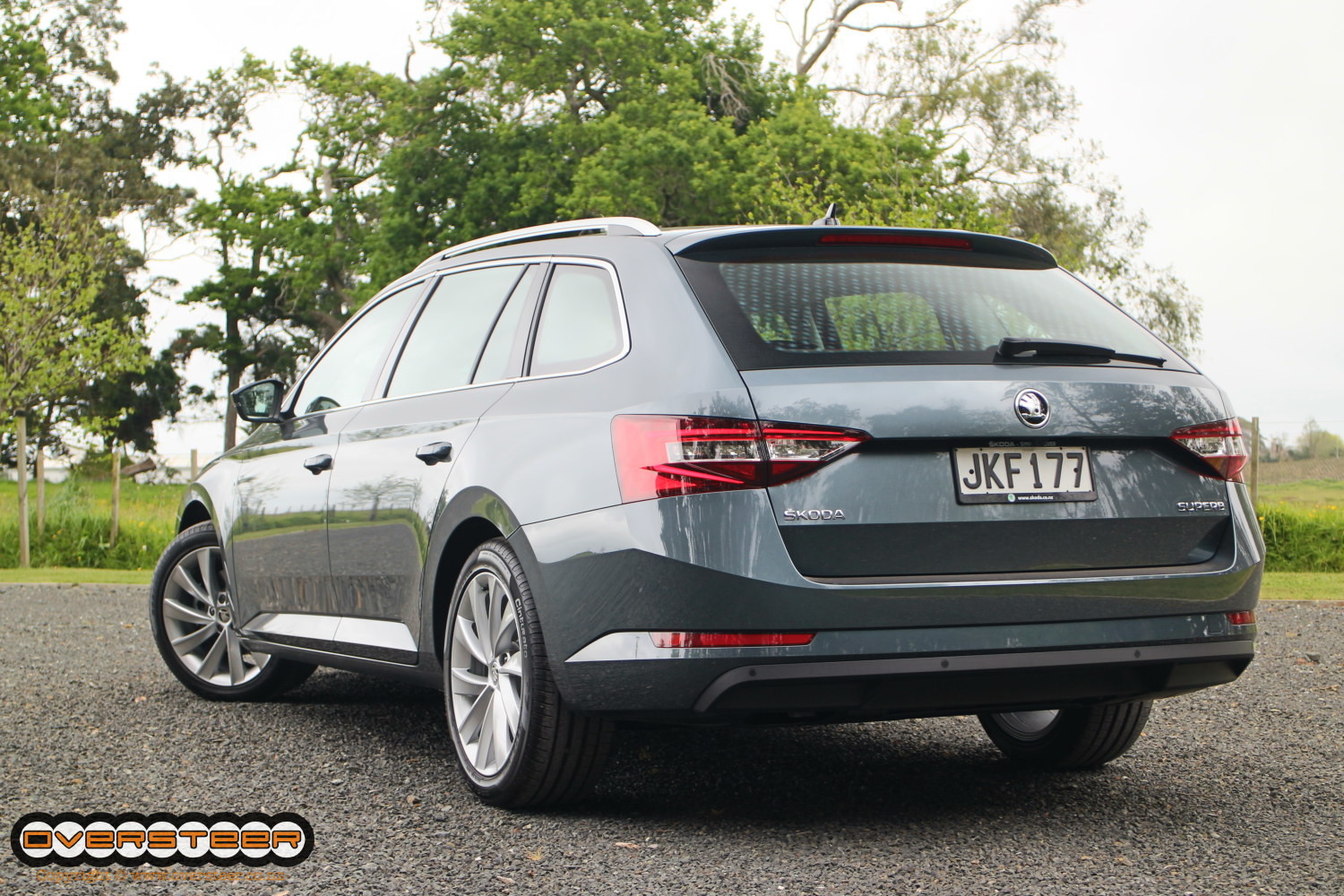 What's not so good?
The six-speed DSG is still a bit indecisive and dithery, particularly from a standstill.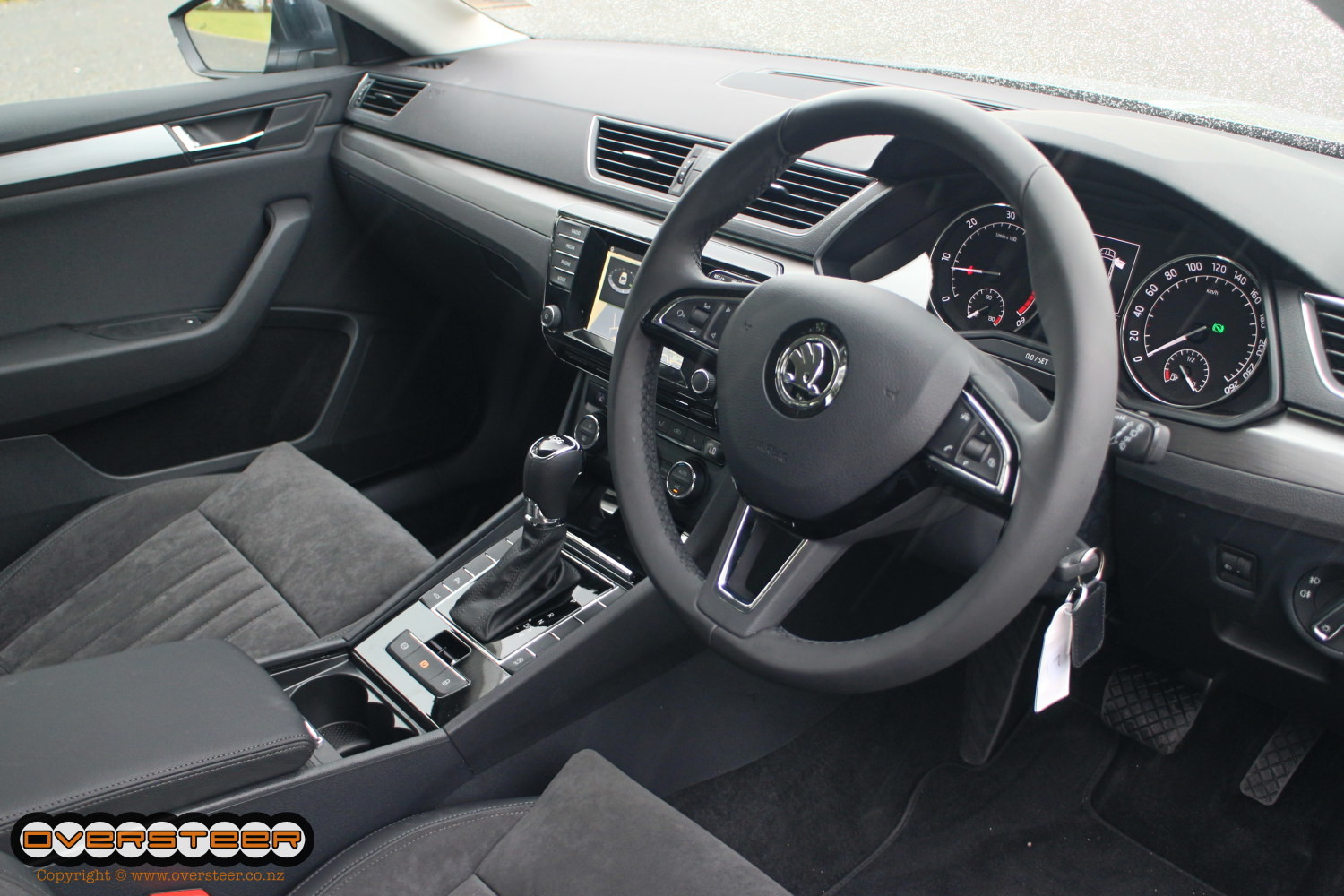 First impressions?
The last Superb was one of our favourite cars here at OVERSTEER and with its sharpened handling, sexy new looks and impressive equipment levels, the new one looks to remain so.
The DSG can frustrate at times, but the torque of the diesel engines more than makes up for this, particularly when up and running.
The integration of Android Auto makes the Superb the first car in New Zealand to have this as standard and it is a rather impressive piece of equipment in its own right.
Things like this – and Apple's CarPlay as well – help position the Superb as not only fantastic value for money, but also as rather cutting edge in terms of technology.
A brilliant car just got even better.
Models/prices
TSI 132kW sedan – $44,900
TSI 132kW wagon – $47,900
TDI 110kW sedan – $47,900
TDI 110kW wagon – $50,900
TDI 140kW 4×4 sedan – $54,900
TDI 140kW 4×4 wagon – $57,900
TSI 206kW 4×4 sedan – $59,990
TSI 206kW 4×4 wagon – $62,900
For full specifications of the Skoda Superb sedan click here – Superb sedans
For full specifications of the Skoda Superb wagon click here – Superb wagons