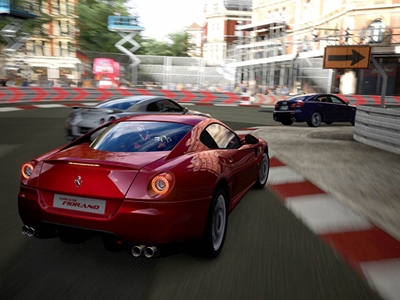 So, after a massive five year wait, Gran Turismo 5 is finally here. Originally slated to be one of the PS3's launch titles, GT5 has been delayed constantly to the point where it was in danger of becoming irrelevant in the face of ever-improving competing racing games.
But now it is finally here, and the burning question is: was it worth the wait? Have all those massive delays resulted in the magnificent racing experience that you expect from a game that has spent more than half a decade in development?
Well, not really, no.
That's not to say that Gran Turismo 5 is a BAD game, it most certainly isn't. But neither is it over-hyped with years of delay creating unrealistic expectations, no GT5 is simply a very good game with some serious flaws.
The game itself feels instantly familiar to anyone who has played a game from the series previously. The unintuitive menus and cheesy music are all still in place and the computer controlled opponents are still as stupid and unyielding as ever…
But then, the fantastic driving physics and glorious graphics are still there as well, so that's all business as usual for a GT game.
Frustration and confusion creeps in when you start noticing significant areas where the game feels like it has been rushed. Yes, that's right, a game that has been in development for more than 5 years feels like someone has got sick of waiting and put the pressure on. Which I guess is probably what Sony did…
Among the stunning graphics are some real howlers – shadows look appalling, all blocky, jagged edges, straight out of a Commodore 64 game.
The cars are split into two ranks: Premium and Standard. Premium cars are stunningly rendered (making the chunky shadows even more jarring…) while the Standard cars range from almost stunning down to barely acceptable… again, it feels like they have rushed to A) get it out finally and B) get over 1000 cars into the game…
There's a lot more: "invisible walls" ring certain parts of the tracks, meaning that if you slide more than about a metre off the track you slam into something that isn't there; the much-vaunted visual damage is a joke and almost unnoticeable; loading times are MASSIVELY long unless you install 8gb of game data on your hard drive, then they just become annoyingly long instead; and a lot more little niggly things beside…
While the lows are annoyingly low, Gran Turismo 5 does deliver some startling highs as well and where it counts too – on the track. Ignoring the computer AI's continued stupidity, the racing in GT5 is magnificent. And that is what really counts with a racing game – the racing and that is where GT5 wins out. Just…
Rated: G
Reviewed on: PS3
Also Available on: n/a
Rating: 4/5
If you get past all the niggling annoyances and get a good run of awesome racing in. Or…
Rating: 2/5
If you get bogged down in all the niggling annoyances and throw the controller at the screen in frustration…
On any give day, either can happen…