One at both ends – OVERSTEER looks at the bizarre Alfa Romeo Bimotore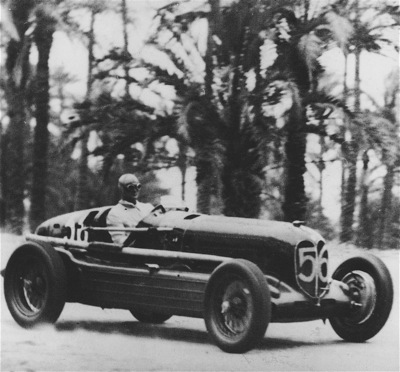 (To read photo captions, please hold your cursor over the image)
Grand Prix racing in the mid to late thirties was totally dominated by two teams, Mercedes-Benz and Auto Union (a name created specifically for the cars) — both were funded by the Nazis.
Alfa Romeo had been successful with cars like the P3 before the silver arrows came along and they were determined to build a car that would challenge the Germans. Their answer was to build a car that was essentially an updated P3, but with engines front and rear — a twin-engined machine. Well, really the idea for such a car wasn't exactly Alfa Romeo's, but a man who headed a secondary Alfa Romeo team — Enzo Ferrari. His outfit built the car under contract to Alfa and is widely regarded today as the first Ferrari.
The car was called the Bimotore and it appeared for the 1935 season, entered by Scuderia Ferrari and while it was fast, it was also very heavy, with such an appetite for fuel and tyres, that it wasn't competitive and was barely raced.
The two Alfa P3 engines gave the car a combined capacity of 6.3-litres with about 540bhp available, compared to the 430bhp of Mercedes and 375bhp of the Auto Union.
While it wasn't wieldy enough to be raced successfully, the Bimotore was fast and with some streamlining panels it recorded 218mph on a closed public road in Italy!
The car was sold to Englishman Arthur Dobson who raced it a number of times before selling it to Peter Aitken who set about modifying it. He removed the rear motor and modified the bodywork, calling the car the Aitken Alfa Special. Aitken raced the car up to WW2 and again later, before the car virtually faded from sight.
On a hot February day, possibly in 1966 I was the Clerk of the Course at the annual Otago Sports Car Club's Mount Cargill hillclimb. The event had attracted a huge number of entries— so many that they spilled outside the "Road Closed" area and I was having trouble with a particularly officious traffic cop. When we finally got the event underway I was surprised to first hear and then see, this massive car clanking and clattering its way up to the start line. It was a "special" of some kind but the size, the proportions and the look of it indicated this was some sort of factory built car and not a New Zealand built vehicle.
The car was in the care of Murray Ditford (driver) and his mate Doug Algie and I asked them what we had here. It was the Bimotore.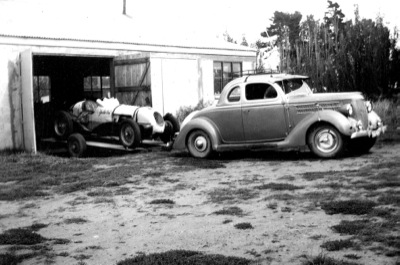 It had been located in the UK by Wellingtonian John McMillan who had won the first NZ Grand Prix at Ohakea in a V8 Special (now the Jaguar-powered Northland Special owned by Fred Courtney), but was then campaigning an Alfa P3. He bought the "Bimotore" for its P3 engine and sold the rolling chassis to legendary Aucklander, George Smith. Smith had shoehorned a big ohv Chrysler V8 into his rather primitive GCS Special, replacing the sidevalve Ford V8 and was looking for a better chassis. But the Chrysler powered Alfa was undriveable and Smith reverted to the GCS for the rest of his career.
But there were others, like Smith, who thought a 1935 factory Grand Prix car just had to be better than a home-made car.
Christchurch driver, Frank Shuter, bought the Alfa from Smith, but appears to have done nothing with it before selling it to Oamaru man Rusty Thorpe — an avid car nut who built a fabulous sports car using all manner of parts including some from a rare French Avions and running wire spoke wheels off a Maserati 4CLT. Later Thorpe gained some fame as being able to keep a Cord saloon on the road in New Zealand, fabricating his own parts.
Thorpe did nothing with the car but sold it to Bob Scott, garage owner and mayor of the small South Otago town of Kaitangata (which translates as "eat man"!)
Scott filled the engine bay with a Mark VII Jaguar motor but then lost interest and gave the car back to Thorpe. It was next sold to fellow Oamaruvian Murray Ditford who plugged a six-cylinder GMC truck motor under the bonnet and he and Doug Algie shared the driving of the car around various hillclimbs, sprints and grass track meeting in the south for several months.
Christchurch enthusiast and collector, Gavin Bain realised what the car was, bought it and raced it a couple of times, even though the GMC engine block was so badly cracked it leaked water.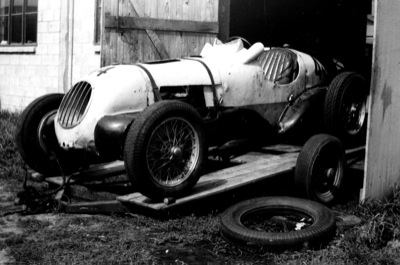 This was an enormously rare and important car that was screaming out for restoration and it was bought by British collector and owner of the Donington Collection and Donington circuit, Tom Wheatcroft. Wheatcroft took it to the UK where it was totally restored, complete with two engines and original body.
It was one of the hundreds of cars on display at Wheatcroft's museum in England but was sold last year when Donington suffered financial constraints following an abortive bid to stage the British Grand Prix there. The Bimotore is now in the hands of a private collector.
When he owned the car, Murray Ditford contacted the Alfa Romeo factory and they were so impressed that the car still, existed, they sent him the plans for it. Murray passed away a few years back but no trace of the plans could be found, although he had retained a hand-operated oil pump from the Bimotore which he passed on to Doug Algie shortly before his death.
Five or six years ago, in the UK for a holiday, Doug Algie visited Donington and got to sit in the restored car — a car which I remember him flinging around a grass track meeting near Karitane in February 1967.
While only one Bimotore appears to have been completed in 1935, today there are two complete cars — the genuine car that came to New Zealand and another that is on display at the Alfa Romeo museum in Varese, Italy.
I saw this car on a visit to Varese in 1994, before the Wheatcroft restoration was completed and was surprised to see it. I thought Wheatcroft must have sold it. My guide told me that it was a "replica". Alfa considered the car that important they commissioned the replica using some parts that they have saved for all of those years.
I have been fascinated by the car ever since that Saturday morning at Mount Cargill. I just love heroic failures and lost causes!