What is it?
A "sporty " SUV…
Up in the rarified atmosphere of luxury SUVs there is an unfortunate trend to try and be "sporty" with it, which usually leads to some uncomfortable compromises.
Despite the "S" in "SUV" standing for sport, no-one has ever really believed this, so the whole idea of a "sporty" SUV seems rather silly to me. By its very nature, an SUV is an unsporting beast that would be far better suited to the luxury market, which Range Rover has done very well with over the years, thank you very much.
Really only Porsche has nailed the "sporty SUV" thing properly, but others still do luxury better, while the Jaguar F-Pace comes close to getting both right, but a fidgety ride blemishes the luxury claims.
And when you DO get the "sporty" thing right in an SUV, you are still left with a most unsporty ride height, seating position and weight…
So when Maserati decided to chuck its hat into the SUV ring, things suddenly got interesting. You see, Maserati has never really been too bothered with the "luxury" side of luxury cars, always standing out ion the various segments it plays in by offering the most uncompromisingly sporty option.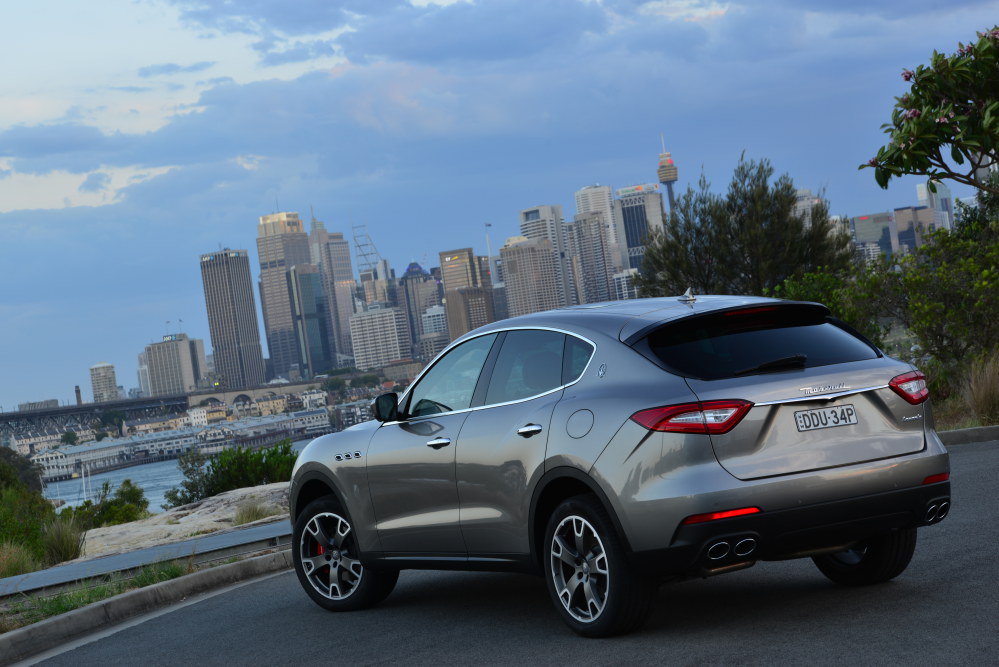 How much does it cost?
The standard Levante costs $136,990, while both the Sport and Luxury packs take that up to $155,990.
What is its opposition?
Pretty much everything in the $100,000 plus luxury SUV segment, but you would have to imagine the Porsche Macan and Cayenne were certainly in Maserati's mind when they developed the Levante.
But anything with sporting pretensions in the luxury SUV segment will probably come on the radar – a top end Jaguar F-Pace or a lower end Range Rover Sport both fall into the Levante's price range.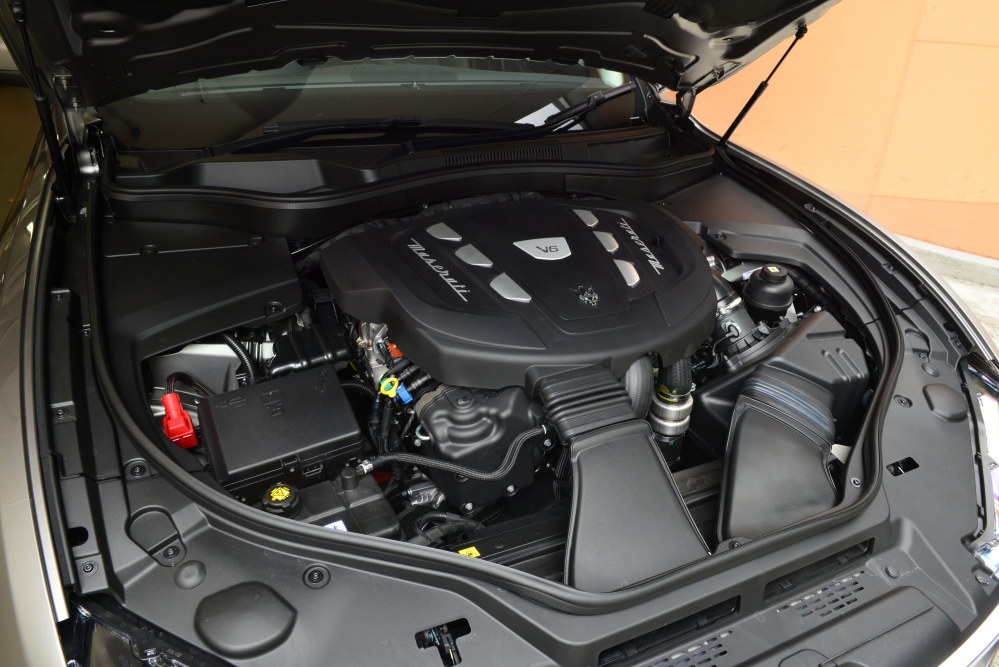 What powers it?
At the moment, only Maserati's 3.0-litre diesel V6 engine that pumps 202kW of power and 600Nm of torque through an 8-speed automatic transmission to all four wheels.
LHD markets get petrol V6 versions, but there is no word on whether we will ever see a RHD version. Also there are strong rumours that Maserati will jam that feral Ferrari-developed V8 into the Levante, which would be rather fun…
What's it got?
The standard Levante sits on 19-inch wheels and standard kit includes an 8.4-inch multimedia touch screen with satellite navigation, dual zone climate control, leather upholstery, heated front seats, radar cruise control, hill descent control, automatic wipers and headlights, keyless entry and a power tailgate.
The Luxury pack adds 20-inch alloy wheels, a chrome grille, premium leather trim, body-coloured lower panels, a Harman Kardon stereo, wood trim, 12-way electric seats and a panoramic sunroof.
The Sport pack adds 21-inch alloy wheels, a unique grille and front and rear skid plates, a body-coloured rear spoiler, 12-way adjustable electric sports seats, a power adjustable steering wheel, colour-matched lower body, red brake calipers, shift paddles on the steering wheels and a Harman Kardon sound system.
Of course, being a Maserati the list of options is as long as both arms and maybe even a leg, so you can check those out by clicking here.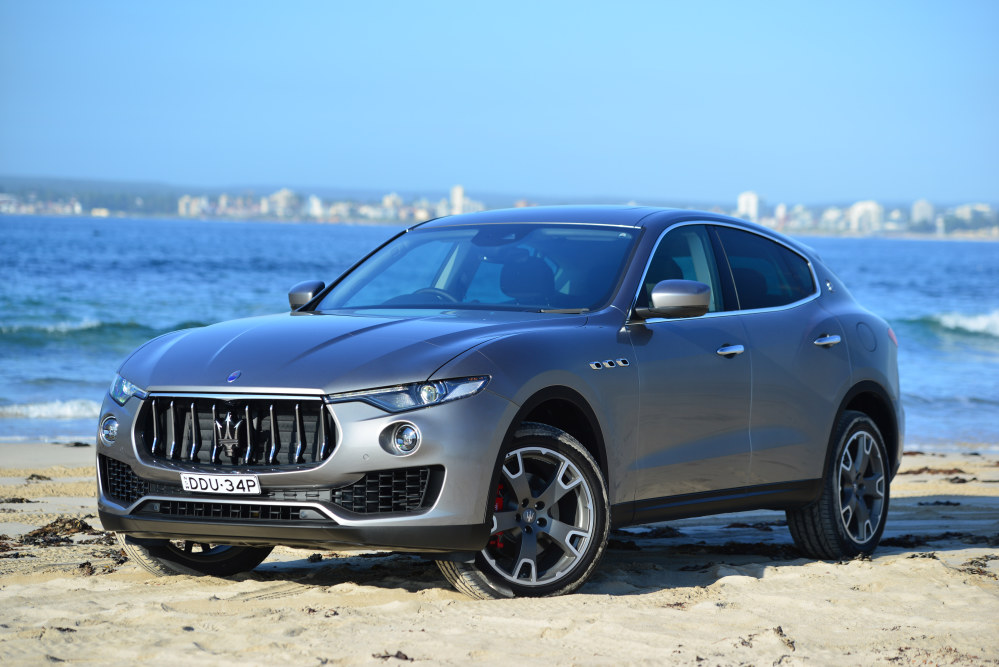 What's good about it?
On the inside the Levante is spectacularly well built and luxurious, boasting what is probably the best interior in the current Maserati line up.
While the high gloss wood trims are a bit cheesy, the open pore woods are stunningly attractive, while the good old fallbacks of piano black and carbon fibre are still nicely agreeable.
A simple and attractive dash layout compliments the high quality of the materials used, with pretty much everything being highly customisable, depending on how much you want to spend, as is the Maserati way.
Out on the road, the Levante's diesel V6 is nicely strong and refined, albeit suffering from a noticeable degree of turbo lag down low. Once up and running, however, the big torque makes things effortless and relatively rapid, as well as impressively refined
As part of the launch we were also allowed some track time in the Levante, as well as some light off roading.
On the track it was impressively agile and well behaved, with its lower-than-most-in-the-segment ride height and nicely-weighted, accurate steering.
Off the sealed stuff the Levante also acquitted itself impressively well, with the air suspension allowing a 40mm lift over the standard height, giving the Maserati a handy 247mm ride height.
What's not so good?
While the interior is extremely nice, Maserati has raided the Fiat Chrysler parts bin, however, with the touchscreen, a large number of switches and stalks and the awkward transmission selector that makes it frustratingly difficult to find reverse in a hurry all being instantly familiar to anyone who has driven a Jeep Grand Cherokee…
Much like the Jaguar F-Pace, however, the Levante's ride quality suffers from its efforts to be sporty, particularly on the larger wheels.
Although the back roads north of Sydney where we drove the Levante were hardly representative of the best Australia had to offer, the Levante felt distinctly brittle and sensitive to imperfections, even on the 19-inch wheels, although thanks to the Maserati's air suspension it was never as intrusive as the Jaguar.
And those looks? Well… while it certainly looks better in the metal, and I have to admit it did grow on me during my time around it, it is certainly a polarising blend of confrontationally aggressive (that BIG chrome grille and angrily angular headlights) and oddly bland and dated (the rest of it).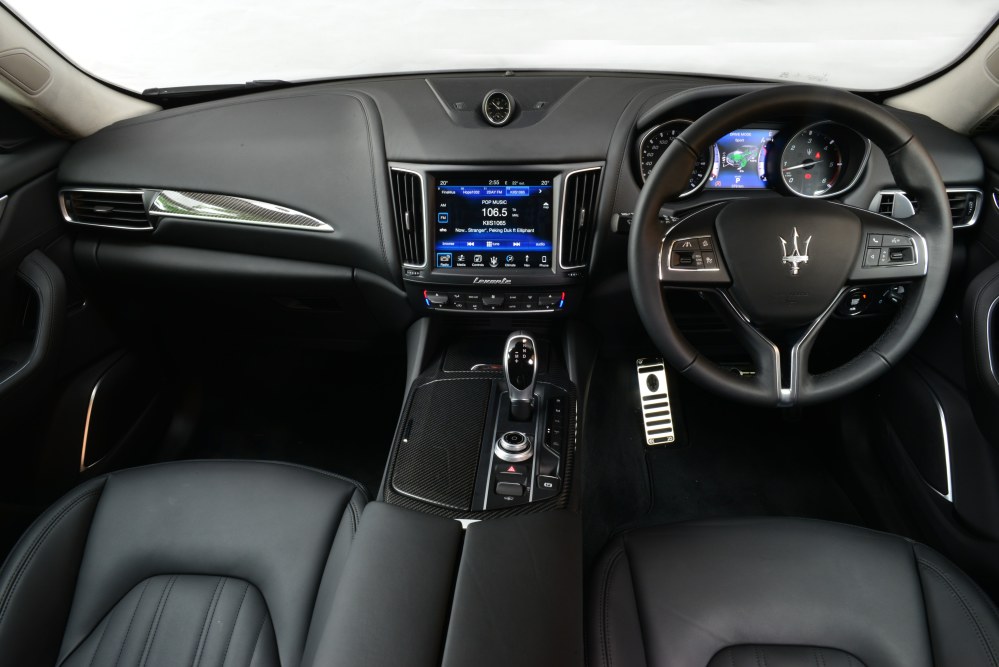 First impressions?
The Levante is an impressive effort from Maserati, but it still suffers from a lot of the same problems that "sporty" SUVs in general do, mainly the brittle ride over less-than-perfect surfaces.
The diesel engine, while also a very good unit, doesn't quite deliver enough for the Levante to be considered truly sporty either, particularly with its low-down lag.
On the track, the Levante is actually rather impressive, but that's not really the idea with an SUV though, is it?
Still all the things we don't like about the Levante are more just irritating niggles than actual deal breakers and Maserati's first SUV still offers the same thing that its sedans and sports cars do – exclusivity. While everyone else will be driving a Range Rover or Porsche Cayenne, the Levante owner will know he isn't likely to park next to another one at McDonalds any time soon.
While the Levante still fails to find the perfect middle ground between sporty and luxurious (like everything else in the segment) it still comes closer than most, with its downsides being limited to small niggles, rather than annoying deal breakers.
Now, if they would do a RHD version of the V6 petrol, I might change that opinion. And if they were to jam that feral Ferrari-developed V8 into a RHD Levante (a LHD one is rumoured) then we would no doubt all be very happy indeed.