OVERSTEER ROAD TEST: Bentley Continental GT
It isn't every day that someone hands you the key to a $325,000 Bentley just after lunch and says "Go where you like, dinner is at 7.30". It is even less frequent that this happens within an hour's drive of one of the greatest motor racing circuits in the world. But it happened to OVERSTEER just the other day.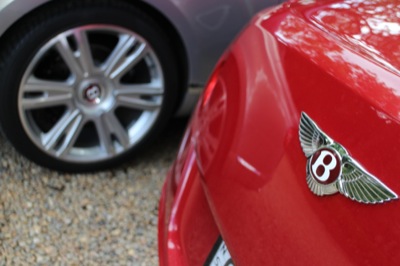 A group of motoring journalists had been taken over to Sydney to drive the newly V8-powered Bentley Continental GT coupe and GTC convertible. Following a drive from the city out to the spectacular Blue Mountains, the whole "go where you like" scenario happened as Bentley's Asia/Pacific marketing manager Robin Peel sent us on our way.
After about 30 minutes or so driving, my driving companion and I spotted a sign with a familiar and evocative name plastered across it: Bathurst.
The legendary race track was less than 60km from where we were. There was simply no way we were NOT going to drive a twin-turbo V8 Bentley around an infamous race track that also happens to be a public road…
The Continental GT V8 is the new "entry" into the world of the big Bentley coupe, with the twin-turbo 4-litre V8 taking the place of the mighty W12 engine under the Continental's massive, regal bonnet.
An "entry" level car priced at $325,000 (excluding the numerous options fitted to our bright red car) may seem slightly incongruous, but the fact that the W12-powered GT kicks off at $365,000 means that dropping four cylinders saves you $10,000 a piece and doesn't really lose you a lot else makes it quite an appealing prospect. It's all relative, you understand…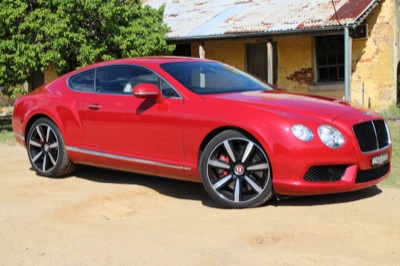 With 373kW and a mighty 660Nm, the twin turbo V8 isn't exactly wanting for power, and the wonderful 8-speed automatic transmission keeps it on the boil, whenever a slight flex of your right ankle demands more power.
This makes the GT a difficult car to keep to New South Wales' ridiculously restrictive speed limits – usually between 60km/h and 80km/h on multilane highways, with the occasional 110km/h burst here and there. This basically means the V8 GT simply idles along most of the time, but nail the stunning aluminium throttle pedal (it is a work of art in itself) to the thick, sumptuous carpet and a wonderful thing indeed happens; the quiet, distant thrum increases in urgency for a few brief seconds before a huge, NASCAR-like roar erupts from the dual exhausts. You are pushed firmly back into the broad, comfortable leather seat as the big coupe leaps forward in tandem with the remarkable sound. It is certainly not wanting in this regard…
For something so very large and so very fast, you do find yourself wondering how well it will actually go around a corner as the first one quickly approaches, but the Continental GT goes around corners very well indeed.
The brakes do need a good shove to scrub off the (no doubt excessive) speed as you head towards a corner, but once in there it is quite remarkable how such a big, heavy car tracks around so accurately. Go in too fast and the nose will push wide, but get it right and you never see the stability control light even flicker. It just gets in there and goes around.
Power it out the other side and the 4WD system shows its class, with all the big power and huge torque being pummeled into the road without even the slightest sign of an undignified loss of traction.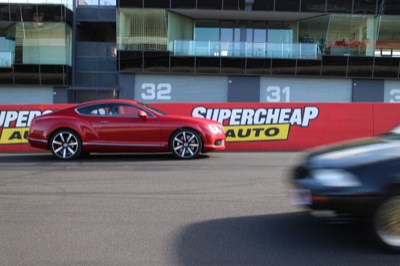 And that is what the V8 GT does so well – ridiculous power and performance delivered in a remarkably dignified fashion. Wafting, cosseting arrogance is par for the course when one drives a Bentley and the 4.0-litre V8 is capable of being quiet, refined and docile, but wakes up with an angry roar when prodded and delivers blistering performance when asked to.
Unfortunately none of this matters whatsoever around the Mount Panorama race track at Bathurst, as – being a public road – the speed limit is an urban 60km/h. And is rigorously enforced…
Still, the sheer thrill of driving a big, brawny, luxurious V8 Bentley around Australia's most celebrated circuit is memorable, even at a crawl and it was an opportunity that no-one sane would ever pass up.
It has often been said that the elevation change at the Bathurst track is only really appreciated when you actually drive it yourself, and this is very true indeed. Mount Panorama is TALL and the climb up it is surprisingly steep. But it is the descent that is truly spectacular though, and the prospect of barreling down it at race speed is utterly terrifying. Oh, and it is also startlingly narrow…
The gentle burble of the Continental GTs exhausts is a fitting companion for a cruise around Bathurst and, while I was very restrained indeed, I cannot resist a brief burst of full-throttle down Conrod. The barrel-chested roar echoes off the concrete walls and probably enrages a few local residents, but I depart that legendary circuit with a huge smile that will take quite some time to remove…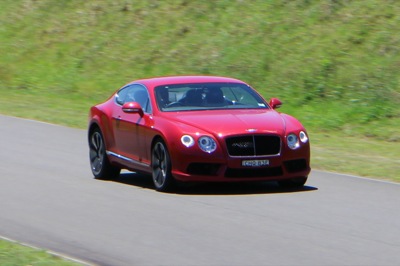 Price: $325,000
Engine: 4.0-litre V8 twin-turbo petrol
Power/torque: 373kW/660Nm
Transmission: Eight-speed automatic
0-100km/h: 4.6 seconds
Fuel consumption: 10.5L/100km
CO2 emissions: 246g/km