OVERSTEER ROAD TEST: Toyota Land Cruiser 70 Series LX double cab
It is big, it is square and it is white. It is not a fridge, although if it had one, that is the only thing that would make it cooler. It is the Land Cruiser 70 Series and it it still as awesome as ever. It even has a cup holder now.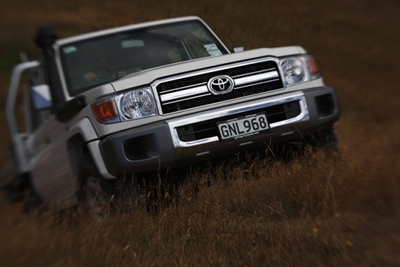 The Land Cruiser 70 Series has been around for a while now. In fact, it turns 30 next year. That is one hell of a production run in anyone's book.
And the Land Cruiser shows no sign of slowing down either, as Toyota keep it (just) up to date by jamming in things like ABS brakes and – wait for it – a cup holder!
Possibly to celebrate its 29th birthday, Toyota have released the LWB double cab version of the popular 79 Series cab/chassis, complete with the exciting new upgrades mentioned above. The cup holder, by the way, does look like an after-market bolt-on job, but it does also feature a handy iPod/smartphone holder as well… I dunno… iPods, cup holders and smartphones in a 70 Series… what IS the world coming to?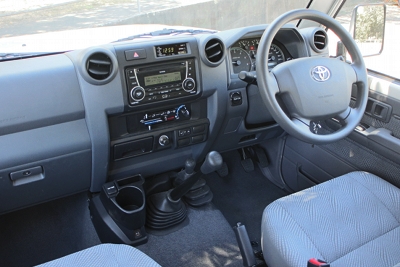 Anyway, what the 70 Series is is FREAKIN' AWESOME.
Sorry to use the technical term there, but the double cab 70 Series is simply brilliant to drive. Its ride is jiggly and unsettled around town, it has a thoroughly MASSIVE turning circle, it is all but impossible to park properly in the city and it is terrifyingly huge.
But it sounds and feels like a truck. It is deceptively quick and surprisingly good at going around corners and is utterly untouchable off road.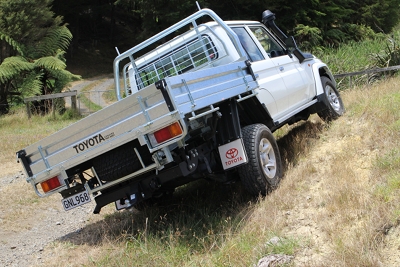 A lot of the 70's charm come from the proper-manly engine – the whopping great 151kW/430Nm 4.5-litre single turbo diesel V8 that is so manly that it sounds like it is busy growing hair while it is accelerating.
There is not a lot left to say about the 70 Series, because it is largely unchanged since 1984, to be honest. What is new is very, erm, new, but here is a quick summary of what we learned in our time with the double cab 70 Series:
The cup holder holds cups well, a Samsung Galaxy SII is too big for the phone holder, there are two extra seats in the back, which is handy, and the ABS nicely stops you running over that small hatchback in the wet. If you stupidly leave it in low ratio while at the beach, then forget it and nail the throttle, it will quickly bury itself, thanks to the massive torque. If you let some air out of the tyres, it will just as quickly dig itself out again. It is awesome. I want one.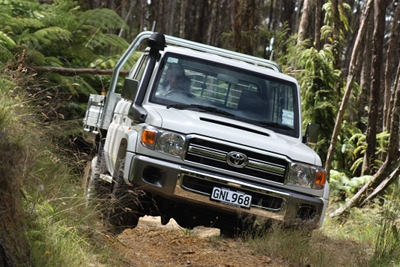 Price: $79,880
Engine: 4.5-litre V8 turbo diesel
Power/torque: 151kW/430Nm
Transmission: Five-speed manual
0-100km/h: n/a
Fuel consumption: 11.5L/100km
CO2 emissions: 304g/km