Television has provided us with some great moments; ALF pretending to be Tom Cruise, Tom Cruise going mental on Oprah, the Star Wars Christmas Special and that episode of Blackadder with Tom Baker in it.
So to celebrate how awesome TV is, here are the ten best cars to ever appear in a television series…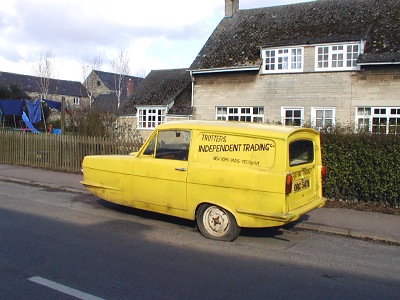 10. Reliant Regal Supervan ― "Only Fools and Horses"
Main sales office of Trotter Independent Trading, the Reliant Regal that featured in this classic English comedy sent interest in this wheezing, asthmatic, 750cc V-twin mobile chicane soaring. Shame it was only interest though, and nobody actually wanted to buy anything the company made, and they folded in 2001…
The Thing That You Probably Didn't Know:  While the original van is on display in a museum, one of the two "back up" vans used in the series recently sold for more than $126,000 at auction. Bet Reliant wishes they could've flogged new ones for that much.

9. 1974-76 Ford Gran Torino – "Starsky and Hutch"
Let's face it, if it wasn't for Starsky and Hutch, the Ford Torino would hardly have been remembered at all. And we also wouldn't have been bombarded by the resulting hundreds of American "buddy" cop shows featuring two "unorthadox" heroic cops solving wildy improbable crimes in a hugely inappropriate and highly conspicuous car…
The Thing That You Probably Didn't Know: Because California law prohibited the mechanical modification of engines of new cars, the producers had to dub in engine sounds for the car on the pilot, because the "stock" engines just didn't sound right.

8. 1980 Ferrari 308 GTS – "Magnum P.I."
Thomas Magnum lives in the guest house of a stunning Hawaiian mansion, works seemingly whenever he feels like it and gets to drive around at will in his permanently absent employers bright red Ferrari… it seems not ALL potential job options were effectively pointed out to me at school…
The Thing You Probably Didn't Know: The producers originally intended to use a Porsche 928. Porsche was approached to produce one with an extra large sunroof for aerial shots but refused, claiming not to do any special specifications at customer request, so the Ferrari 308 GTS (which came equipped with a removable roof) was chosen instead and went on to become one of the most iconic cars of all time.

7. 1972 Ferrari Daytona Spyder GTS/4 ― "Miami Vice"
The ultimate 80s incarnation of the stupidity started by Starsky and Hutch, the idea of a cop driving around in a Ferrari as a "cover" obviously seemed to make sense to someone. Clearly undercover police work in Miami is considered a "high profile" occupation…
The Thing That You Probably Didn't Know: Except it actually wasn't a Ferrari. It was a replica based on a Corvette chassis. Ferrari were understandably miffed by this, but instead of suing (like they did later when the movie "Ferris Bueller's Day Off" used a fake) they provided the show with a pair of brand new Testarossa's. A fake was still used however ― for stunt scenes a De Tomaso Pantera was fitted with Testarossa body panels.

6. FAB1 ― "Thunderbirds"
If Lady Penelope's six-wheeled Rolls Royce, equipped with heavy artillery concealed behind the radiator grille and headlights, smokescreen and oil-dispensors,  and hydrofoils for travel on water had been painted black, it may well have been the coolest television car ever. But it was pink…
The Thing That You Probably Didn't Know: A life-sized version that was made for creator Gerry Anderson to drive to the premiere of the 1966 movie "Thunderbirds are GO" did not impress Rolls Royce, who repeatedly tried to buy it and have it destroyed.

5. 1983 GMC G-series van ― "The A-Team"
If you were on the run, accused of a crime you didn't commit, making a living as a bunch of mercenaries for hire, what kind of low-key, inconspicious vehicle would you choose to get around in?
That's right, a highly visible customised black and grey van with a garish red stripe, roof spoiler, red wheels, shag carpeting and white bucket seats. It was a cool van though…
The Thing That You Probably Didn't Know: Only six vans were used during the series run, although, frequently, less detailed "stunt vans" were used in certain scenes. Less detailed indeed ― the stunt vans had round headlights rather than the customised vans square ones…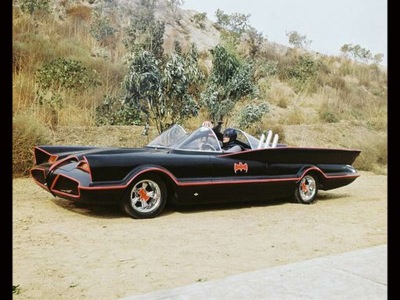 4. The Batmobile – "Batman"
Wham! Pow! Holy bad acting Batman, this TV series really was crap, but at least it had one truly redeeming feature – the Batmobile. Up until the campy 60s TV series Batman had been forced to drive around in a series of ordinary, low-key Batmobiles, which is kinda like making Superman wear his undies on the inside…
The Thing That You Probably Didn't Know: The Batmobile was actually a customised Lincoln Futura show car from 1955. Built by Ghia, the Futura appeared in the 1959 movie "It Started With a Kiss" before being turned into the Batmobile by famous Hollywood customiser George Barris.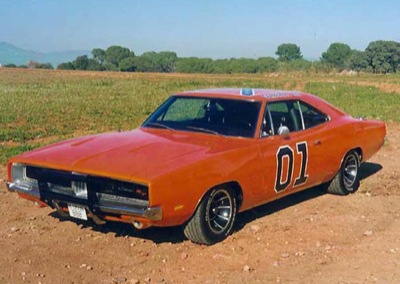 3. 1969 Dodge Charger – "The Dukes of Hazzard"
The General Lee is the car that every prepubescent boy wanted to drive when he grew up. No doubt the cause of countless scratched bonnets and back injuries as those same boys attempted the "bonnet slide" later in life…
The Thing You Probably Didn't Know: Over 300 Chargers were used during the filming of the series and cars used for the big jumps (usually at least one per episode) were immediately scrapped. Brothers Andre and Renaud Valuzet built General Lees for Warner Brothers from the start of the 2nd season into the 4th season were fired after they were caught selling previously "wrecked" cars back to the company with forged VINs.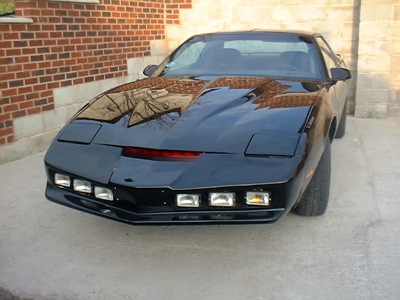 2. 1982 Pontiac Firebird Trans Am – "Knight Rider"
Even though it was sarcastic and slightly effeminate the Knight Industries 2000 (KITT) was simply one of the coolest cars of the 80s, packed with enough gadgets to make James Bond cry. Just try to ignore the fact that the show launched the twin horrors of digital dashboards and David Hasselhoff's career…
The Thing That You Probably Didn't Know: In a spectacular example of "completely missing an opportunity" General Motors told Universal Studios to stop refering to KITT as either a Pontiac or a Trans Am after being swamped by customers wanting to buy the "Knight 2000" version of the car.

1. The Homer ― "The Simpsons"
The ultimate mans car. Designed by Homer Simpson, The Homer may have had the unintended side effect of bankrupting his half-brother's car manufacturing business, but it did feature super-sized cup holders, a little ball on top of the aerial, tail fins, bubble domes, shag carpeting, several horns (because you can never find one when you're mad) all of which play "La Cucaracha" and a separate soundproof bubble dome for children, with optional straps and muzzles.
As Homer himself says ― the car is "powerful like a gorilla, yet soft and yielding like a Nerf ball". Perfect…
The Thing That You Probably Didn't Know: The unveiling of The Homer on a turntable surrounded by women in pink gowns is a faithful recreation of the same scene in the movie "Tucker: The Man and His Dream" which tells the story of Preston Tucker and his attempt to produce and market the ill-fated "Tucker Torpedo".