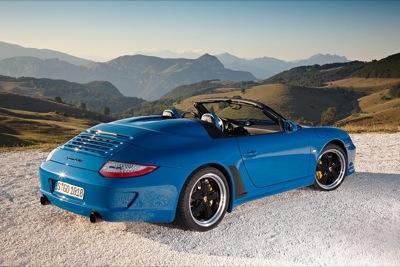 "Very low-slung, very sporty, and very rare". That's how Porsche are describing the new ultra-limited edition of the 911: the Speedster.
One phrase they managed to leave out of that description, however, is "with a very fat arse" no doubt to conveniently avoid drawing attention to the rather ungainly extra rump action that the Speedster has inherited in its transformation from an "ordinary" 911, carrying on  the recent Porsche "tradition" of cursing its cars with the sort of rear styling that Sir Mix-A-Lot would admire…
Intended to pay homage to the first Porsche model that bore the Speedster name – the incredibly awesome and unutterably beautiful 356 Speedster – the production run for the new model is limited to 356 cars.
Debuting at next month's Paris motor show, the 911 Speedster is significantly different from the other members of the 911 family, with a 60 millimetre lower, more heavily raked windscreen, a flatter manual soft top and, of course, the "double-bubble" hardcover for the soft top which, combined with a 44 millimetre wider rear, gives the Speedster its unfortunately ample rear…
The Speedster features a 300kW 3.8-litre flat six with average consumption of 10.3 litres/100 km. The seven-speed PDK transmission is in charge of transmitting power to the rear axle, which is fitted with a standard differential lock. Porsche Active Suspension Management (PASM) and Porsche Ceramic Composite Brake (PCCB) are standard.
The Speedster is the latest in a line of limited-run special editions from Porsche Exclusive and heralds the 25th anniversary of the factory-owned "enhancer'.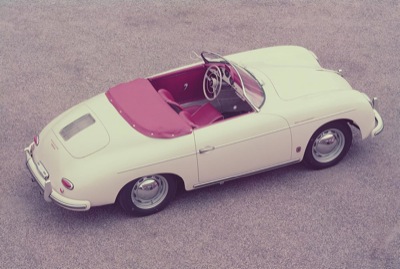 The Speedster series was launched in 1953 with a puristic sports car based on the Porsche 356, which had two sports bucket seats, doors with slide-in plastic side windows, and a shortened, elegantly curved windscreen. In 1988 the Speedster concept was revived – this time based on the 911 Carrera – and the "double-bubble" soft top compartment lid was first used, seen again on the 1993/1994 edition.
Running contrary to the original Speedster's "stripped out sports car" ethos, the 911 Speedster has been packed with almost every optional extra on Porsche's pricelist.
Still, it will no doubt be utterly awesome (as all 911s are…). Just make sure you only approach it from the front and never look in the rear mirror…