What is it?
The A5 was born out the the German car manufacturer's need to jam a car in ever conceivable segment and even make up a few new segments to cram new cars into.
Originally the A5 was the two-door coupe and cabrio version of the A4, but then along came the "four-door coupe" A5 Sportback that was actually a five-door liftback just to muddy the waters.
But whatever it is actually supposed to be, the A5 has been very successful for Audi by being the "design-led" alternative to the A4 sedan.
Now there is a new version that is even more design-led. Should go down well then.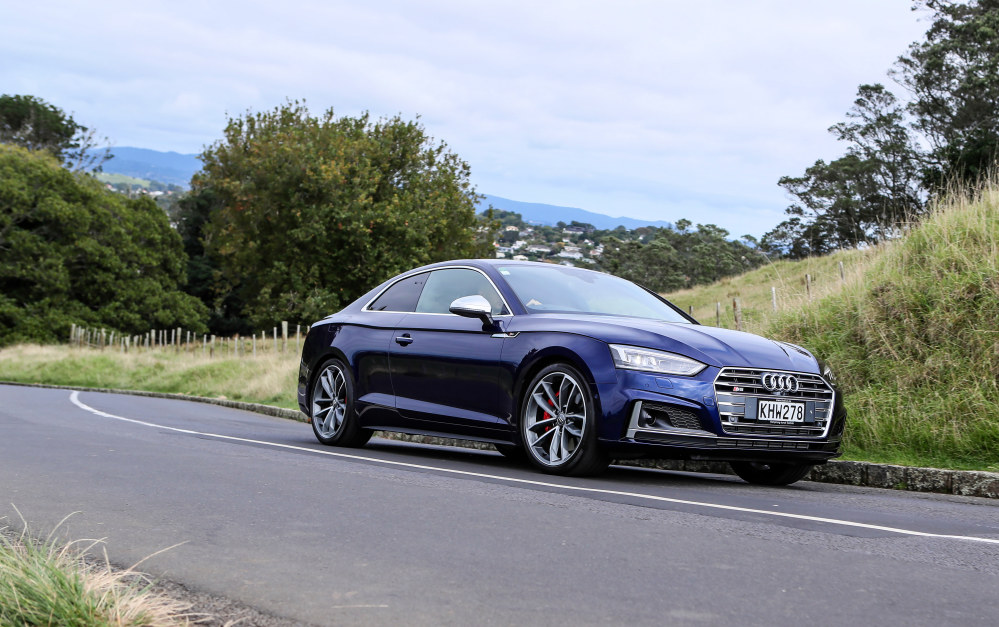 How much does it cost?
The A5 initially comes to New Zealand in two body styles – coupe and Sportback – and two models – the A5 and S5 – but not necessarily in that order.
At launch the A5 family consists of the A5 Sportback and the S5 Coupe and Sportback, with other versions – including the hot RS5 – appearing later in the year.
The A5 Sportback kicks off the range at $98,400, while the S5 Coupe and Sportback both land at $122,900.
What is its opposition?
Quite a broad spread, this one.
Clearly the BMW 4 Series is the obvious one, as well as the Mercedes-Benz C-Class coupe and cabrio.
Then there is the Audi A4 itself, which packs identical equipment levels in a more conventional body style, as well as the 3 Series .
And because Mercedes-Benz insists the smaller CLA is an design-led alternative to the C-Class sedan, that really makes it an A5/S5 competitor. Sort of.
Basically when it comes to cars that lead their sales pitch with design, that opens top a vast array of similarly-priced, yet potentially wildly different competitors…
What powers it?
The A5 Sportback is powered by a 185kW/370Nm 2.0-litre turbo petrol engine hooked up to a seven-speed dual clutch transmission and Audi's quattro AWD system, while the S5 Coupe and Sportback pack the same 260kW/500Nm 3.0-litre petrol turbo V6 as the S4 sedan hooked up to an 8-speed automatic transmission, again driving all four wheels.
What's it got?
The A5 Sportback comes standard with 18-inch alloy wheels, triple zone climate control, keyless entry and start, Nappa leather upholstery, Xenon headlights with LED daytime driving lights, an electric tailgate, an S Line exterior package and S Line sports package, satellite navigation, sports seats and Audi's impressive "Virtual Cockpit" 12-inch display.
On top of the A5's standard equipment, the S5 gets 19-inch alloy wheels, adaptive damping control, LED headlights and taillights, rear privacy glass, S sports seats, a head-up display and red brake callipers.
Both cars are packed with the latest safety and driver assist systems as standard as well, with Audis Pre-sense accident avoidance and mitigation system, Side Assist, adaptive cruise control with traffic jam assistant, turn assist, active lane assist, rear cross-traffic alert and exit warning, while the S5 models also get park assist and a 360 degree camera.
What's good about it?
It looks fantastic, with a more aggressive and heavily stylised nose that makes it quite distinctive from the A4 and gives it a far more purposeful and subtly aggressive stance that looks utterly fantastic in the metal. It doesn't come across quite so strongly in pictures, however.
The interior is up to the expected Audi high standards, with a beautifully designed and laid out cockpit that is immediately accessible and superbly comfortable.
The huge 'virtual cockpit" screen that replaces the traditional dials behind the steering wheel is configurable to the driver's tastes and looks sensational, while the new full width fee air vent effect is a wonderfully retro hat tip to the original Audi 100.
In its base form the A5 is a confident handler with an impressively resolved ride. The 2.0-litre TFSI engine is smooth and impressively powerful, with a surprisingly pleasant and slightly aggressive engine note when pushed.
The S5 is all of these things, but ups the ante with the same serene aggression as the S4 sedan. Effortless and instant performance is on tap from the 3.0-litre turbo six, with a strangely flat, yet nicely belligerent roar overlaying the eye-widening acceleration.
Both offer immense traction and stability in the wet thanks to the excellent quattro AWD system ensuring the S5's prodigious performance is available literally everywhere.
What's not so good?
While our usual gripe about Audi's steering being annoyingly distant still applies here, it does actually seem slightly more lively and communicative than the S4 we drove a while back.
The only real annoyance inside is Audi's insistence on not using touch screens, making the Apple CarPlay integration clumsy and unintuitive when using the MMI dial.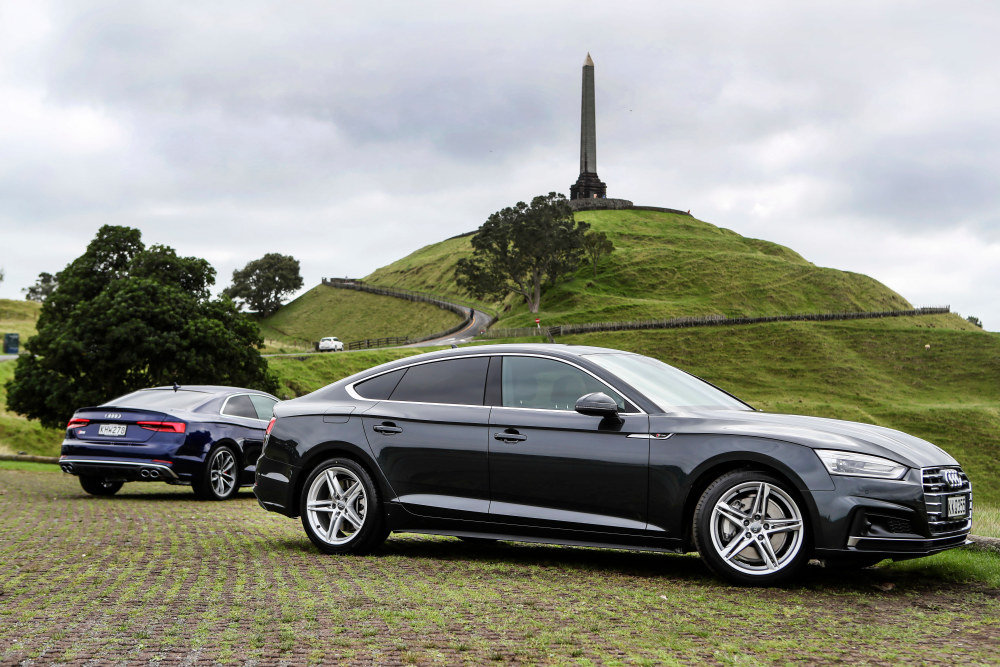 First impressions?
The A5 is a wonderfully comfortable and luxurious car that is equally capable of effortless open road cruising and tackling a challenging back road in a satisfying fashion. A high level of standard equipment and a massively impressive and comfortable interior make it a compelling package.
The S5 takes all of this and adds searing performance into the mix as well.
A mix of luxury and sportiness can sometimes sit uncomfortably, but Audi certainly seemed to have nailed it with the A5.