We have had along wait here in New Zealand for the new Ford Mondeo. The USA got it back in 2012 as the Fusion, while a change of manufacturing facilities has seen RHD production delayed by a number of years.
But it is here now and it has some pretty big expectations that it needs to live up to if it is going to take its place as Fords "flagship model" on the eve of the Falcon's demise.
We headed to Canberra (yes, really) to check it out.
What is it?
Fords venerable mid-sizer is the latest in a family that runs back through several generations of Mondeo, Sierra and Cortina – a range that takes in some seriously good, and some seriously awful cars.
And all cars that virtually personify the concept of a company car.
But the new Mondeo has somewhat broken that mould, as Ford has seen fit to stuff even the entry-level model full of the latest technology and safety equipment.
The 2.0-litre four-cylinder petrol EcoBoost engine is available in two different power outputs – a 149kW/345Nm version in the entry level Ambiente sedan and wagon and a 177kW/345Nm version in the Trend and Titanium models – while the 2.0-litre four-cylinder diesel is available in a single 132kW/400Nm guise across the Ambiente and Trend models.
The new Mondeo comes standard with an impressive amount of technology and safety equipment across the range, not the least of which is Ford's new inflatable rear seatbelt that, in the event of a collision, will deploy a "mini airbag" over an occupant's torso and shoulder in 40 milliseconds. Ford says this spreads the impact forces over five times more area of the body to help reduce pressure on the chest and control head and neck motion for rear seat passengers.
All models also get Ford's brilliant new SYNC2 infotainment system that includes an 8-inch touchscreen, voice control, 2 USB ports, an SD card port, iPod and audio/video RCA inputs, Bluetooth connectivity and a satellite navigation system.
The Trend models also score an impressive range of safety technology as standard, including adaptive cruise control that maintain a pre-determined distance from the car in front, regardless of speed and Active City Stop that can help avoid or mitigate rear end collisions at speeds up to 40 km/h.
The Titanium adds a lane keeping assist function that vibrates the steering wheel to warn the driver when they are drifting across a lane and a forward collision warning function that sounds an audible alert when it senses a reduction in traffic speed ahead and, if the possibility of a collision is detected, audible and visual warnings are activated to alert the driver.
The Titanium also gets a new version of Ford's Active Park Assist system that will not only finding a spot that's just the right size, but will also steer the car into a parallel – and now perpendicular – parking spaces itself.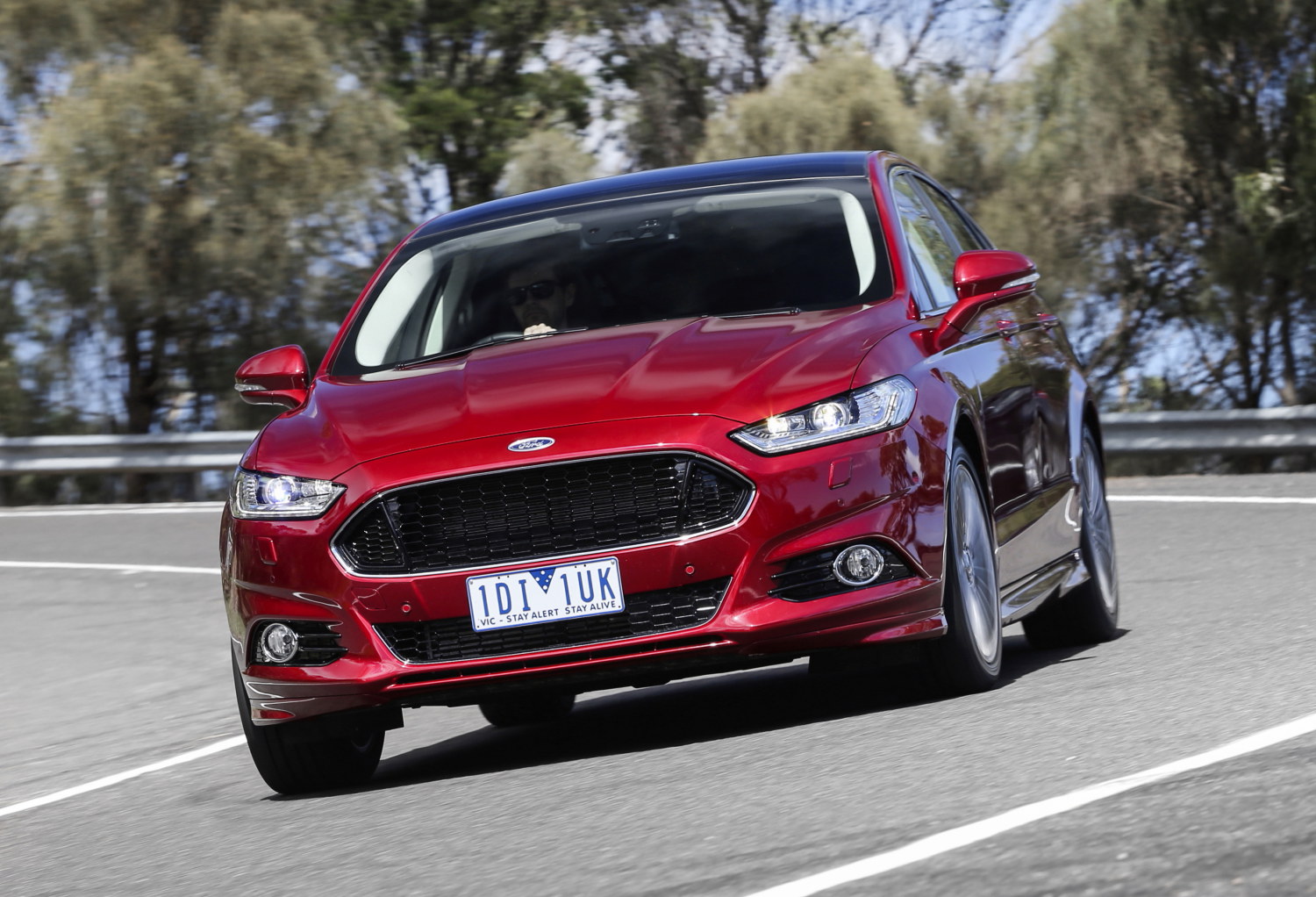 What's it like?
For a car that is actually "all-new" the Mondeo does a remarkable job of looking quite a lot like the car it replaces. New corporate nose aside, the body is, at first glance at least, remarkably similar to the last car. But look for longer and it becomes apparent that the new car is curvier and subtly sleeker than the old one.
Where it is distinctively different, however, is inside. Here, even the entry level Ambiente gets a modern, stylish, fantastically well built interior. Ford's new SYNC2 system is brilliantly easy to use and also seems to have a voice recognition system that actually works with kiwi accents!
But the smooth, powerful engines are the clear stars of the Mondeo package, with even the base 149kW petrol being remarkably strong and refined, a massive change from entry-level Ford engines of not so long ago.
The new Mondeo is notably softer than the last car, but his is only to its advantage, as it now boasts a brilliantly compliant ride to compliment its sharp handling. While;e the steering is a little too distant and over-assisted for our tastes, it is still fantastically sharp and accurate, while the lane-keeping function (that subtly steers you back to your side of the road if you wander) is one of the best we have experienced.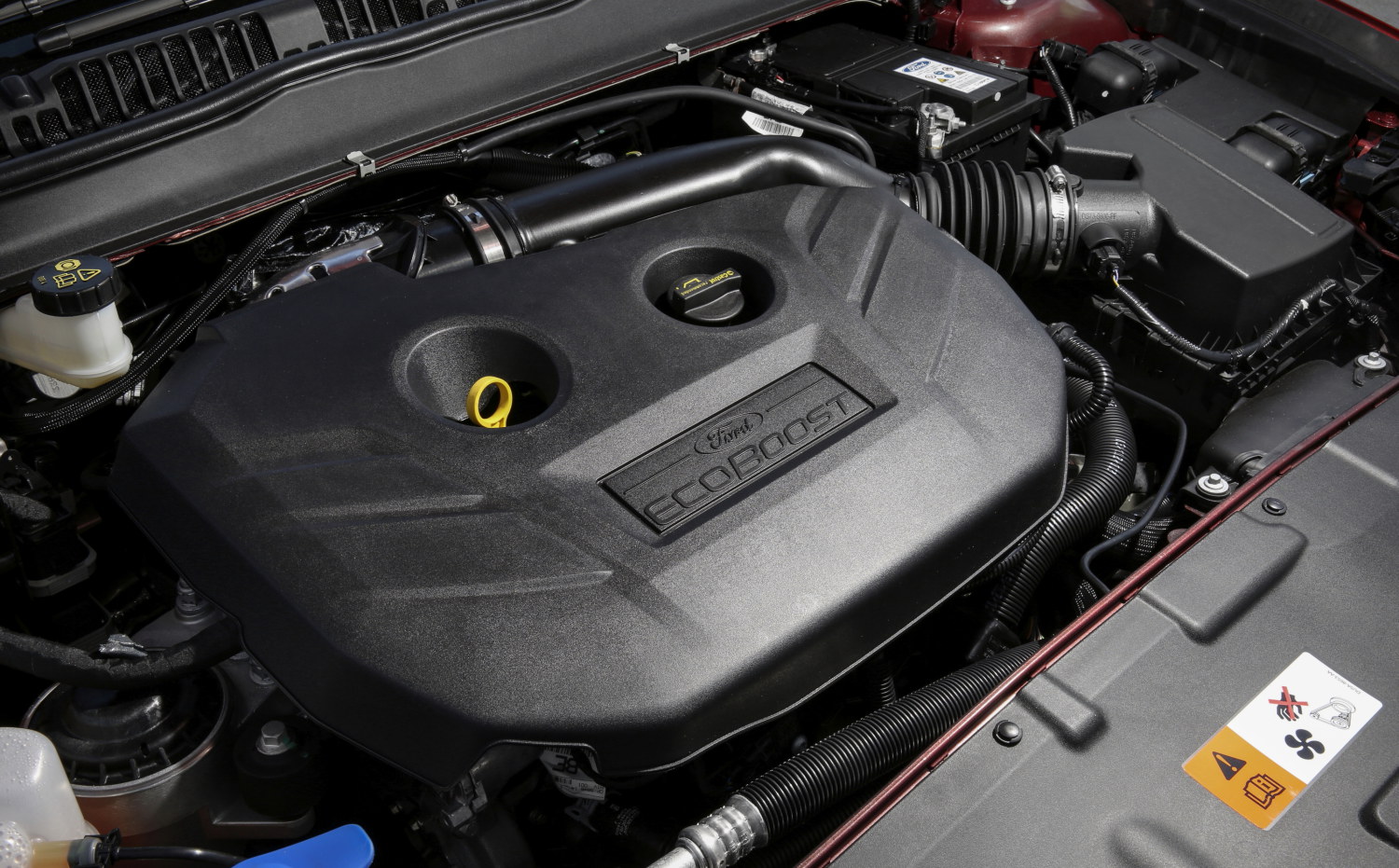 What's good about it?
The technology and safety that Ford have packed into the Mondeo, while not blowing the prices out of all proportion, is simply staggering. But even better is the fact that, even stripped of all of that, the Mondeo is still a satisfying car to drive anywhere at any speed.
SYNC2 is simply brilliant, while the interior is nicely built and comfortable. And, possibly for the first time in a mid-size Ford, ALL the engines are brilliant.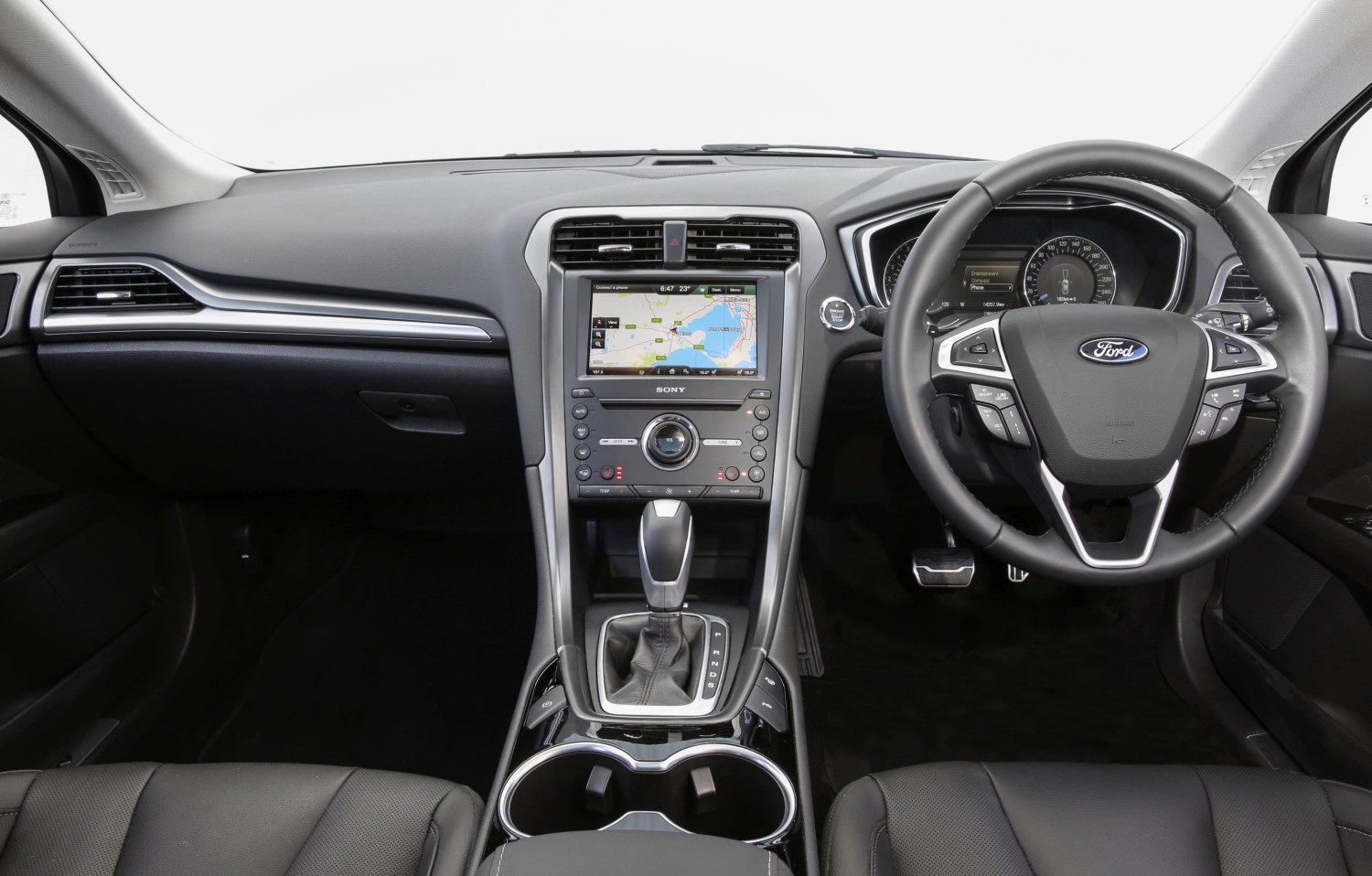 What's not so good?
The fact that all the best safety technology only comes with the top models is a disappointing reality, while the long-standing Ford annoyance of anyone 6ft or taller can't get the driver's seat low enough.
The range of alloy wheels available are seriously dull and, as attractive as it is, it really does just look like a nose job.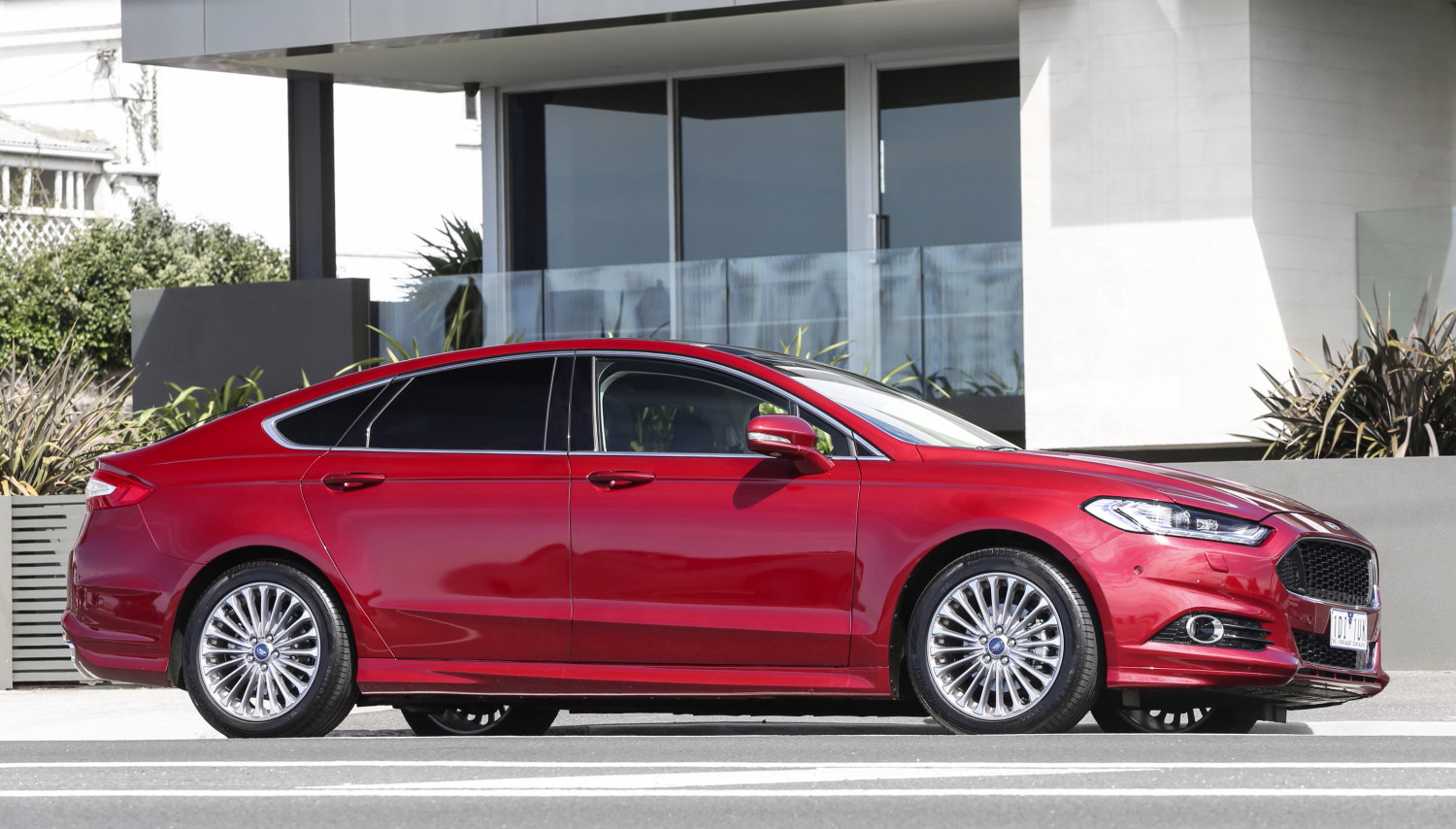 First impressions?
A deeply impressive mid-size car. But while the Mondeo may be the current technology leader in the segment, it may not have things all its way for long.
Mazda have just released a refreshed 6 will a load of new tech, while an all-new Toyota Camry and Volkswagen Passat are due here very shortly, both sure to be brimming with technology.
Still, the Mondeo still has those massively impressive engines that will be very hard to better, plus the fact that it is a brilliant thing to throw around. Or cruise in, for that matter.
Models/prices
Hatch
Ambiente EcoBoost (149kW) – $43,990
Trend EcoBoost (177kW) – $48,990
Trend EcoTorq – $50,490
Titanium EcoBoost (177kW) – $53,390
Wagon
Ambiente EcoBoost (149kW) – $45,490
Ambiente EcoToorq – $46,990
Titanium EcoBoost (177kW) – $54,890
For full Mondeo specifications and options click here