Sometime OVERSTEER contributor Karl Burnett was recently lucky enough to get a sneak preview of the upcoming awesomeness that is Forza Motorsport 5 on the Xbox One for NZGamer.com and they were kind enough to let us share his conclusions here! Thanks guys!
I've been a fan of Forza Motorsport since the game's initial release on the world's most massive console (I'm talking physically here, the Xbox was like a small, windowless building) back in 2005.
Forza marked the first time that someone other than Polyphony Digital / Sony was capable of making a realistic racing simulator for consoles that featured oodles of real-world road metal and racing circuits. Others had attempted this massive task, such as Sega with their desperately average Sega GT series, but no one had come close to recapturing the magic of Gran Turismo, until Turn 10 entered the fray.
Forza Motorsport converted me. I was a hardened GT fan. I had owned every iteration of the GT series, including the not quite so epic "Prologue" versions, but Forza improved on the formula. Microsoft's offering featured cars unavailable in the GT series, such as the Ferrari range, damage modelling, and much more accurate engine sounds, moving the experience into the realm of true immersion, rather than just a "game".
Since then, I have owned every version of Forza Motorsport released, though to be honest, that's not much of a feat, as the releases are limited to full game packages and the odd limited edition, unlike Sony's many coin grasping attempts.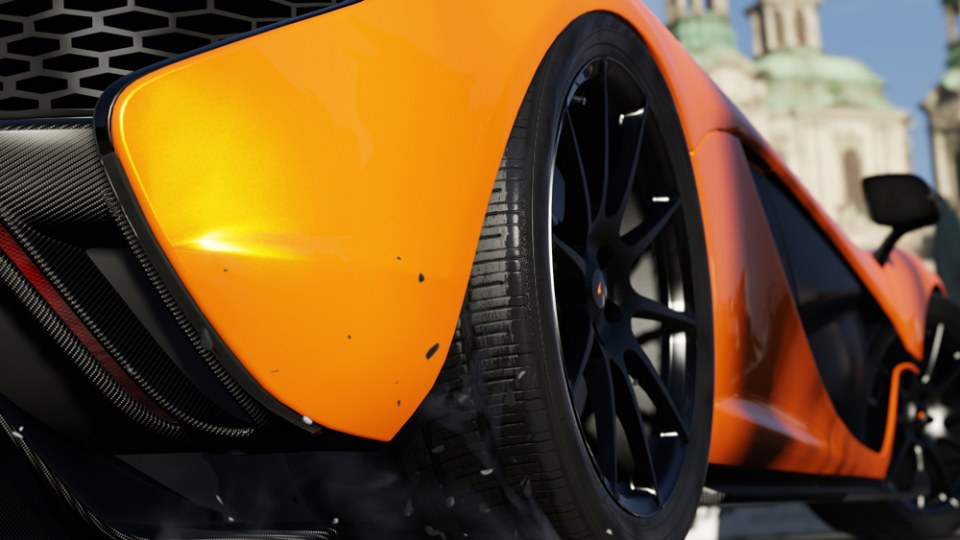 In each and every new edition of the franchise, the game gets bigger and better. Forza 2 introduced HD visuals, Forza 3 took those visuals and polished them to a high gloss, then Forza 4 went even further by collaborating with BBC's Top Gear.
So, as you can imagine, I was quite happy when I was asked to go and have a fiddle with the latest iteration of this outstanding racing series; Forza 5 on Xbox One.
Upon arriving at the venue where my next generation Forza experience was about to take place, I was shown up some shiny steps to an array of Xbox One development kits, each with an equally excited journalist plonked down in front of it.
I was given the rundown on our "competition", in which the quickest driver around Bathurst would win an Audi Drive Day experience. I then witnessed a wee bit of self-celebration and congratulatory behaviour, as one of the guys had just posted what was considered to be a very impressive lap time. We'll see, I thought.
I was then set up with my very own console and some swanky 5.1 headphones, which proved to be far too sci-fi for my dinosaur brain, as I couldn't even work out how to increase the volume. Oh well, my old man ears managed to cope, and I was soon semi-enveloped in the Forza world.
As with Forza 4, the game starts with an intro voiced by TV oaf, Top Gear's Jeremy Clarkson. He rambles on about why we love cars so much, all to some pretty motorsport action shots and outright car porn. Shortly afterwards, you're thrust behind the wheel of a McLaren P1 hypercar for the first race, in which you (and I'm guessing, the Xbox) can gauge your current skill level.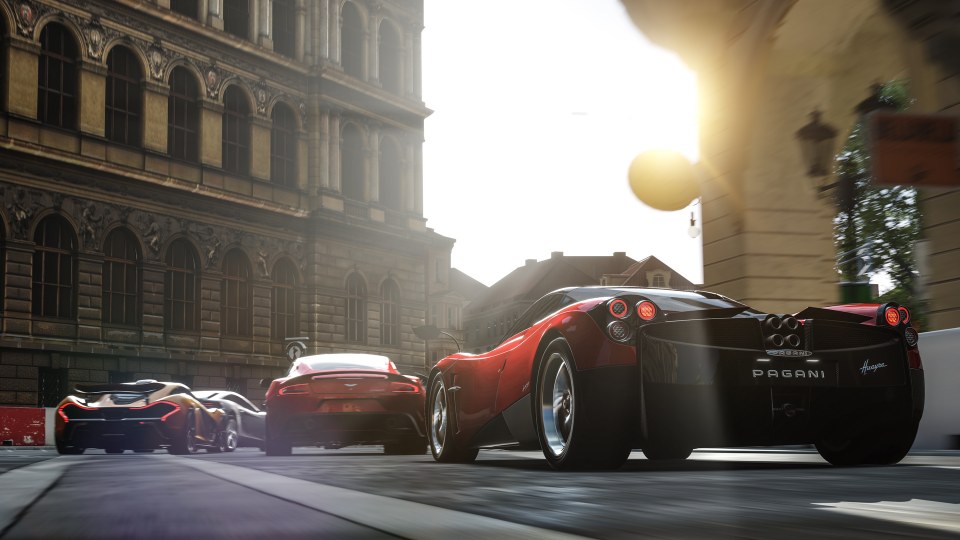 I managed to bring my McLaren back to the pits covered in all sorts of dents and scrapes and I have to admit, having people watch you play and witness the aftermath was perhaps a little embarrassing.
Before we get onto what I thought of the actual game, I'd like to take a quick moment to touch on the hardware. The system itself, well, you all know what that looks like, it's a black, plastic box, quite a bit prettier than the original Xbox and the 360, that's for sure, but the controller could be one area where Microsoft has stepped backwards.
I found the control pad to feel relatively familiar in the hands, maybe even more comfortable, but the triggers have been moved higher on the body of the controller, and as a result, they felt a little unnatural. With the 360 controllers, your fingers automatically fell into the perfect spot for accelerating and braking, whereas the Xbox One took a little bit of "effort". I did play for a reasonable amount of time, though, and I didn't notice any strain, it just didn't feel as natural, or perhaps just as familiar, as what I am used to.
Right, back to the game. You start out in the compact sports class, which contains vehicles such as the Mazda RX8, Honda S2000, the new Toyota 86 and its sister car, the Subaru BRZ. The cars on offer are all beautifully modelled, as you'd expect from a Forza game, let alone a next gen title. One thing I did note was that there seemed to be a distinct lack of antialiasling. Now, this could just be apparent jaggies caused by sitting so close to a large LCD display, but it was a bit of a let down.
I chose to start my career off with the BMW 1 Series M Coupe, knowing full well that it was the quickest car available and I wanted that Audi Drive Day.
Soon I was on the starting grid. Everything was very familiar to me as a Forza player, though, once again, the visuals have been given a new coat of paint. Forza 5 runs at full 1080p and at 60 frames per second, and the detail is a step above Forza 4. I will admit I was possibly expecting a little more that what was offered up visually… sure the game is better looking than the current gen iteration but it's not going to blow your mind. Of course, its only early days, for the Xbox One, hell the thing hasn't even been released, so I'm sure future titles will blow off more than a few pairs of socks.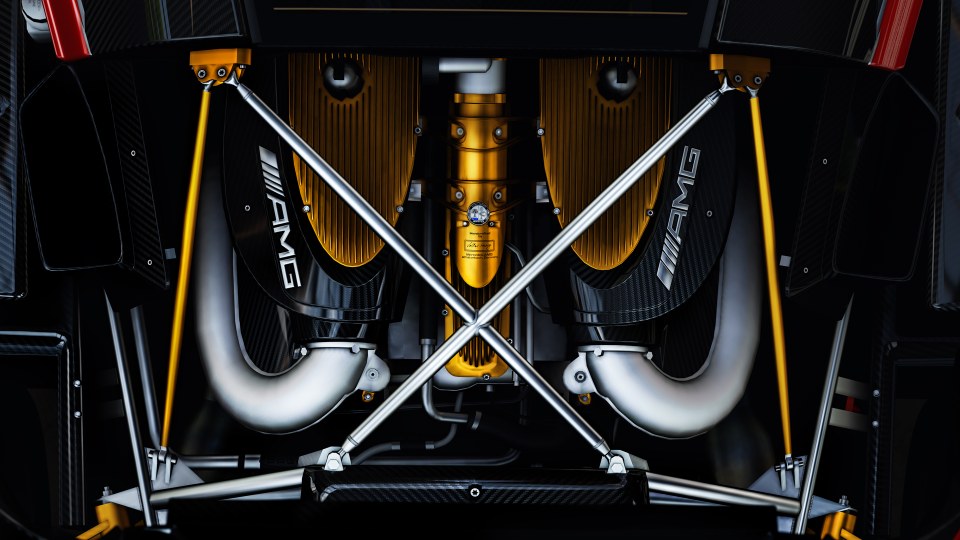 Where Forza 5 differs hugely from Forza 4 isn't so much in the overall look of the graphics, it's more down to the subtle enhancements, like vastly improved realtime shadows and the inclusion of realtime reflections on the inside of the windscreen. I have to be honest, I was fanging it around the Bernese Alps circuit when I kept noticing something to the left of the display. I thought I was detecting a glitch in this pre-release build… but then I managed to catch a long enough glimpse of said glitch and was made aware that it was actually a reflection of my driver's own left hand. So despite looking rather cool, I did find the reflections to be a bit of a distraction at times.
On top of the shadows and reflections is a much improved lighting system. Textures and models all round have been beefed up, too.
Back to the hardware again, the new controllers feature feedback in the triggers that buzz against your fingers to notify you of ABS activation and loss of traction through over-exuberant throttle application. This sounds kind of gimmicky but in reality is a surprisingly effective feature.
Game-wise, from what I saw, it's a familiar affair, with you traversing the globe, taking part in various races and events, all the while garnering enough coin to upgrade your rides and purchase new ones. The weird Top Gear Test Track events are back, a feature I'd rather they'd dropped from Forza 4. In the previous version were the annoying "bowling" games, now we have a Top Gear Test Track littered with cardboard cutouts of London landmarks, telephone booths, and swathes of wheelie bins and post boxes, which are meant to emulate the madness that is driving in England's biggest metropolitan area. I found this event to be quite impressive visually, as millions of polygons hurtled towards my widened eyes, yet little more than a tech demo in what I believe should remain a proper racing sim. But hey, some people like this kind of thing and it certainly doesn't make the game worse.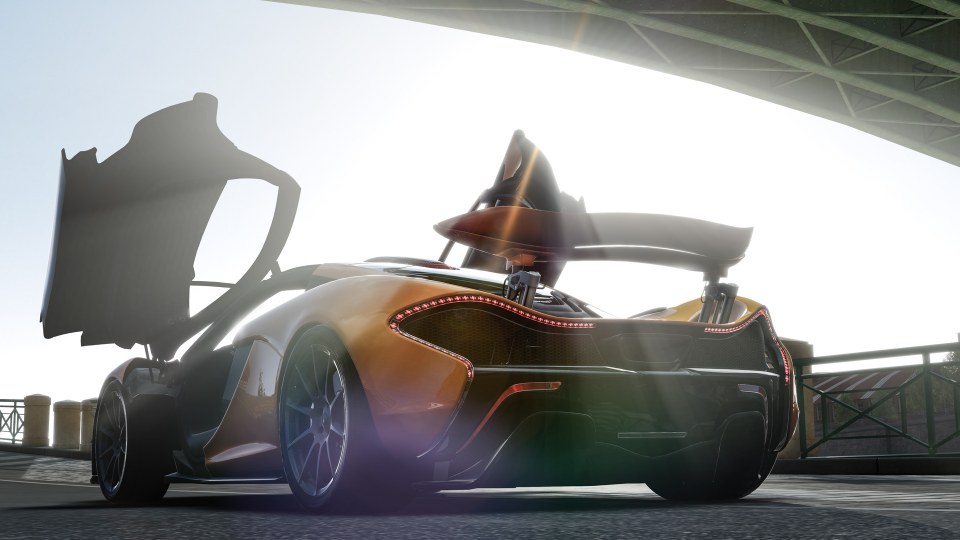 A few races in, I finally found myself at the esteemed Bathurst circuit. I'd decided that the controls seemed a bit more sensitive than on the Xbox 360 and I'd (embarrassingly) had to put most of the driver aids back into commission, as I'd been spending a bit too much time on the wrong parts of the track.
So off I went in my pursuit of that Audi Drive Day. On my first lap, I was a good fifteen seconds behind my colleague's best time. On my second attempt, I was even further behind. I seemed to be getting worse! The combination of being watched and being too competitive and pushing too hard made it clear that I wasn't going to win this challenge. In fact, I'd be surprised if I even managed not to come last, such was the inadequacy of my driving.
Forza 5 is not just a prettier version of the same old game. The physics are vastly improved and even getting a wheel on the grass affects the dynamics of the car greatly. Everything feels much more realistic and cries out hardcore sim, though the various driver aids make sure anyone not too well endowed with driving talent can still achieve decent results.
I wasn't blown away by Forza 5. Sure, graphically it's a step in the right direction and the cars handle beautifully, but in Forza they always did. I believe Forza 4 is going to be Forza 5's worst enemy. It was so damned close to perfection, it's not exactly easy to improve on, is it.
At the end of the day, it's Forza, so I will buy it. It's the closest thing you can get to racing on a home console and since Sony has made the (brave?) decision to launch Gran Turismo 6 only on the PS3, Forza well and truly has the monopoly on the next gen console racing simulation market.
The Good: Looks and feels better than ever
The Bad: Xbox One's controller takes some getting used to
The Ugly: How do you improve on Forza 4?
Forza 5 releases alongside the Xbox One on November 22nd.
Many thanks again to NZGamer.com and Karl Burnett!