Last year, Audi released what is currently regarded as the hottest of the current generation of 'hot' hatches. The RS3 boasts a thoroughly ridiculous 270kW of power and 465Nm of torque, which – coincidentally, I am sure – just happened to eclipse the 265kW/450Nm of the previous hottest of the hot, the Mercedes-Benz A 45 AMG and its associated platform mates.
Logically, there's very little to be worried about over a difference of 5kW and 15Nm. The car world is anything but logical, so AMG had to strike back.
And strike back it has, with the new-generation Mercedes-AMG A 45 – complete with that new brand that follows the company's current direction of removing its founder's name from the hottest and most luxurious models, not to mention an increase in power and torque of 15kW and 25Nm, taking it to 280kW and 475Nm.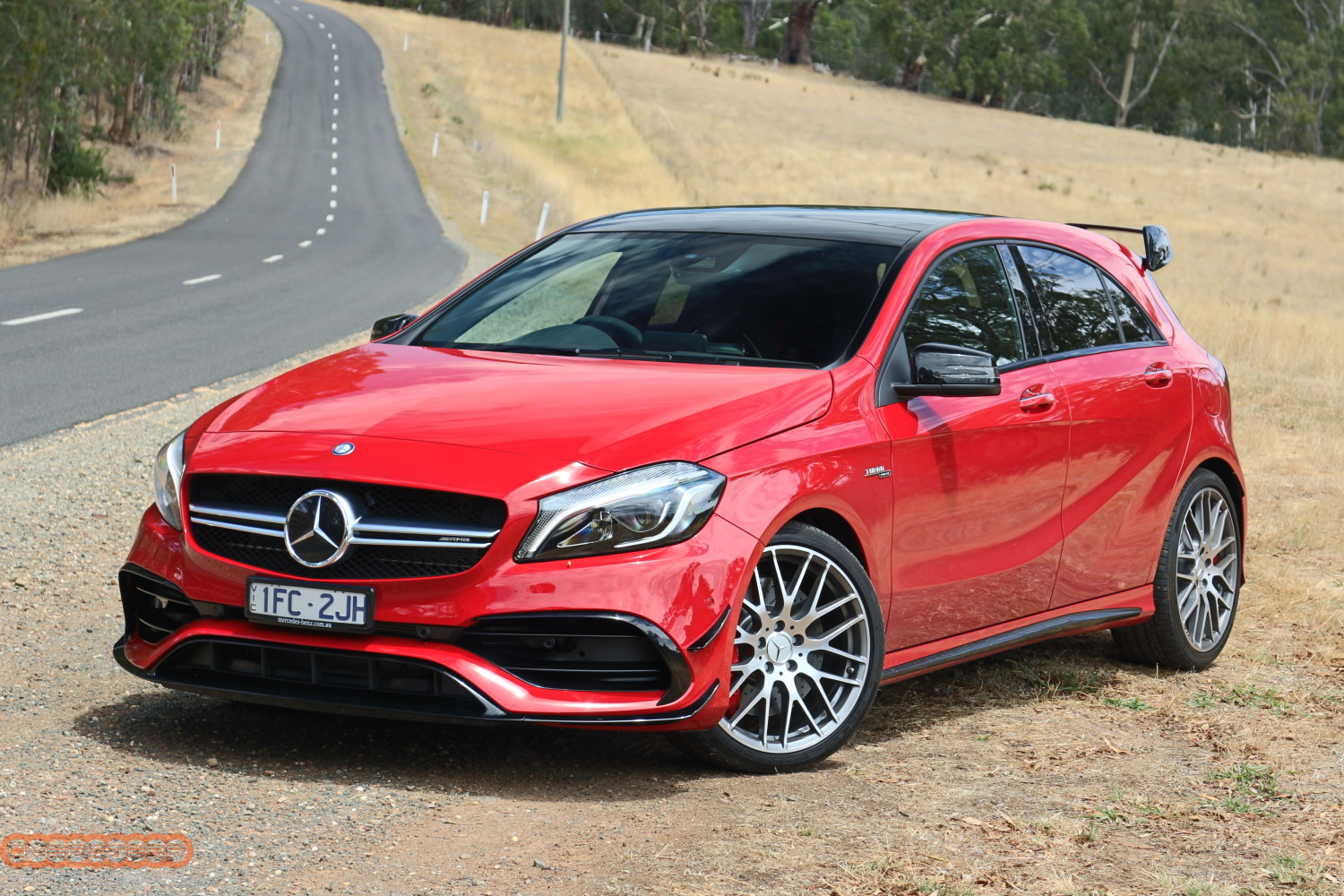 For those of you keeping score, that's a nice round 10kW/10Nm more than the RS3. The AMG will also now scamper to the open-road speed limit from a standing start in 4.2 seconds, which is 0.1sec faster than the littlest RS. That should teach Audi for muscling in on that turbo 4WD performance segment that it pretty much invented.
This is the newest battleground for the German manufacturers to to flex their horsepower at each other. It's the car-equivalent of the awkward passive-aggressive struggle between two bulging steroid enthusiasts at the gym, where both try to do just a bit more weight than the other.
Previously, most right-thinking people (well, me) considered the AMG to be the better car regardless of outputs. But now there's an interesting wrinkle.
The Audi has always been more adaptable and capable of being docile around town, but the AMG was just so ferocious and feral in its performance, that its less-forgiving ride and angrier nature around town was worth putting up with.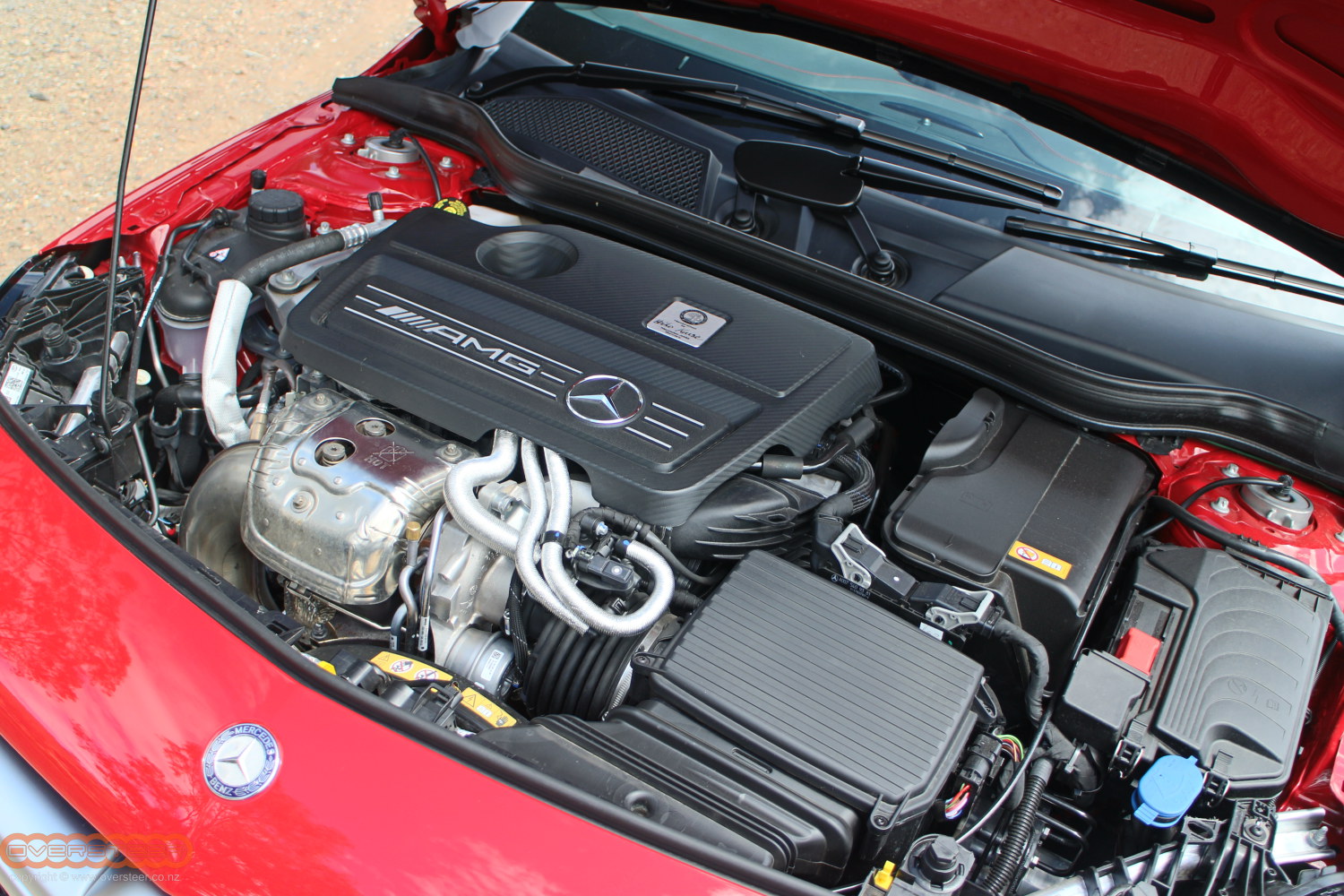 AMG has now decided that you shouldn't necessarily have to put up with it, so for the 2016 model year the A 45 has had a visually unadventurous, but mechanically comprehensive refresh that has not only added the extra power that the marketing department demanded, but has also brought tweaks and additions to make the A 45 a far more agreeable proposition as an all-rounder.
But let's just take a step back for a minute, because it's not just the hot AMG that has had improvements for 2016 – the entire A-class range has been tweaked.
While the A 180 and A 200 still feature the same 1.6-litre four-cylinder turbo engine and the A 200d still features the same 2.1-litre diesel, all three have had visual tweaks on the outside (a black diamond grille is now across the range) and a few equipment changes on the inside (keyless start, blind spot assist). All models of A-class now come with the Dynamic Select system that has modes for Comfort, Sport and Eco as well as the customisable Individual setting, all of which modify the engine, transmission, suspension, steering and air conditioning to suit the driver's needs.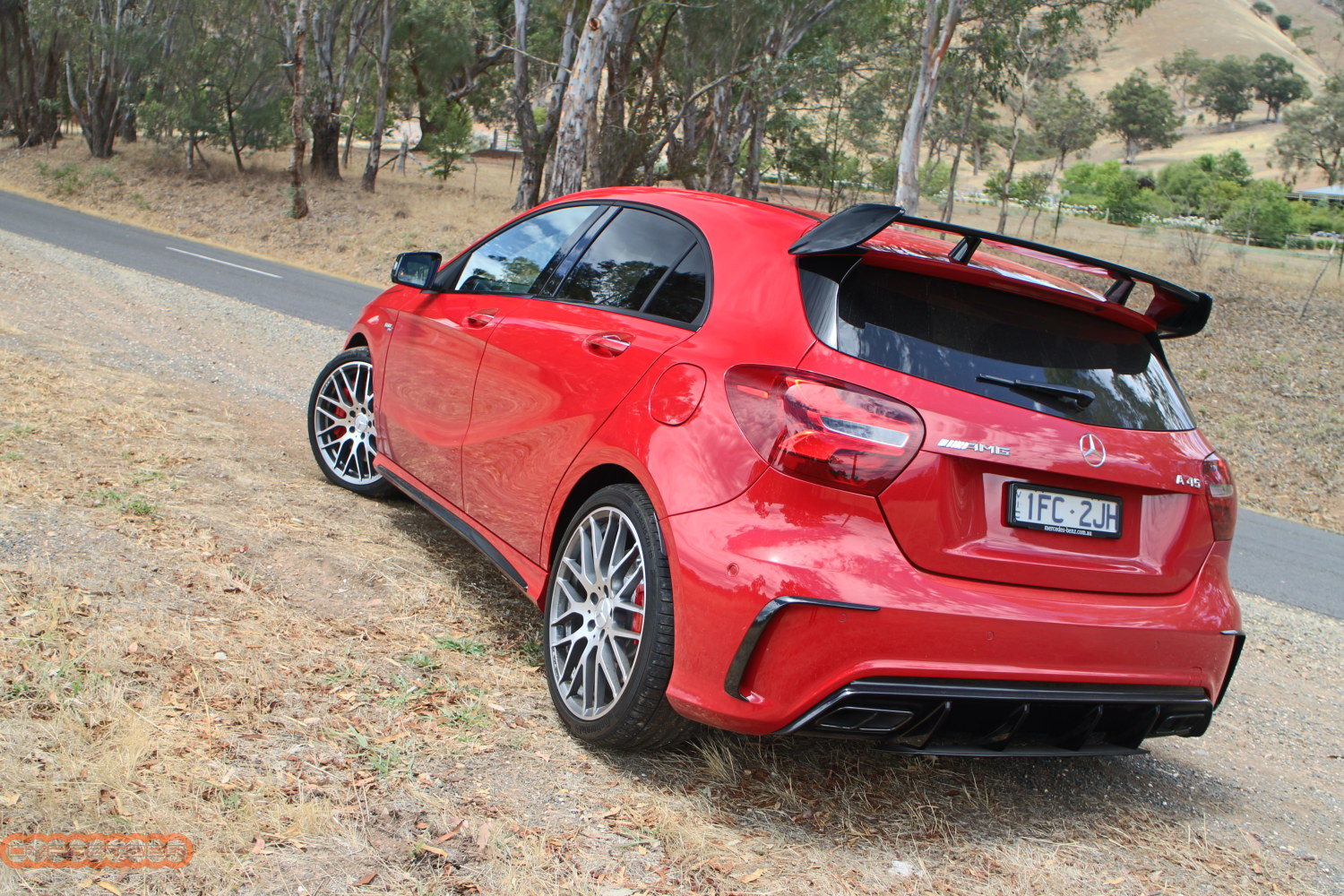 The A 250 Sport, meanwhile, has also had a power increase to 160kW and 350Nm. It now comes with Mercedes' thoroughly excellent 4Matic all-wheel drive system as standard.
The A 250 also comes standard with 18-inch wheels, an AMG body kit, AMG Ride Control suspension, LED headlights and a panoramic sunroof.
But, as it has been ever since it first appeared, the A 45 is the star of the show, and Mercedes-Benz was determined to keep the focus on the hottest model at the launch of the MY16 cars by holding it at a racetrack.
Not just any track, mind you, but one uniquely suited to the A 45's abilities – the State Motorcycle Sports Complex in Broadford, just out of Melbourne. That's right – a motorcycle track. But given the A 45's size, power, stunning grip and nimble abilities, it was a track that was just perfect for the tiny terror to be let loose on.
Except that "loose" isn't really something that the A 45 does. While it has always been a remarkably accurate and clinically precise tool when it comes to corner carving, the new car has had tweaks to the suspension (largely to grind the hard edges off the fairly uncompromising ride) and now gets the Dynamic Select system.
Along with the normal modes, the AMG also boasts Sport+ and Race modes, which are roughly equivalent to how the A 45 used to ride all the time, while offering the perfect setting for track work.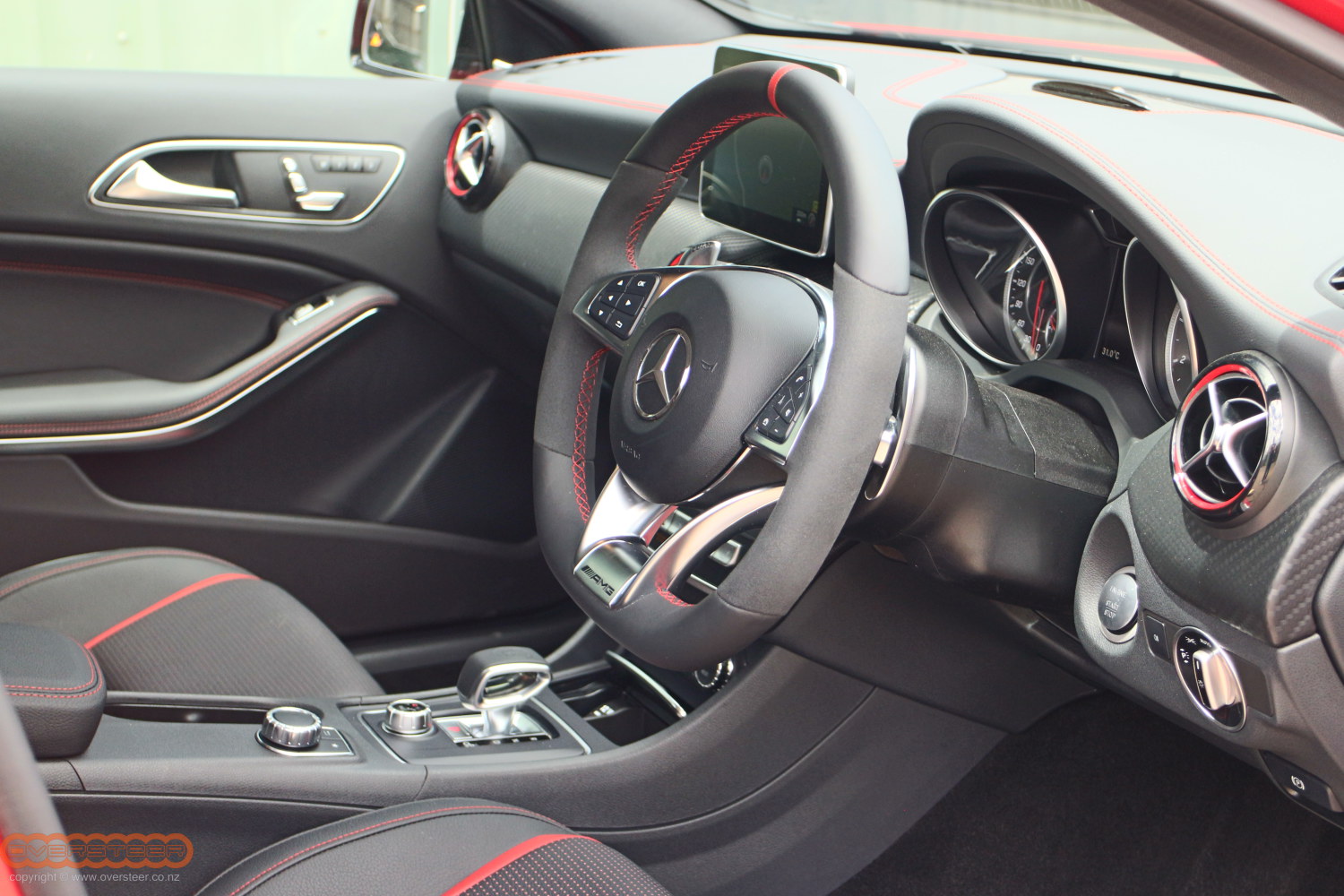 Out in the real world, on real roads, the addition of the Comfort mode is a blessing, with the A 45 still staying remarkably flat and controlled through the bends – but also removing all the tooth-chipping jarring that the previous car suffered from over broken surfaces.
Not content with just massively improving the ride, AMG has also actually made the A 45 even sharper by adding a new mechanical front-axle locking differential that makes exits from corners truly spectacular.
With less time spent battling for grip, the A 45 now rockets out of corners like a cat with its tail not only on fire, but also stapled to an angry snake. Blaring and howling, the little AMG simply chews up corners and devours straights at a remarkable rate.
One downside of the drastic improvements to the ride is how easy it now is to simply slip into what feels like a relaxed flow on a back road, only to realise you are going way faster than it feels. Which could be frowned upon by certain uniformed people out there.
I freely admit that I was one of the people concerned when AMG announced it was making a 4WD small car with a 2.0-litre turbo engine. After all, it was mostly famous for stonking V8s. But the original A 45 proved me very wrong. And with the latest incarnation, Mercedes and AMG have made a thoroughly excellent car even better.
MERCEDES-BENZ A-CLASS
Price range: $48,600 (A 180) to $97,600 (A 45 AMG).
Powertrains: 1.6-litre petrol-turbo with 90kW/200Nm (A 180) or 115kW/250Nm (A 200), 2.2-litre turbo-diesel with 100kW/300Nm (A 200d), 2.0-litre turbo-petrol with 160kW/350Nm (A 250 Sport) or 2.0-litre turbo-petrol with 280kW/475Nm (A 45 AMG), 7-speed dual-clutch automated transmission, front-drive (A 180, A 200, A 200d) or all-wheel drive (A 250 Sport, A 45 AMG).
On sale: Now.