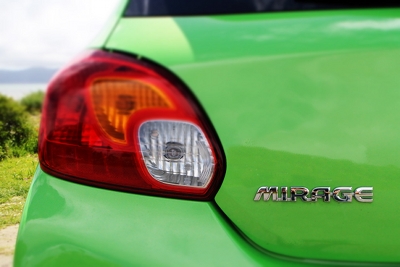 The Mitsubishi Mirage was once the sales hero of the Japanese manufacturer's range in New Zealand, at one stage even claiming a massive 35 percent segment share. Now, after an absence of more than a decade the Mirage name is back to replace the un-lovely Colt. We head to Wellington to take it for a spin.
What is it?
A small car that Mitsubishi have big hopes for. Well, kind of. They are playing it down, but they are undoubtedly excited about having both the Mirage name back, plus a small car that is not the Colt.
The little Mirage lands squarely in the City Car segment, both in terms of price and size, meaning it bangs up against the likes of the Holden Barina Spark, Suzuki Splash, Kia Picanto and Nissan Micra.
Available in two spec levels, the Mirage gets off to a strong start by being well-specced and well-priced.
The entry level LS kicks things off at $18,990 and boasts standard features like keyless entry, Bluetooth and a leather steering wheel with phone and audio controls, as well as a full compliment of safety acronyms and six airbags. The GLS adds climate air conditioning, front fog lights, 15-inch alloy wheels (the entry car gets 14-inch steel wheels), a rear spoiler and rear privacy glass and retails for $21,990.
Both the LS and GLS are only available with a 58kW/102Nm 1.2-litre three-cylinder engine hooked up to a CVT transmission.
What's it like?
Maybe it was because we had low expectations bought about by the awfulness that was the Colt, but the Mirage was a very pleasant surprise indeed.
The little three-cylinder engine has a wonderful snarl to it and a surprisingly torquey feel down low. The idea of a three-cylinder hooked up to a CVT also had us lying awake at night sobbing and shivering at the prospect of driving it, but this too proved to be a pleasant surprise.
Okay, so it wasn't startling, but the combination of the engine's charismatic noise and the fact that Mitsubishi have included a two-step planetary gear set into the CVT means that it doesn't need to simply howl up to the redline and sit there to achieve forward motion, but at least if it does, it sounds hilariously angry.
The interior is relatively pleasing too, with an airy two-tone colour scheme and hard, but decent quality plastics used. There is nothing revolutionary present inside, but it is all pleasant enough, except perhaps for the traditional Mitsubishi seats that are noticeably flat and lacking in lateral support.
The long wheelbase (for such a small car) makes for a compliant and comfortable ride, while the handling is decent enough, with no real hidden surprises. The steering is distant, but very nicely weighted and the engine is surprisingly strong and flexible – not to mention remarkably frugal.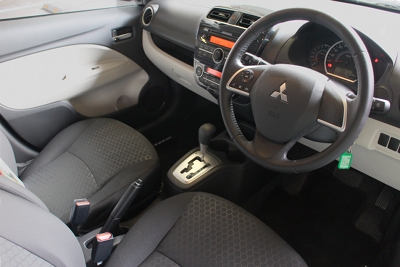 What's good about it?
The engine is a highlight – it sounds brilliant, goes remarkably well and uses bugger all fuel. It is roomy and comfortable inside and boasts an impressive ride for something so small, as well as being one of the few in the segment to boast a full 5-star ANCAP safety rating.
It has an absolutely minuscule 4.6-metre turning circle, meaning it is a doodle to park and maneuver in tight spaces and it is a decent-looker as well.
Oh, and it's NOT a Colt.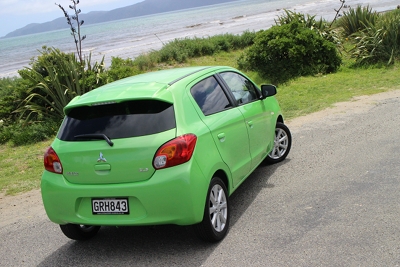 What's not so good?
While WAY better than we ever imagined, the CVT is still a CVT. The hilarity of the angry little three-cylinder buzzing away at full revs will probably wear off after a while and it would become as annoying as every other small engine/CVT combo. Maybe. But hopefully not.
While it is decent looking, it does verge on being generic, so tends to disappear in the crowd (especially the steel wheeled, wing-lacking LS) and there are signs of obvious cost-cutting, like the unpainted underside of the fuel-filler cover and a few other places.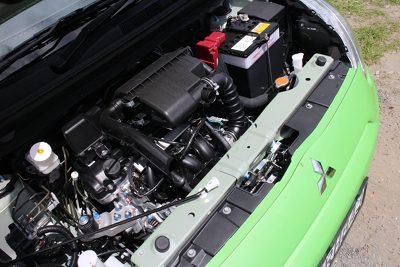 First impressions?
Surprisingly likable and competent. If you were to drive a Colt, you would have sworn Mitsubishi had forgotten how to build small cars, but the Mirage seems to be proof otherwise.
A charismatic engine, decent usable interior space and a grown-up ride mark the Mirage out as a potential star in the baby-car segment, easily bettering the likes of the Splash, Spark, Picanto and Micra.
The safety rating is a great bonus and the fuel economy the icing on the cake. It will be very interesting indeed to get the Mirage for a longer test and see what it is like to live with on a daily basis, but the initial impressions are rather good…
Specifications
Models/prices
LS – $18,990
GLS – $21,990
Powertrain
1.2-litre inline three-cylinder petrol producing 58kW/102Nm; continuously variable transmission; front-wheel drive
Fuel consumption:  4.6L/100km (LS), 4.9L/100km (GLS)
CO2 emissions: 106g/km (LS), 113g/km (GLS)
Safety
ANCAP/EuroNCAP rating: 5 star
Air bags: 6
Stability control: yes
Lap/diagonal belts: 5