What is it?
The Kodiaq is the first large SUV from Skoda and, if you don't count the funky Yeti, the Czech company's first "real" SUV.
Regardless of whether or not you count the Yeti as a "real" SUV, the Kodiaq is most certainly the real deal – roughly the same size as a Hyundai Santa Fe (a vehicle constantly bought up by Skoda people at the Kodiaq's launch), the Kodiaq is a full seven seater with heaps of cargo space and, in terms of the AWD model, some actual off-road ability.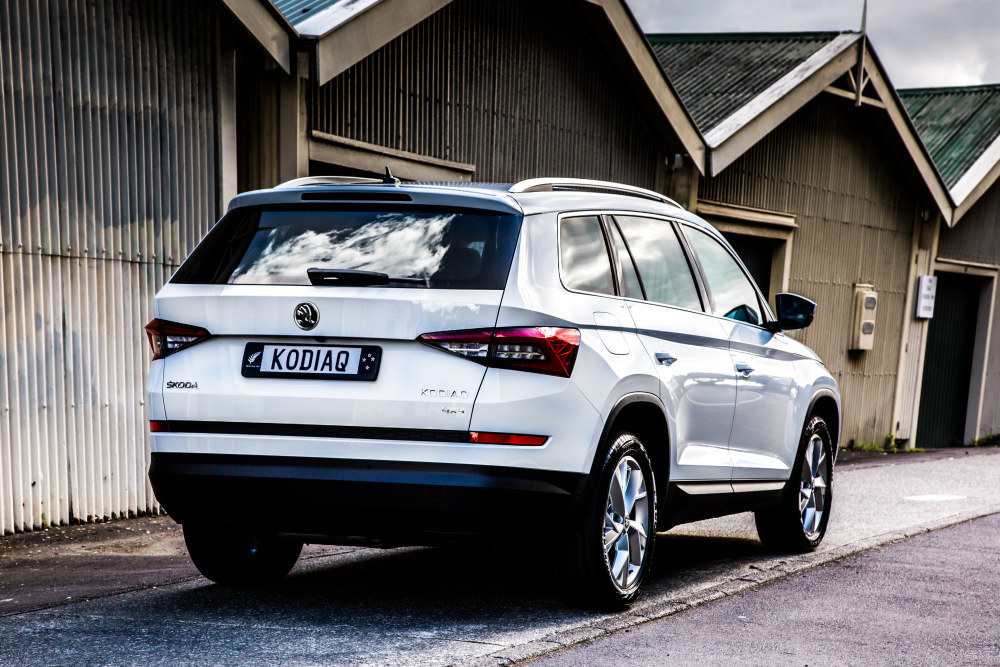 How much does it cost?
Skoda New Zealand has pulled of an absolute blinder when it came to pricing the Kodiaq, with the entry level 2WD Ambition 110kW model landing at a frankly ridiculous $39,990.
This is the same price as the entry Mazda CX-5 – a thoroughly excellent car that sits in THE SEGMENT BELOW the Kodiaq…
The AWD Ambition+ 110kW comes next at $44,990, while the top-spec AWD Style 132kW petrol lands at $54,290 and the AWD Style 140kW diesel tops the range at $58,290.
That oft-mentioned Hyundai Santa Fe starts at $60,990, remember…
What is its opposition?
Funny you should ask that – I think the Hyundai Santa Fe was mentioned.
So along with that comes anything else in that large seven seat SUV segment, which means everything from the afore-mentioned Hyundai and its sibling, the Kia Sorento, to the Mazda CX-9, Toyota Highlander, and Nissan Pathfinder.
You could also include some of the more off-road oriented ladder chassis SUVs that are a similar size, such as the Ford Everest, Toyota Fortuner, Holden Trailblazer, Mitsubishi Pajero Sport and the Isuzu MU-X.
Plus, because of its remarkable price, you also have to include smaller five- and seven-seat SUVs that cost similar (or even more) money, like the Mazda CX-5, Toyota RAV4, Honda CR-V, Holden Captiva, Hyundai Tucson, Kia Sportage and Mitsubishi Outlander.
Pretty much everything in the mainstream SUV segment. This thing means business.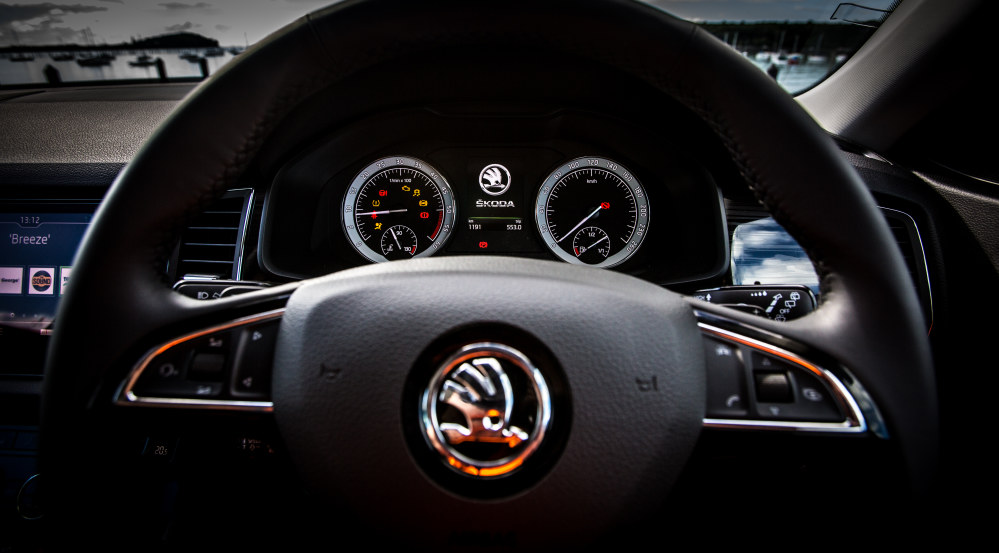 What powers it?
This is where the doubters will find fault, but we would seriously suggest driving the Kodiaq before making any rash judgment calls about engine size.
The Ambition 110kW and Ambition+ 110kW are powered by a turbocharged 1.4-litre inline four-cylinder petrol engine that produces 110kW (surprise!) of power and 250Nm of torque, hooked up to a six-speed DSG transmission driving the front wheels in the base car and all four wheels in the Ambition+.
The Style is powered by choice of a 2.0-litre four-cylinder turbo petrol that produces 132kW and 320Nm, or a 2.0-litre four-cylinder turbo diesel that produces 140kW and thumping 400Nm.Both are hooked up to a seven-speed DSG transmission.
What's it got?
Okay, so for that remarkable price Skoda must have absolutely gutted the Kodiaq, right?
Nope. In fact, making the price even more impressive is the fully-loaded status of even the entry car. Seriously.
The Ambition 110kW comes standard with 18-inch alloy wheels, LED headlights, taillights, corner function fog lights and daytime running lights, electric folding and heated exterior mirrors, half leather/cloth upholstery, a reversing camera, front and rear parking sensors, climate control air conditioning, autonomous emergency braking, cruise control, an electric tailgate, rain sensing wipers, a tyre pressure monitoring system, a 6.5-inch touchscreen infotainment system that includes Apple CarPlay, Android Auto and Mirrorlink and, of course, seven seats.
The Ambition+ adds a different style of 18-inch alloy wheel, keyless entry and start, triple-zone climate control, interior LED ambient lighting, full leather upholstery, heated front seats, a built-in Wifi hotspot and an 8-inch touchscreen infotainment system with satellite navigation.
The Style models also get 19-inch alloy wheels, a park assist system, radar cruise control, lane assist, blind spot detection, a 360 degree "area view" camera, "virtual pedal" automatic tail gate opening, rear privacy glass, a heated steering wheel which shift paddles, heated and ventilated front seats with perforated leather and a memory function and an upgraded audio system with nine speakers and a subwoofer.
Plus there there are all the very clever Skoda touches like the umbrellas in the front doors, the ice scraper in the fuel flap, the fold-out door edge protectors and heaps of other things that all Kodiaq's come with.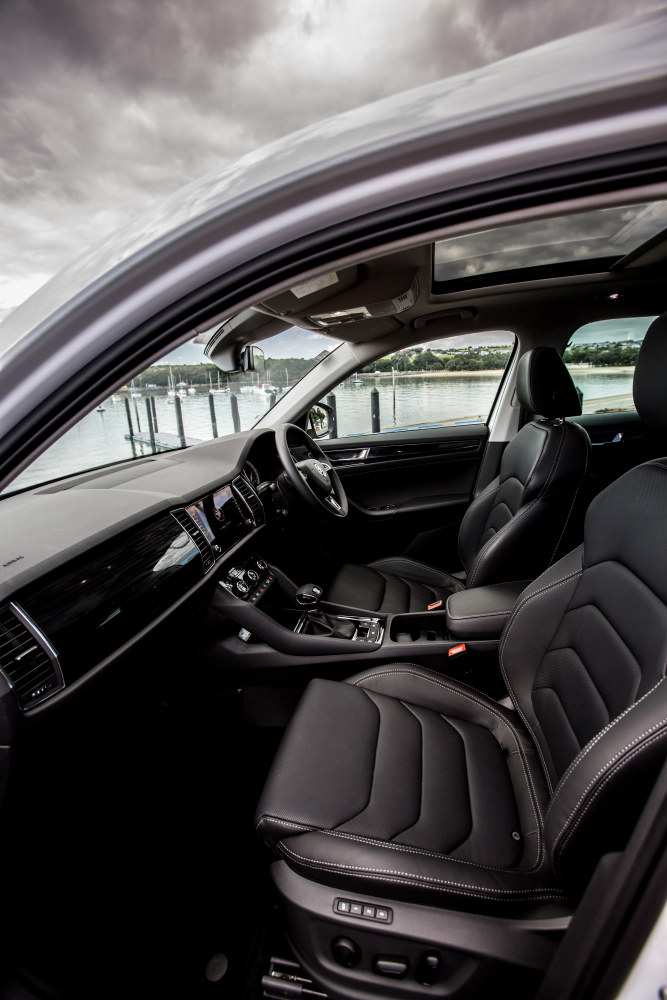 What's good about it?
With its remarkable price, it would be easy to think Skoda have cut corners on the driving experience or interior and build quality, but that also couldn't be further from the truth. The Kodiaq has an interior that easily matches a Volkswagen in terms of quality and design, while the seats are fantastically comfortable.
It is incredibly well equipped, handsome and deeply impressive to drive.
The engine are strong and more than powerful enough, with the entry level 1.4 being a particular surprise and highlight.
The steering is beautifully weighted and surprisingly communicative (particularly for an SUV), while the body control is firm and controlled, but impressively supple and comfortable.
What's not so good?
Dammit, this is why cars like the Kodiaq make my job hard – there is actually very little to dislike about it. And I really am not a fan of SUVs…
There are some hard plastics in the cabin? Only if you're really looking… The 360 degree camera in the Style is not as good as the one in the BMW 7 Series? Really?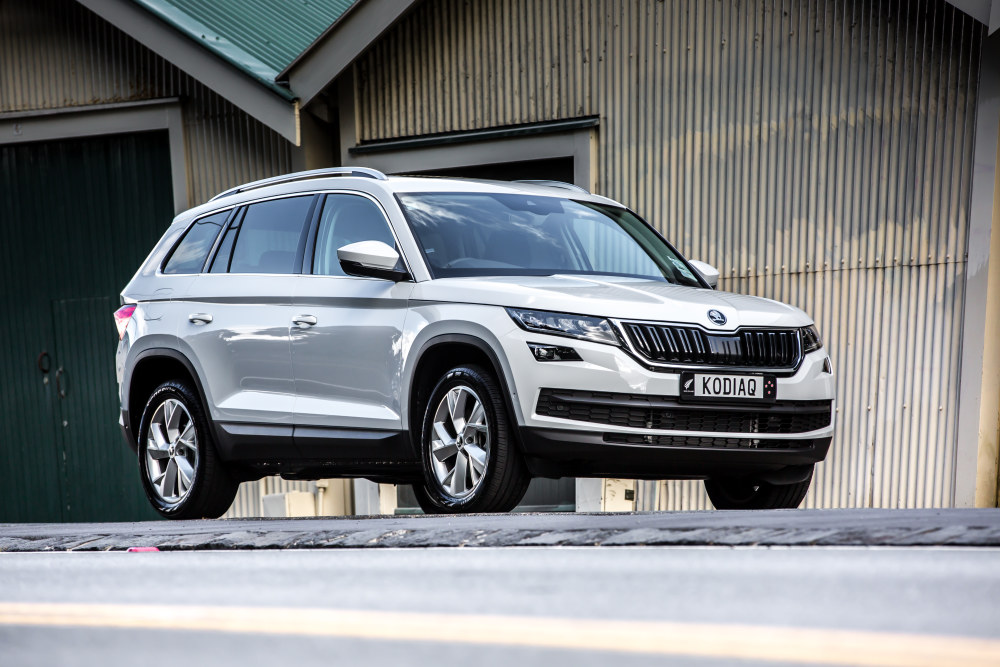 First Impressions?
The Skoda Kodiaq has been greeted with rave reviews and multiple awards around the world and it is very easy to see why – it is a deeply impressive vehicle and, in New Zealand, presented at an even more deeply impressive price.
It looks great, is massively well equipped, comfortable, modern, incredibly spacious and practical, and beautifully put together.
But it is also something we never thought we would say about an SUV – it really is enjoyable to drive.
Yep, that's right, the Kodiaq is sharp and responsive on a winding road, with the brilliantly torquey engines only adding to its enjoyability through the twisties.
Something this big shouldn't be this good through a corner, but that size is where the Kodiaq's other deeply impressive ability lies – it is massively practical as well.
Longer, wider and with a longer wheelbase than that poor picked-on Hyundai Santa Fe, the Kodiaq boasts between 270 litres and 2005 litres of cargo space, depending on the seat arrangement. Thats right; 270 litres even with the third row of seats up…
While we are picking on the Santa Fe, it is also worth pointing out that the AWD Kodiaq has the same 2,000kg tow rating, even the 1.4-litre Ambition+ (the 2WD Ambition can tow 1,800kg braked).
The Kodiaq is a truly convincing first go at a large SUV from Skoda and while the Hyundai Santa Fe has born the brunt of comparisons both at the launch and in this article, there is one vehicle that we can't help feel may be even more in the Kodiaq's firing line, even if not intentionally. After all, why would you buy a Volkswagen Tiguan when the Kodiaq is around?