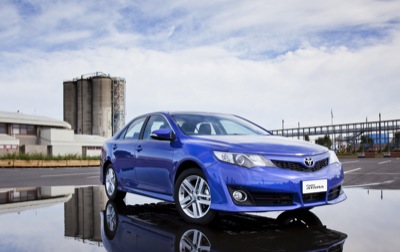 Just a Camry? That's never actually been a bad thing… We go to the launch of the new Toyota Camry to see what exactly IS new.
What is it?
An all new Camry, baby! Well… kind of. Actually, make that "mostly"…
While the new 7th generation Camry may sit on the previous car's platform, it does boast an all-new body and a new powertrain, with a more powerful 2.5-litre four-cylinder engine and slick new six-speed automatic transmission.
Available in base GL, Atara S and Atara SX models (with hybrid and hybrid iTech models being added shortly) Toyota New Zealand claims the new Camry looks better, goes better and uses less fuel that it's predecessor.
And going on first impressions – based on looks alone – you would have to say they are right.
The new Camry is an attempt by Toyota to bring a bit of emotional appeal to the Camry, following decades of "rational appeal" that has led to its worthy, reliable, sensible and dull image. As such the new Camry boasts a more aggressive look – particularly around the nose – and added driver-appeal.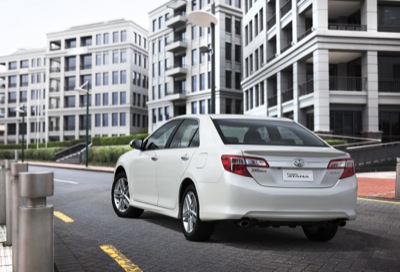 What's it like?
While the Camry may have gathered the reputation of being merely an appliance that is no more exciting than your average fridge and is basically the automotive equivalent of pairing up your socks after a load of washing, this is largely undeserved as the Camry has always been a pretty decent thing to steer.
In fact, we here at Oversteer would go so far as to say that the Camry has always been one of our guilty pleasures and a Camry test car is always something we always end up enjoying. Even if you are fairly certain that everyone who sees you in it assumes that it is a company car or a rental…
But that's understandable really, because the vast bulk of Toyota's sales of Camry are to fleets and that is how it has always been and will probably will forever be. I'm sure it's probably an amendment in the Ten Commandments somewhere and Moses mentioned it at dinner sometime that "Yea, so it shall be that if thou is equipping staff with vehicular transport then thy obvious choice shall be Camry, and Toyota shall henceforth make available spec levels suitable for all, from the lowliest sales representative through to the most middle levels of management"
Anyway, the launch drive around the mighty Manawatu (and, rather awesomely, the Manfield racing circuit!) showed that the new Camry carries on the reputation of being a bit of a good thing to steer, with the new engine and transmission providing decent urge and nice shifts, the revised steering being sharper and nicely responsive and the tweaked platform provided a pleasing compromise between handling and comfort.
On the road the new Camry feels noticeably heavier than the old car, but Toyota's push to make it appeal on a more emotional level is not only reflected in the styling stakes, but also in a concerted effort to make it feel even better on the road. This means that the new car – particularly the Atara SX, with its firmer suspension and bigger wheels – feels positive and assured when chucked into a corner.
The new interior is spacious (in fact boasting 46mm more leg room that the old model) and comfortable, albeit a little plasticky in places. It is, however, impeccably put together and the worst of the cheap plastics are at least mostly out of reach.
The 2.5-litre engine pumps out 133kW of power and 231Nm of torque (or 135kW/235Nm in Atara guise, thanks to that model's twin exhaust set up) and provides adequate grunt to haul the Camry around. While it is not neck-snappingly fast, it does what you want it to, when you want it to and the new six-speed automatic transmission transmission is slick and responsive, albeit a bit vague in manual mode.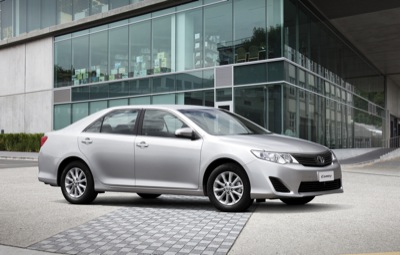 What's good about it?
The all-new looks, with all its sharp edges and creases, go some way to reducing the "just a Camry" lack-of-visual-appeal that blighted the last model, while it remains as well bolted together as ever.
The engine and transmission are well suited and the ride is comfortable without being floppy and detrimental to handling.
It's got a good stereo and is more fuel-efficient than the old model.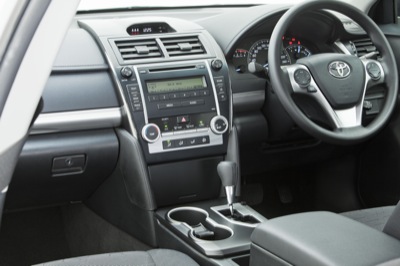 What's not so good?
The new looks may reduce lack of visual appeal, but don't banish it altogether with the base model GL, in particular, still looking a bit, well, bland…
Some of the interior plastics are a bit cheap and nasty looking and the exhaust note at idle sounds particularly flat and crap. Which is strange given that it actually manages to sound a bit interesting up in the revs…
Lastly, the display in the instrument binnacle that tells you what gear you are in when in manual mode only really tells you what gear you want it to be in, not what gear the transmission has actually selected and the transmission will shift up when you hit the rev limiter, usually just before you flick the paddle, leading to an amusing double shift up into a gear higher than you wanted.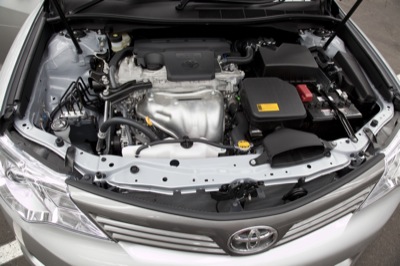 First impressions?
There is absolutely no reason to think the new Camry will lose any of its appeal to fleet buyers. It is still, after all, a sensible, practical, well-built sedan and everything we have come to expect from Toyota.
Equally, there is no real reason to think that Toyota's hopes of making the Camry more emotionally appealing to the private buyer wont, at least in some way, be achievable by the new model.
It is, after all, handsome enough (mainly in Atara guise, that is), well equipped, comfortable and quite enjoyable to chuck around the blacktop if the mood takes you. Just a Camry really – and that IS a good thing.
Specifications
Models/prices
GL – TBA
Atara S – TBA
Atara SX – TBA
Powertrain
2.5-litre four-cylinder petrol producing 133kW/231Nm (GL) or 135kW/235Nm (Atara S/Atara SX); six-speed automatic transmission; front-wheel drive
Fuel consumption: 7.8L/100km
CO2 emissions: 183g/km
Safety
ANCAP/EuroNCAP rating: 5 star
Air bags: 7
Stability control: Yes
Lap/diagonal belts: 5