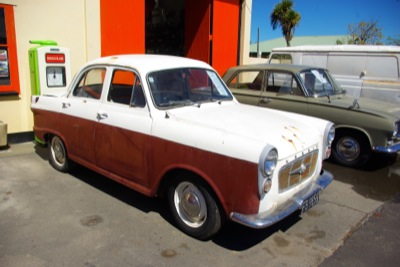 I saw an Australian Morris Major yesterday. I also saw a Morris Major Elite! Two Morris Majors in the one day and in the same place.
It's easy to be cynical about BMC in this period as the company had tentatively pushed the self-destruct button, putting in place a slow-moving chain of events that would eventually see the company vanish.
Nobody had expected the Morris Minor to be as successful as it became and by the early fifties plans were well advanced for a successor that would be slightly bigger than the Minor with a bigger engine — the B-Series. But then management looked at the sales figures for the Minor and decided that it was selling so well that they didn't really need the new car. The shortage of medium-term vision was clearly evident.
But they were so advanced with the new car they decided they might as well continue with it and it became the Wolseley and Riley 1.5 twins. Badge engineering. These were popular and successful cars and they gained a reputation as being sporting through the appearances of many hard driven examples on (mainly) British race tracks.
BMC Australia wanted a car of their own and management decided that they should have this new car. But Riley and Wolseley weren't mass-market brand names in either Australia or New Zealand and so the Australian built cars were called Austin Lancer and Morris Major and they became reasonably big sellers, particularly in Australia.
Britain dropped the model with the advent of the 1100 but, in Australia, the car was given a facelift along with an engineering update and became the Mark II.
The engineering update was sound enough but the new sheet metal was appalling. From windscreen to rear window, the cabin section was unchanged, but the car was given a new front and rear.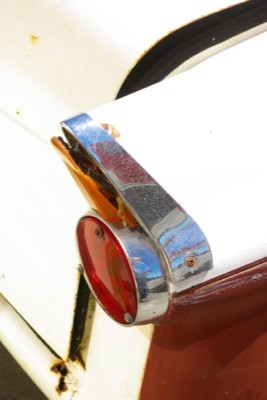 The inspiration for the styling came from a kindergarten and was simply awful — with fins at the rear. But the stylists were totally confused and gave the Mark II Morris Major/Austin Lancer, headlights surrounds that were almost a dead copy of the Ford 100E Prefect and tail lights that were obviously stolen from a Ford 105E Anglia. Maybe they wanted to fool would-be buyers into thinking these really were Fords?
We did get some examples here in New Zealand but they never sold in large numbers and some parents used newspaper advertisements of this extraordinarily ugly car to frighten kids into eating their silver beet.
I had forgotten that such a confused mish-mash of British/Australian automotive thinking had ever existed until recently I was on SH1 heading for Christchurch from Oamaru and passing through Hinds, just south of Ashburton, I spotted a Major sitting looking suitably embarrassed, outside the emporium of Martin Perry.
Martin's a Pom, not long arrived from the Old Country who has set up his base in Mid-Canterbury and has revived a defunct service  station by installing serve-yourself petrol pumps and scours the countryside for what he calls "lost causes". The sales area outside his garage always has a line-up of fascinating devices ranging from Bradfords to beetle-back Vanguards and everything in between.  Inside the small shop area and large workshop there are masses and masses of hard-to-get car parts.
I stopped and talked Morris Majors with Martin and he showed me the Mark III version, the Elite, out the back amidst a mass of early post-war Hillmans and Humbers along with Tasmans, Kimberleys and a host of other long-forgotten makes and models. There was even a Standard Flying Eight.
The Morris Major/Austin Lancer wasn't BMC's last attempt at creating an Australian car. It was followed by the Tasman/Kimberley twins and then, arguably the most successful, the Leyland P76. But the Major/Lancer, Marks II and III were the ugliest.