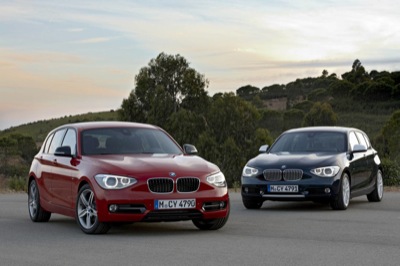 BMW has released details and pictures of the new 1 Series.
The next-generation small car was developed on the same platform architecture as the new 3-series and will, like the original 1 Series, appear first as a five-door hatch. It will be followed by a new three-door early next year, and will eventually spawn a new generation of up to six model variants.
Codenamed F20, the new 1 Series boasts a noticeable departure in styling from the slightly awkward original, bringing it in line with the new 5 and 7 Series cars and the X1 and X3. Despite the changes, the new 1 Series still maintains a distinct lineage with the original.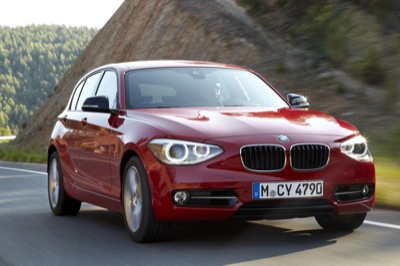 The new 1 Series has grown in almost every dimension over the old car, being 85mm longer than its predecessor (at 4,324mm) while the wheelbase has widened by 30mm to 2,69mm. Overall width has increased by 17mm to 1,765mm, with an increase in track of 51mm at the front and 72mm at the rear. Only height remains unchanged at 1,421mm.
Rather obviously, internal dimensions have increased as well, with the rear seats gaining a much-needed 21mm more legroom, and the luggage compartment has expanded by 30 litres to 360 litres.
At launch the new 1 Series will be powered entirely by four-cylinder engines using BMW's TwinPower Turbo technology.
The 1.6-litre petrol engines have twin-scroll turbochargers and direct injection, with the 116i clocking in at 100kW, and the 118i 125kW. These represent significant increases of 10kW and 20kW on the previous versions, with fuel consumption reduced by up to 10 per cent.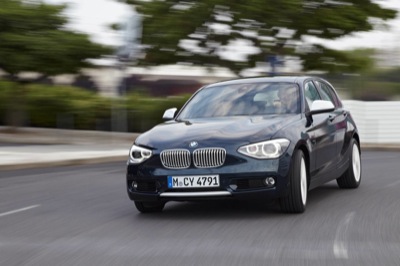 The 2.0-litre turbocharged diesel engines have been radically redesigned and feature variable turbine geometry and common-rail direct fuel injection, with the 118d boasting 105 kW.
BMW say that the 1 Series is the first and only car in its class to be available (as an option)with an eight-speed automatic gearbox previously only found in the larger, more expensive models.
BMW's EfficientDynamics technology comes as standard in the new 1 Series and includes the automatic Start/Stop function, available with both the manual and automatic transmissions, and ECO PRO mode, activated using the driving experience switch, for even better environmental performance.
Also unique to this segment is ConnectedDrive, the new BMW 1 Series' optional package of driver assistance and mobility services, including high-beam assistance, adaptive headlights, parking assistance, reversing camera, lane departure warning including collision warning and cruise control with brake function.
BMW ConnectedDrive also features Internet connectivity, increased smartphone and music player integration.
No word yet on when the new 1 Series will reach New Zealand shores.