Four point two million bucks buys you a fair bit of stuff. With that much money you could buy a garage full of tasty supercars, 255 Holden Sparks or a studio flat with occasional running water and an odd smell you can't get rid of in Auckland.
Or you could buy an Aston Martin Vulcan, just like Tony Quinn did.
Good luck with that, though, as most of them have already sold. If you hurry, you might be able to get one, but if you are waiting for that inevitable Lotto win, well…
The 7.0-litre V12-propelled carbon fibre monster is a track-only special created by Aston Martin to signal the design language of the next generation of Aston Martins, bid a fond farewell to naturally-aspirated Aston engines and celebrate the marques success in the Le Mans 24 hour race over the years – hence limiting the number to 24.
Now, I'm not going to waste time explaining who Tony Quinn is – you almost certainly wouldn't have read this far if you didn't already know, and besides, he has a book coming out soon that will do a far better job of explaining it than I could. Shameless plugs are not something the straight-talking Scotsman is afraid of.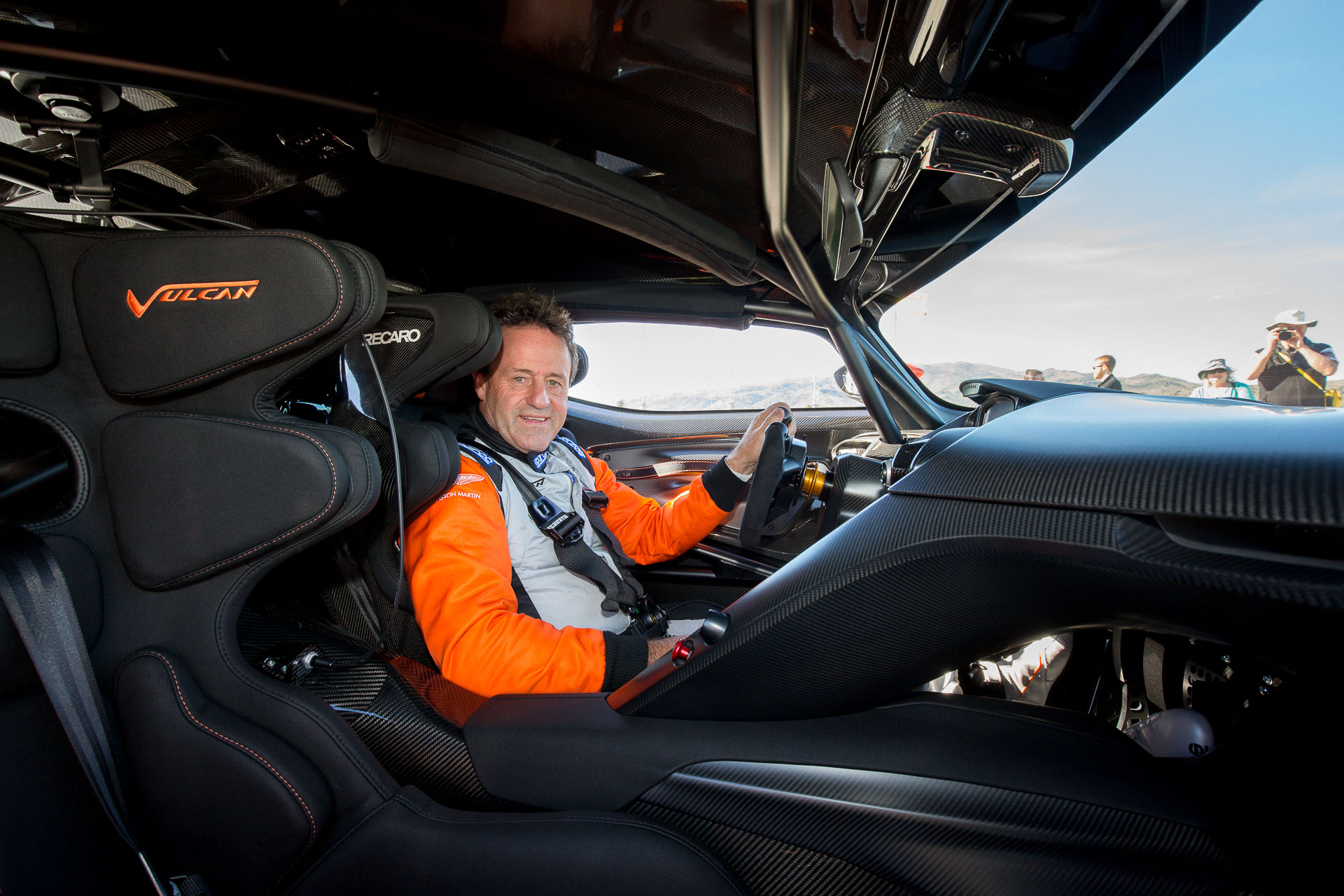 And neither should he be, after all, that what the Aston is really all about – promotion for Highlands Motorsport Park, promotion for Hampton Downs and, hell, promotion for New Zealand. Remember, it IS the only one in the Southern Hemisphere…
The next day I spend the entire morning watching the Vulcan bash around the Highlands track in ever increasing speeds, listening to the impressively loud, but weirdly turbine-smooth howl of the big 600kW V12.
The Vulcan is easily the most undramatic dramatic car on the planet. It idles with a sound that is barely below "ear-splitting" level, yet sounds very cultured and refined. It howls like a banshee at higher revs, but remains almost insanely smooth at all times.
A single flat boom punctuates each down shift – no dramatic barrage of bangs and crackles – while the nearest it comes to sounding dramatic is when Quinn lifts off the throttle and coasts into pit lane. Then it lets out an anguished roar as the revs drop off, like it is pained by the very idea of slowing down.
The sound is all-encompassing and deeply impressive, but strikingly undramatic. Much like the way it accelerates.
Make no mistake, the Vulcan is brutally fast, even set on "only" 675hp mode (the tyres it was shipped on were "unsuitable" for running on full 800hp mode, or in Quinn's words "shite"), but the inherent smoothness of the V12 belies its savage acceleration. Although the pounding you neck takes on a lap testifies to its truly brutal nature.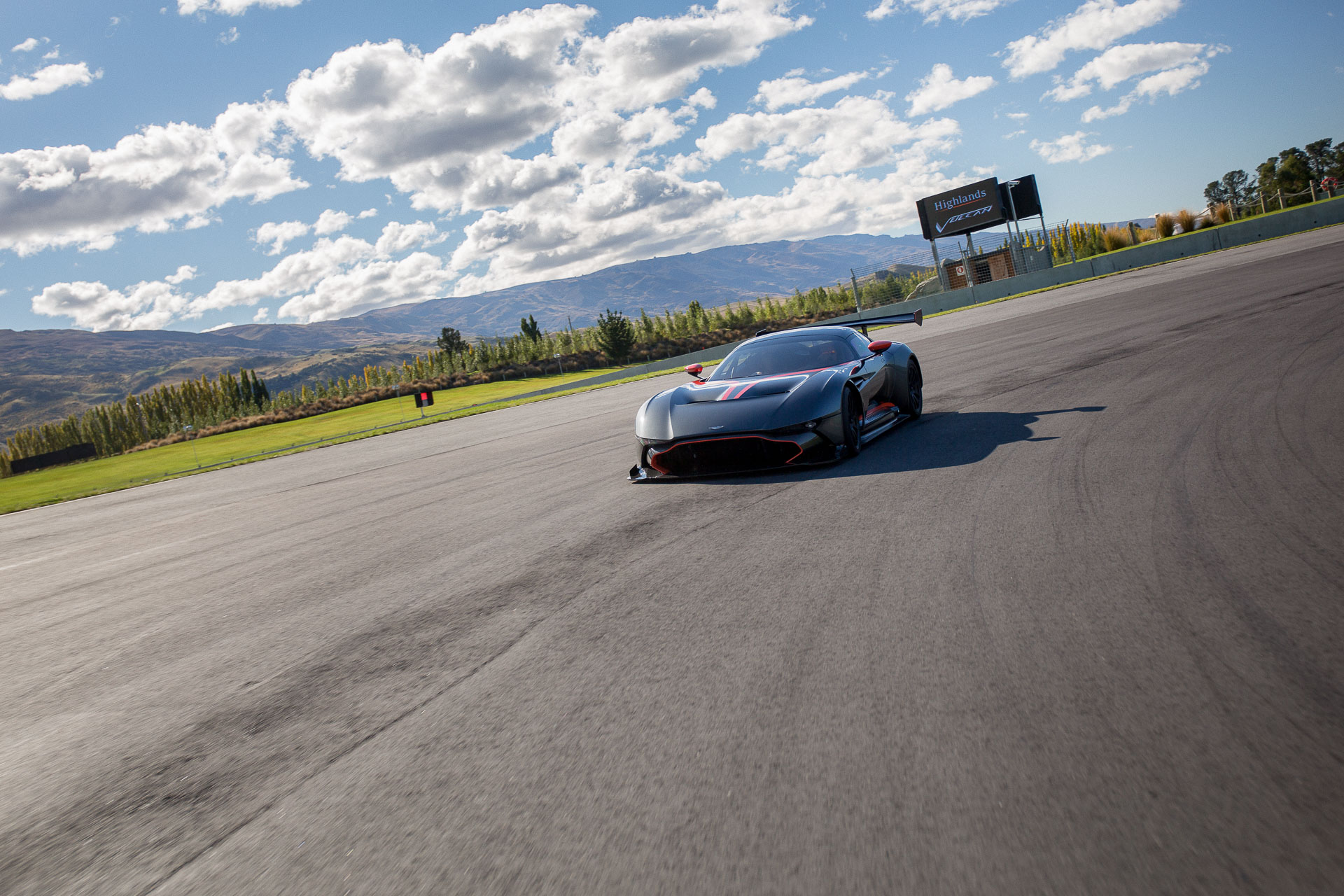 After a morning of listening to the Vulcan boom and howl its way around the track and watching Quinn's ever-growing grin behind the wheel, it is my turn to clamber gracelessly into the passenger's seat.
And clamber most gracelessly, I do. While the Vulcan isn't as hard to get into as some racing cars, it is still a challenge for someone who is both 185cm tall and able to be described as "built for comfort", as I am.
Once wedged in place Quinn heads out of pitlane and wastes no time in winding the big race-prepped V12 up to full howl.
As impressive and all-pervading as the sound is outside the car, it is even better inside it. The massive wall of V12 smoothness and the thick, sonorous howl of the exhaust envelopes you entirely inside the cabin, with very little of the mechanical gnashing usually present in stripped-out racing cars.
Gear shifts are stunningly quick and the brakes are simply staggering. Or to use the master of understatement currently hammering on the brakes words "they're okay".
"Why the Vulcan?" Quinn hypothetically asked previous my ride.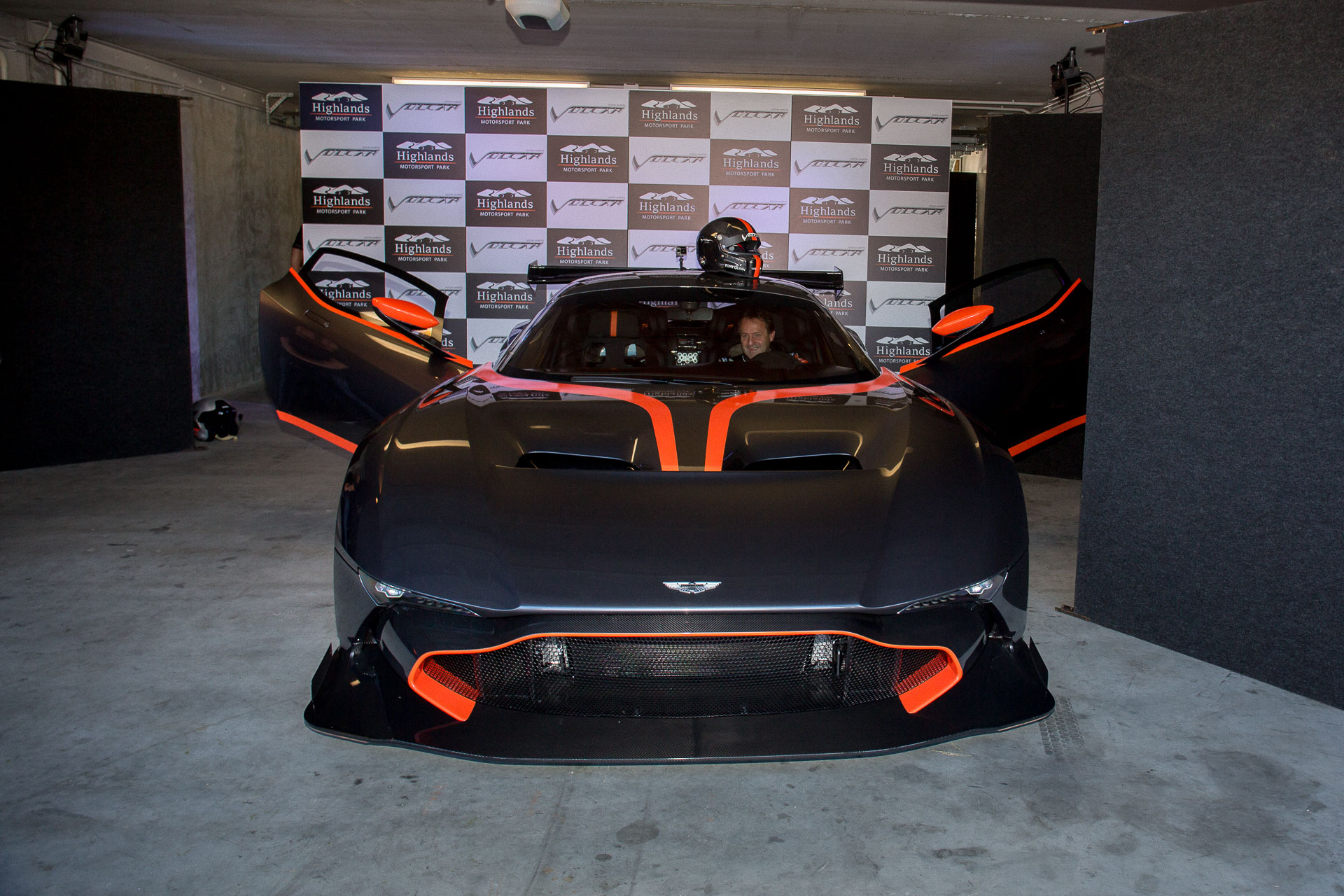 "I looked at a (McLaren) P1, I looked at a few things, but the Vulcan just appealed to me. I loved the Aston Martin GT3 – it's my favourite race car – and I had sold my Vantage GT3 a couple of years ago to drive my McLaren last year and I missed it. So I decided to go back to an Aston Martin and during that process the Vulcan came up.
"You can kid yourself there's an element of commercial investment, but the other thing was they absolutely intend to have a bunch of guys who travel the world with their Vulcans racing at Laguna Seca, Yas Marina, Shanghai… Hampton Downs… whatever."
Yes, that's right. Mr Quinn just hinted quite strongly that he would be keen to get at least some of the other 23 Vulcan owners together at his North Island track. And that would be something indeed.
"Somebody did the numbers," he goes on to say, "and if we could get 12 or so Vulcans on a race track at the same time, that would be the same value as the F1 field…"
A grin crosses his face as he says this, indicating that it is something he would dearly love to see. That or 3,060 Holden Sparks? Both, in there own way, would be worth seeing, but the Vulcans would sound incredible…
This article first appeared on Stuff Motoring.
Photos by Wanaka Photography/Simon Darby.