With the reveal of the stunning Kia Stinger sports sedan and the news that it will be here later this year, suddenly the Korean manufacturer has come over seriously sporty.
The Stinger will be one of those greatest of all things – a medium-sized RWD sedan with powerful engines, including a twin-turbo V6. If you unsure, that generally means one thing: fun.
But the other engine the Stinger will get is the 2.0-litre inline four-cylinder turbo petrol engine that we first saw in the Hyundai Sonata.
But before we see it in the Stinger, we also get to try it out in a new variant of the handsome Optima – the GT.
The standard Optima is a sexy, well-equipped car. Can a new engine make it even better? We find out.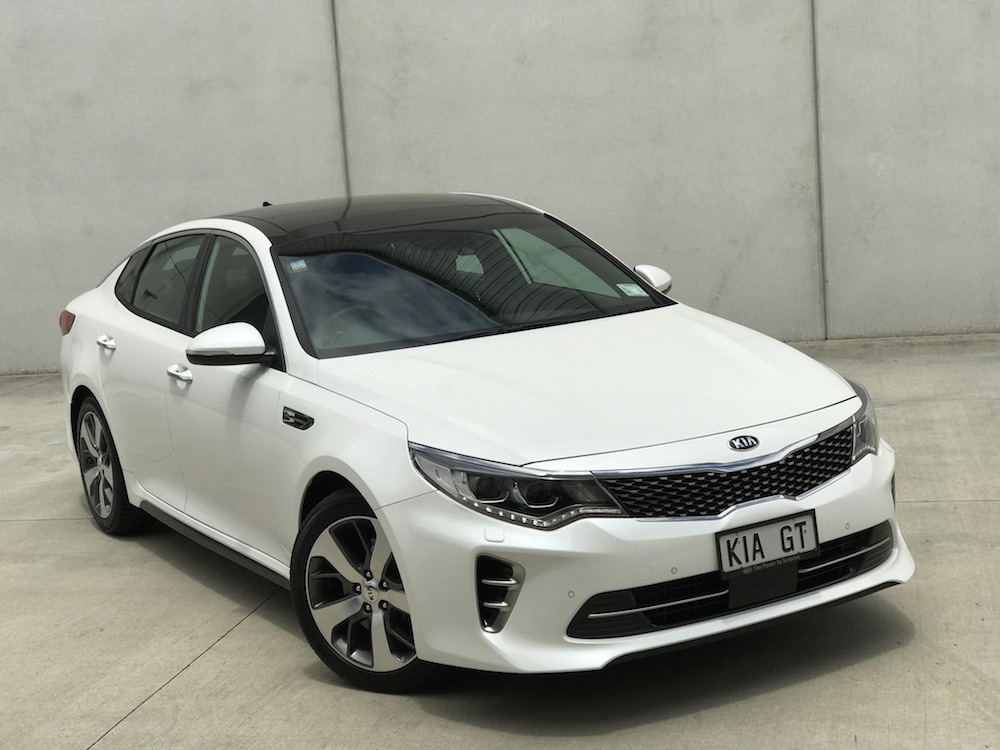 Outside
Likes: Standard Optima is a great-looking car to begin with, GT extras just make it even better. Black sill inserts on GT work extremely well. GT-exclusive LED DRLs particularly aggressive.

Dislikes: Red painted brake calipers are a bit try-hard.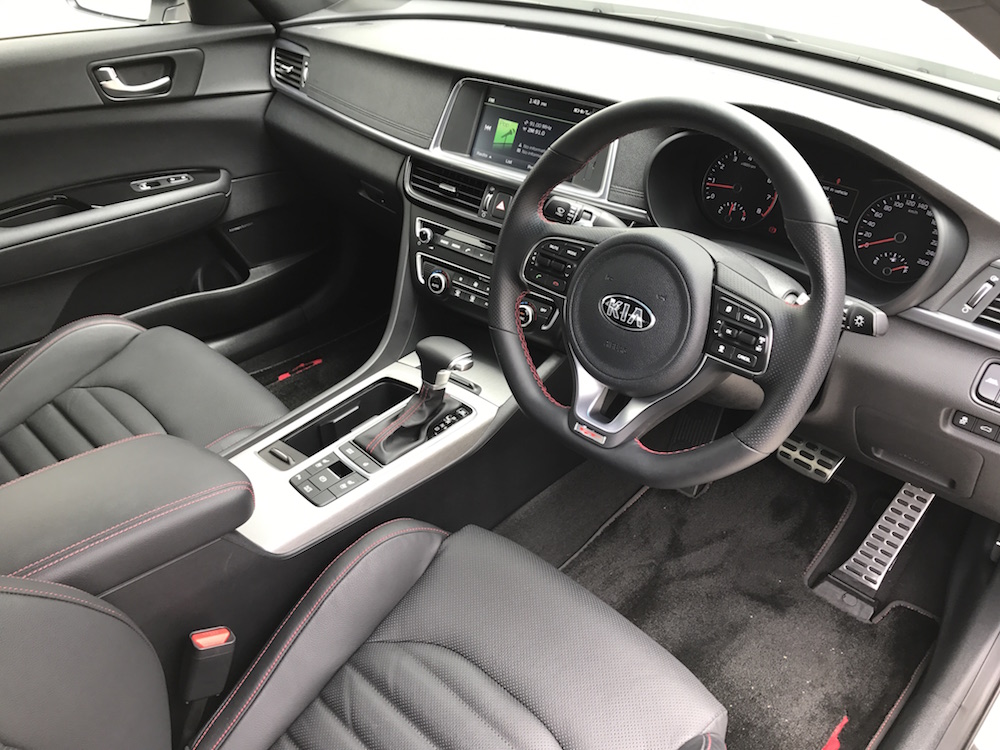 Inside
Likes: Clean and attractive dash. Excellent seats are comfortable and supportive. Nicely shaped flat-bottomed GT steering wheel is excellent. Aluminium trim brings a nice touch of sportiness.

Dislikes: All very black and a bit drab. A lot of nice soft-touch materials that have oddly been made to look hard…

Under the bonnet
Likes: 2.0-litre turbo engine is smooth and powerful, particularly down low. Six-speed transmission is well matched to engine and impressively slick. While the engine noise IS fake, it is still quite enjoyable.

Dislikes: Could be a bit more powerful. Has grunt down low, but runs out of puff in the mid and upper range. Transmission oddly sluggish to kick down on part throttle, even in Sport mode. While the fake engine noise IS enjoyable, it loses character up in the revs. And it is a bit gimmicky.

On the road
Likes: Firm but compliant ride is comfortable, but with nicely sporty undertones. Well-sorted chassis feels confident, responsive and well-planted.

Dislikes: Steering is too light and over-assisted, and is also slightly dead around the centre with minimal communication.
Verdict
The Optima GT is in many ways a very impressive and enjoyable car, but it all just feels like it doesn't quite go far enough to be truly great.
The engine starts out impressively low down, but gets less impressive the higher in the revs you go. Likewise, the transmission is excellent around town, but ask it to come over all sporty and responsive on the open road and it just throws its hands in the air.
It is almost like the transmission is relying on mid range torque the engine doesn't quite have and you get the feeling that everything that is slightly disappointing about the GT could be fixed with just a bit more in the mid-range…
Still, the engine is fantastically smooth and flexible low down and the chassis is nicely set up. It's still decent to drive, but you just can't shake the overwhelming feeling that it could be so much better.
Inside everything is of an nicely high quality, with some excellent materials and superb seats.
At $54,990 the GT offers impressive value for money, with a good swag of standard equipment on offer.
The engine and transmission are both excellent most of the time, but just fail to offer that final edge to make them truly great.
We really just hope that when Kia drops this engine in the Stinger (which is lower, wider and slightly shorter than the Optima) they crank it up a bit…
Price: $54,990
Engine: Inline four-cylinder 2.0-litre petrol turbo
Power/torque: 180kW/350Nm
Transmission: 6-speed automatic
0-100km/h: n/a
Fuel consumption: 8.5L/100km
CO2 emissions: 191g/km