Colin Chapman is famous for a number of things. There's the Lotus marque, and the spinoff Formula One team that won seven drivers' championships and six constructors' championships. On the downside, though he may have been an engineering genius, he was not the best businessman. Remember the tie-up with John Z. DeLorean that cost the UK taxpayer almost NZ$25 million?
One of the things for which he is best remembered is his principle involving speed; notably, how to get it. Chapman had an almost obsessive hatred of weight and his mantra that "adding lightness" was the best way to improve performance stands to this day.
One mainstream car company has had a similar obsession with adding lightness longer than most.
That is Mazda, which has concentrated on removing as much unnecessary weight as possible for the past few generations of its car range.
Though this is ostensibly for fuel economy purposes, there is one car in the line-up that is made as light as possible for the sheer pleasure it can bring. It's the rather wonderful MX-5.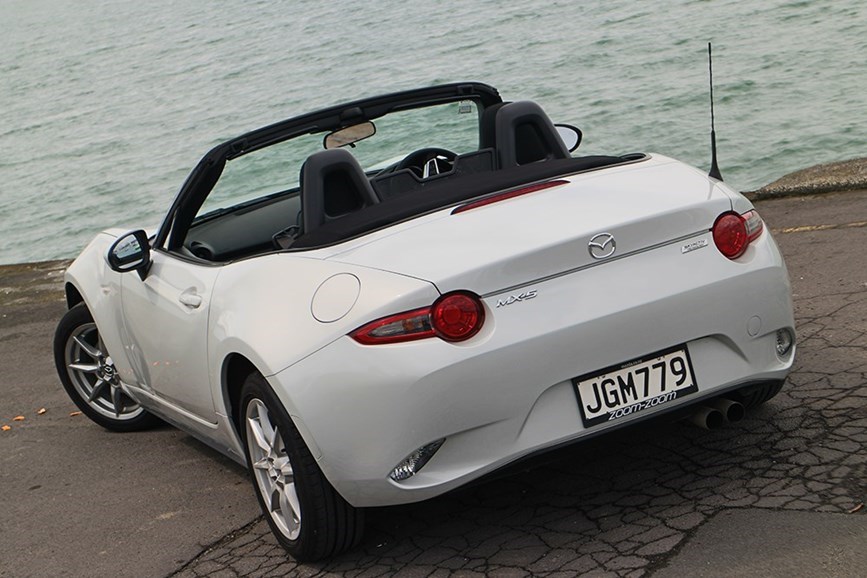 Although the previous version of the iconic sports car noticeably succumbed to pressure for extra power, folding hard tops and other unnecessary extremes, the newest version is well back on track by being smaller, lighter and more fun than it has been since the first generation appeared 26 years ago.
Weighing a tiny 1009kg, the Mazda's size and precise, razor-sharp steering make it feel instantly different in a world where bigger is largely considered better. Or, at least safer. The purity of feel and instant responses are a revelation.
Simply driving any other car and then moving into the Mazda makes you think, "Oh … that's way better."
The steering's complete immediacy takes a bit of getting used to, particularly around town — you put in way too much steering to begin with — but on a winding road it is utterly sublime. Its instant reactions and beautifully communicative feel are addictive.
To call the MX-5's turn-in "razor sharp" is giving razors far too much credit, and driving the MX-5 enthusiastically on a tightly winding road is something everyone who claims to enjoy driving needs to try at least once in their life. Preferably many times.