Recently we were lucky enough to spend four days with the mighty BMW M6 down in the South Island. This wasn't a true road test – that will come later – what we were doing was taking it on a road trip from Christchurch to Dunedin, with a bypass on the way to check out the new Highlands Motorsport Park.
The idea was to live with the car and get to know it on the fantastic roads that wind across the South Island. It was to have an experience. And we did. Most certainly…
DAY ONE: Christchurch to Oamaru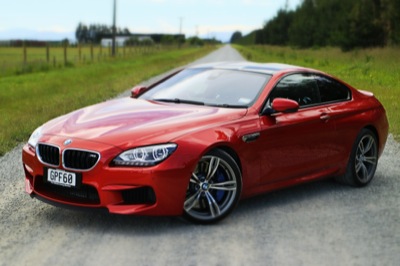 Day one of The Great OVERSTEER BMW M6 Road Trip was dominated by the constant search for a toilet. I had consumed something in the previous 12 hours that had disagreed with me in quite an emphatic fashion, and as such, was paying the price. In a bottom-related sense, that is.
My flight to Christchurch was late arriving in the first place, meaning a delay at boarding the Auckland end. This, of course, was compounded by further small delays throughout the course of the morning.
The fact that the taxi driver seemed to take the longest, most convoluted (and most expensive) route from the airport to the BMW dealership in Christchurch meant that I was running a good hour and a half later than I would have liked.
This meant the ultimate sacrifice; I had to cancel a pre-arranged beer…
That hurt badly, but what hurt more was the utter lack of sleep I had experienced the night before. This quickly led to my first revelation about the BMW M6 – it is not a particularly good car to try and grab a quick nana-nap in..
The seats may well be spectacularly good at holding you in place during hard cornering, they may well be capable of either heating OR cooling your backside depending on the ambient temperature and they may even be made of a particularly spectacular grade of fine leather, but they are just a wee bit shit for sleeping in.
This is largely due to the lack of recline – they simply don't go back far enough to kip in.
Still, the freakin' awesome engine more than wakes you up in return.
The twin-turbo V8 is simply spectacular. Utterly user-friendly and docile in the lesser settings, spend a bit of time programming one of the two steering wheel-mounted "M" buttons to full mental mode and things turn feral fast. Very bloody fast indeed.
This was proven to me in emphatic fashion when I got stuck in a particularly bitter power-struggle with a Skoda Superb. We were engaged in a nasty "you pass me like a cock and I will roar past you with my full twin-turbo V8 fury" battle somewhere on the desperately dull drive between Christchurch and Oamaru, when I realised that I really didn't need to lose my licence because a cock in a Skoda wanted to prove something. But Dear God the M6 sounded spectacular when I blasted past him at full, utterly belligerent, throttle…
Anyway, tomorrow will see a blast up the stunning Lindis Pass to the brilliant Highlands Park Motorsport complex at Cromwell. The scenery and sheer awesomeness of the complex should see some restraint being used on the throttle. Hopefully…
DAY TWO: Oamaru to Cromwell (via the stunning Lindis Pass)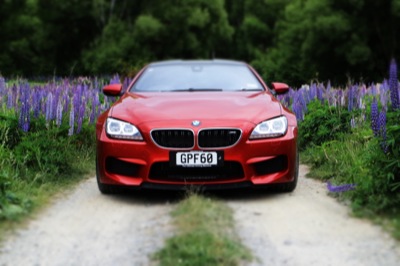 The M6 is remarkably at home on the sweeping roads that run through this particularly special part of the country. Left in all its comfort/efficiency settings it is a rapid, comfortable and surprisingly frugal cruiser.
Yes, that's right; frugal.
We average 11.2L/100km over the course of the day, and while that may not be too impressive for a supermini, for a 412kW/680Nm turbo V8 it is simply remarkable. That average also includes more than a few fully-wound-up, full throttle blasts well up into instant loss of licence territory to pass slower cars. Which, let's face it, is most things…
Upon reaching Cromwell, we head straight out to the under-construction Highlands Motorsport Park for a walk around the track.
As you will have no doubt read from Allan Dick's reports on the place, it is coming along remarkably quickly and is a simply stunning complex. When it is finished, I will have no doubt that it will be the finest Motorsport venue in this country and certainly a match for anything else in the world.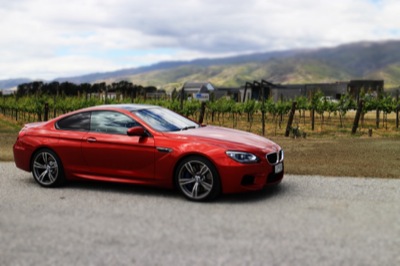 Each corner I walk around triggers a gnawing irritation about the fact that I have a stunningly fast and capable car sitting up in the parking lot that would simply destroy a set of tyres if it were unleashed on a finished version of this track…
Never mind. One day…
We head back to Oamaru via the… erm… "evocatively" named Pigroot. Again, the M6 is stunningly good, even on the gravel section we encounter between… ah, somewhere and somewhere else. I am completely lost at this stage and have been relying on the constantly amazing mental atlas that Allan Dick stores somewhere in his head.
We get back – I am still unsure how – and the M6 is sitting on half a tank of gas. It was full when I picked it up from Christchurch, had half a tank when we left Oamaru and had $100 worth of premium put in it at Cromwell. This is pretty damn impressive for a turbo V8 that is capable of extreme insanity when provoked…
DAY THREE: Hangin' around Oamaru.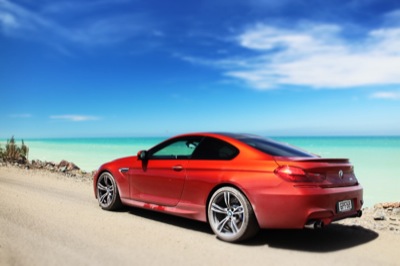 Day three was spent doing pretty much nothing. The big ol' M6 only got fired up to head down to the waterfront in Oamaru for a few more photos.
Around town the M6 is quite a remarkably docile beast, with the only real nods to its serious performance potential being the dual-clutch transmission's slight reluctance off the line, the occasional frantic burst of flashing from the traction control light on loose gravel patches and, of course, the deep, sonorous exhaust note.
The fact that it is so stupidly easy to drive slowly around town is even more remarkable when you start looking at some of the numbers involved – 4.2, 412, 680, 4,395 and 266,910.
Ranging from small to really quite large, these numbers are at the core of the M6's reason for being.
4.2 is the number of seconds it takes the M6 to thunder to the legal speed limit from a standing start. It was not all that long ago at all that anything under 5 seconds was the domain of exotic supercars and full-blown racing cars. Something that can bellow to 100km/h in a fraction over four seconds and yet still tootle docilely down to the dairy for a pie and a Red Bull ( I hope my doctor isn't reading this…) like an ordinary car would is simply amazing…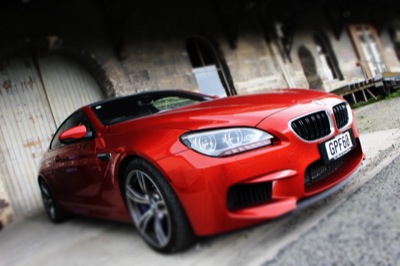 412 and 680 are, respectively, the Kilowatts and Newton metres that the M6's angry, bellowing beast of an engine pumps out. Again, supercar numbers from not all that long ago, and still remarkably impressive now. But it is the flexibility of the engine that truly impresses – even in seventh gear idling at around 1,500rpm the lusty V8 will pull strongly. Not quite as volcanically spectacular as dropping it down to second, but still…
4,395 is the cubic capacity of the source of all this silly power and performance. The turbocharged V8 replaces the hilariously aggressive V10 that lurked in the last M5/6 and while it isn't anywhere near as characterful as the angry 10, it loses nothing in terms of sheer ballistic performance, but gains a whole hell of a lot in flexibility, ease of use and accessibility of said performance.
And, of course, the biggest number -266,910 – is the one that is going to keep the vast majority of people out of the driver's seat of an M6. That is the price…
Still, $267K for a large, luxurious coupe that can bludgeon the speed limit to death in a time less than half a second slower than a Ferrari F50 ain't all that bad in the grand scheme of things…
DAY FOUR: Oamaru to Dunedin.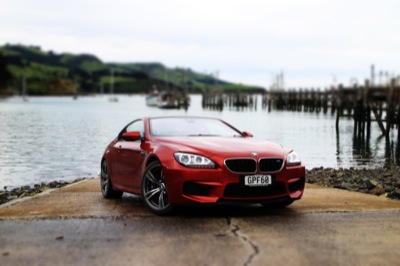 Day Four of the Great OVERSTEER Road Trip didn't exactly go according to plan. Actually, let's be honest here, it was a series of complete and utter cock-ups…
The day started out well enough, with a very pleasant run from Oamaru to Dunedin via Port Chalmers. The coast along here is utterly spectacular and the road a narrow, winding delight. Except the light drizzly rain made it quite a chore to drive in the M6.
Not that the M6 couldn't cope with the slippery dampness of the roads, it was the driver having trouble controlling his right foot. Any throttle application more enthusiastic than nana heading to the bowls club might make saw the big coupe's traction control light explode into an electronic seizure of flashing, while the rear end would give an excited wriggle as the fat tyres momentarily lose grip before the clever electronics calm things down again.
The temptation to drop the stability control into MDM is strong, but after a few hilarious, lurid, bellowing, electronically controlled drifts, common sense strongly suggests that the road is getting far too narrow for this sort of hilarity. The rest of the trip is a slow frustration of pottering along, occasionally broken up by an electronic seizure of flashing and a faltering of the engine note as the power overcomes the rear tyres resolve when will power runs out.
Still, that is not to say that the M6 is undriveable in slippery conditions – on the contrary, it has massive amounts of grip from its massive tyres, it's just the huge torque can quickly overcome this grip if self-control isn't your strong point. And it certainly isn't mine…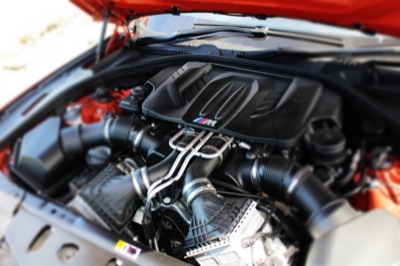 By the time we get to Dunedin, the M6 is utterly filthy, so a quick wash before dropping it at local BMW dealership is called for. This is where the series of spectacular cock-ups start… probably…
After restoring the M6 to its full orangey/bronzey glory we head to the dealership before visiting friends in Dunedin before my flight home. It was here I realised that somewhere between the car wash and the visit, I had lost my wallet. My wallet that contained my Airpoints card, my ID and my credit card – all of which would be needed to get on the plane home and get my car out of parking at the other end. Shit.
Never mind, it would be either at the car wash (where I had last used it) or in the door pocket of the M6 (where I may well have put it). Of course, by this time I was getting VERY close to check in. Very close indeed. Knot in stomach started forming…
A dash back to the car wash revealed it not to be there, so a dash to the dealership was in order. Apparently the M6 had been taken over to the grooming area. No worries. There mightn't be anybody there though. Oh, okay then. Knot in stomach grows bigger.
Of course, there wasn't anybody there. And I should have already checked in for my flight. Shit, shit, shit…
At this time my driver, OVERSTEER's very own Allan Dick said "No worries, we have plenty of time!" Whereupon I explained calmly that I should already have checked in. This had a remarkably invigorating effect on Mr. Dick, when he realised that his watch was running over an hour slow.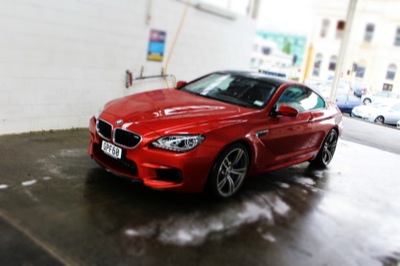 It was decided that the only thing for it was a mad charge for the airport to see what could be salvaged from the situation.
By this time I had actually decided that I was going to miss the flight and freed from the anxiety of getting there on time, actually began to see the funny side of it all. After all, it was nothing that spending more money couldn't fix…
Of course, I had missed the flight, but here is where things start looking good again – the lovely lady behind the Air New Zealand check-in counter couldn't have been more helpful and pleasant. She check to see that I actually was too late for the flight (I was) then simply proceeded to put me on the next flight to Auckland, via Wellington.
I said that payment may be a problem, seeing as my credit card was in my wallet that was either in the door pocket of a $267,000 BMW or lying on a wet street somewhere in Dunedin. She simply smiled, shook her head and said, "That's fine…"
Twenty minutes later I was on a plane bound for Wellington. Apart from spilling coffee on myself on the flight from Wellington to Auckland, I got home. Just need to sort the lost wallet thing now…
Still, the trip was great and the BMW M6 was utterly stunning. Almost worth losing a wallet, missing a flight and spilling hot coffee all over myself for.