The clouds didn't part and Elon Musk didn't descend dressed in robes to bless the faithful with his magical powers of electricity, but Tesla has officially arrived in New Zealand, with the delivery of the first cars at a launch event held at Shed 10 on Auckland's waterfront last night.
During the event the company also announced it would be opening its first New Zealand store (Tesla doesn't have "dealerships", instead selling direct to the public through stores in retail areas), as well as a service centre, at 501 Karangahape Road in Auckland, with the doors due to open around the middle of this year.
Accompanying the store and service centre would be a Supercharger Network, starting at Hamilton (where the first one was officially commissioned the day of the launch) with Superchargers at Turangi and Sanson planned for installation before the end of the year. Further Superchargers are planned for Auckland and the South Island in the future.
Over 100 Destination Chargers are also planned for across New Zealand allowing for single or three phase charging at locations including resorts, hotels, shopping centres and public parking complexes.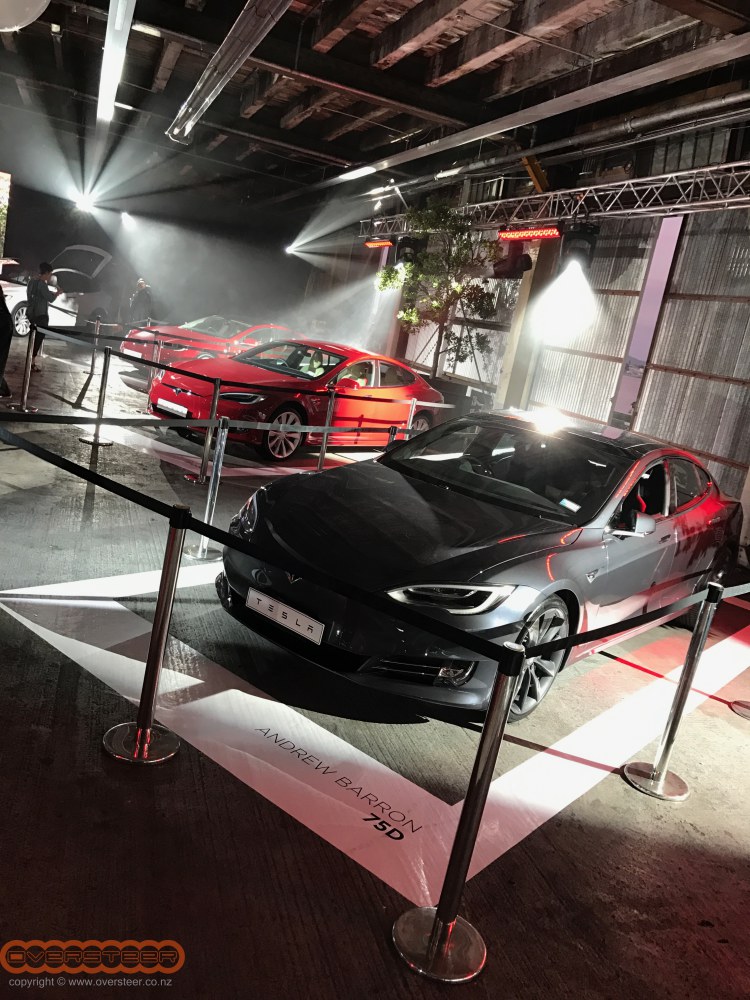 The Tesla Model S is the first car available for purchase in New Zealand (via www.tesla.com).
The single motor RWD 60 kicks off the range at $116,800 and comes with a 60kWh battery pack and a 400km range and will whip to 100km/h in 5.8 seconds, with a dual motor version that will do the 0 to 100 sprint in 5.4 seconds available for $125,100.
The 75 RWD has a 75kWh battery pack, a range of 480km and will hit 100km/h in 5.8 seconds for $127,600, while the $135,900 AWD dual engine 75D shaves that down to 5.4 seconds and ups the range to 490km.
The 90D is only available as an AWD dual engine car with a 90kWh battery pack and a range of 557km. It costs $152,500 and hits 100km/h in 4.4 seconds.
Then comes the 100D, again with dual motors and a 100kWh battery pack good for a range of 632km, with a price of $157,500.
But the hero of the range, and the absolute range-topper, is the super-fast P100D that packs the same 100kWh battery pack and dual motor AWD, but can rip to 100km from a standing start in a startling 2.7 seconds for $227,000.
Of course there are also a huge range of options and accessories available as well, which you can check out at Tesla's Design Studio by clicking here.
While only the Model S is available for purchase at the moment, Tesla's Australian marketing and communications manager Heath Walker confirmed that the Model X SUV would be launching locally before the end of the year.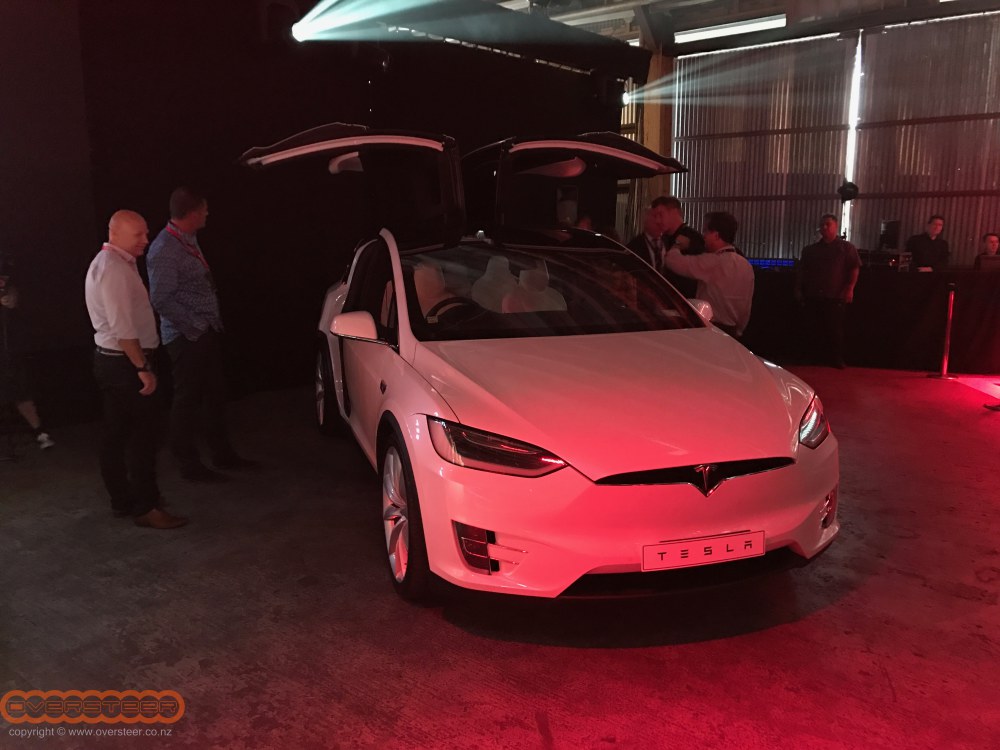 Tesla will also be taking orders for Tesla Powerwall 2 and Tesla Powerpack 2, the battery storage products for both residential and commercial customers. Powerwall customers will be able to order these online, where Tesla will work with Certified Installers to assist in increasing their energy independence, using more of their own solar energy and providing backup.
During the launch event the media was given the chance for a brief drive of the Model S on a drive route that took in a number of long on-ramps, no doubt to show off the car's impressive acceleration.
Being distracted by the mini donuts that were freely available, I managed to miss out on a P100D, so had to settle for a dual engined 75D.
With its new face and headlights (which will be on all New Zealand new cars), the Model S looks far more modern and aggressive than the previous versions of the car, while the new interior is a massive improvement on cars we had seen previously in the USA.
While the drive route was only extremely brief (we have been promised longer term test cars will be available shortly), the 75D proved to be impressively quick and utterly silent – which was to be expected – but also remarkably comfortable and well-disciplined over rough surfaces.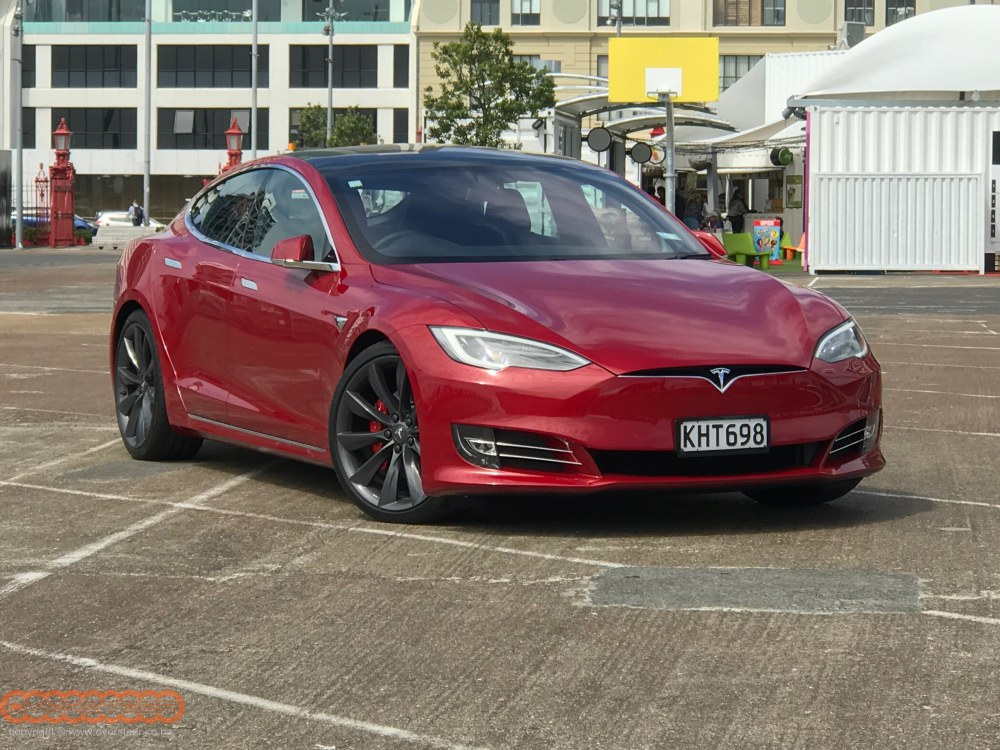 Handling was harder to pick, as most of the route was inner-city and motorway cruising, but the 75D felt like it would be willing and nimble, with its low centre of gravity. But we will have to wait for a longer test to see if that proves to be the case.
One thing I instantly disliked about the Model S was the overly light and mute steering. The driver is able to chose between Comfort, Standard and Sport settings and while Sport did add a bit of extra weight, there was precious little in the way of feel or feedback present.
This disappointment was tempered by the Model S's overwhelming feeling of quality and the sheer innovation. It is obvious that Tesla is an outsider in the motoring industry and has approached a number of traditional issues from the totally opposite direction that a traditional car maker would, which makes the cars both impressive and refreshing.
The use of quite a lot of old Mercedes-Benz switchgear was less refreshing though…
While it will take a bit more time with the Model S in local conditions to truly find out if they are worth both the large sums of money asked and the fanatical level of cult-like adoration that is being lumped upon them, things are certainly off to an impressive start.