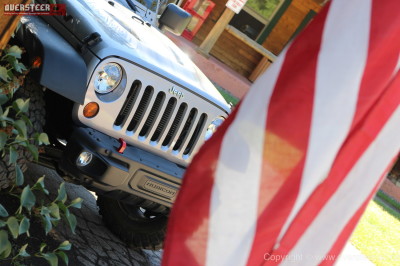 Sweet Jesus, Cletus, for people who consume so much coffee, they really do struggle to make a halfway decent cup of the stuff in America.
Quantity is no problem, but quality is a rare commodity in the US of A.
While requesting "a bucket of your finest coffee-flavoured swill" may not seem like the kindest way to order a coffee, it is almost certainly the most accurate. However, it is still probably wiser than asking for a Long Black, as one of our Australian colleagues found out.
Rather than serving you a double-shot espresso with a bit of water, it has an unsettling tendency to get you a horrified look and an instant reputation for burning crosses dressed in your mum's best white sheets. That's right, you big racist git, it's called an "Americano" over here…
Regardless of what it is called though, it will undoubtedly be awful anyway, or so we discovered on our first few days in America.
I bring this up, because the search for a decent coffee featured strongly at the start of the second day of our Rubicon adventure.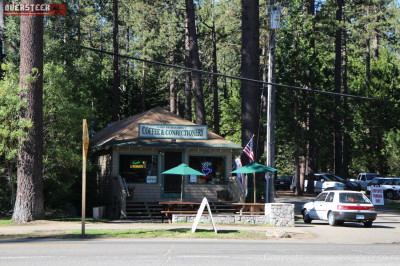 The only thing halfway decent at our otherwise spectacular resort is called a "Redeye", which consists of an espresso mixed with brewed coffee. But it only seemed to be available at the cafe, which is not open when I emerge, still jet-lagged and bleary-eyed, not yet ready to tackle a legendary off-road trail, early on the start of the second day.
Possible salvation appears to offer itself when it is revealed that there would be a coffee stop along the route that followed the Californian shores of Lake Tahoe down to the start of the Rubicon.
Salvation only lasts as long as the trip, however, as the coffee is as universally ordinary as it was anywhere else. Still, caffeine is still caffeine, regardless of how poorly it is delivered into your system…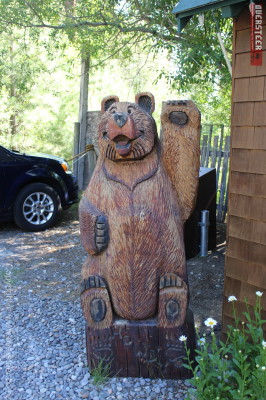 Our transport down to the trail, via the disappointing coffee stop, is the impressive latest version of the Grand Cherokee that has just been released in New Zealand.
It is certainly a handsome beast, with Chrysler 300C-style headlights and a slimmer grille being the major exterior differences on the new model. Inside, yet another impressive jump in quality and a raft of high-tech additions make the new Grand Cherokee a significant upgrade on the not-so-old model it replaces here.
What can I tell you about the big fella's dynamics and relevance to the local market after cruising down the shores of a sparkling Lake Tahoe? Well, nothing particularly useful really; the smooth, straight roads make comparison to local conditions meaningless, especially when you throw in the fact that we were driving US-spec cars anyway. Satellite radio is awesome, but how it will go being thrashed along the back road between Pirongia and Hamilton, I cannot tell you…
It still seems to be an impressive, high-quality offering, but whether it addresses the previous car's biggest weakness – its floppy, uninspiring handling – remains to be seen. It did, however, offer some distant promise that this may be the case…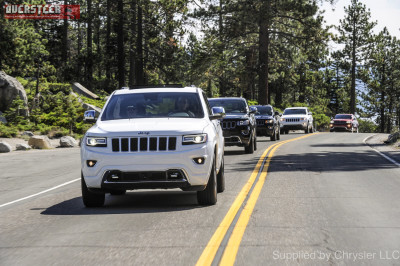 All thoughts of bad coffee and the dynamic abilities of the Grand Cherokee are cast aside when we finally do turn off the main road and first start heading inland towards the start of the Rubicon Trail.
The roads take on a narrower demeanour and, rather than finishing in immaculate curbs, tend to dither to a ragged and decidedly casual conclusion among the weeds and long grass to their sides.
This theme – ever-narrowing, with an unconcerned attitude towards finishing the job – continues as we head further inland, until finally, we reach the gravel car park that is the totally unassuming entrance to what is possibly the most well-known, revered and, yes, even worshipped off-road track in the world: the Rubicon Trail.
The car park marks the end of our time with the Grand Cherokee as, while the big fella may well have a hefty dose of that legendary Jeep off-road ability, it is a mere shiny show-pony cafe-cruiser compared to the dedicated serious hardware we will need to tackle the Rubicon.
And, as it happens, that serious hardware just happens to be something that Jeep sells as a standard model you can buy off the dealership floor; the Wrangler Rubicon. And, equally coincidentally, there just happen to be a row of the gleaming and utterly purposeful beasts sitting there waiting for us.
Now saying that you can traverse the Rubicon in a standard showroom vehicle is not only drastically understating the trail, it is also selling the Wrangler Rubicon drastically short, despite the fact that it is technically correct.
While the standard Wrangler is a particularly formidable off-road machine, the Rubicon edition takes things to a whole new level of formidability.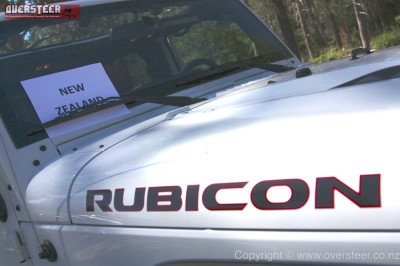 Its 3.6-litre 'Pentastar' petrol V6 produces 209kW of power and 347Nm of torque and is hooked up to either a six-speed manual or five-speed automatic transmission. Underneath is where the real serious stuff lurks though and the Rubicon is beefed up with Jeep's "Rock-Trac" manual, shift-on-the-fly transfer case, five-link solid-axle suspension front and rear, locking diffs front and rear, and an electronically-controlled front sway bar disconnect (to allow truly epic front wheel articulation)
The 10th Anniversary edition makes it even more formidable, plus adds a massive amount of visual attitude with its fantastic Grand Cherokee SRT8-inspired bonnet, some truly serious BFGoodrich tyres and some of the best (and completely solid steel) bumpers ever to grace a vehicle. We won't be seeing those here though; apparently the NZ government has a problem with solid steel bumpers with massive red tow-hooks sticking out of them. Pedestrians, or some such nonsense.
Our particular beast for the first day turns out to be a striking, white 10th Anniversary Unlimited four-door automatic. This is a particularly good-looking combination, with the 10th Anniversary exterior alterations becoming even more obvious and aggressive in white.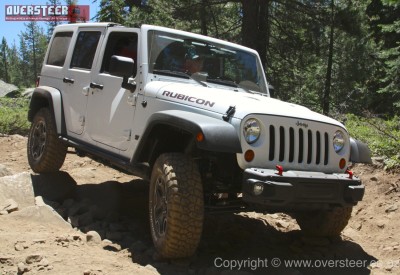 While waiting to go in, we strike up a conversation with an attractive young woman who has just come out with a group in a bunch of serious-looking, heavily-modified off-roaders.
Like everyone else we encounter she is friendly, welcoming and slightly sceptical of the fact that we are heading in to the trail in unmodified vehicles – especially when compared to what they have just come out in; towering weapons of off-road destruction, sitting impossibly high on their massive, tractor-like tyres and jacked-up, heavy-duty suspension.
They bristle with every conceivable off-road accessory and bear only the most passing of resemblance's to the vehicles they originally were. They range from beaten and dirty to gleaming and frighteningly expensive-looking, but all share one thing in common – they look like they will go absolutely anywhere.
Not for the first time, I wonder exactly what I have gotten myself into here…
The attractive young lady goes on to explain how her new 9 month-old Labrador pup didn't really enjoy it all that much, although her last dog did. Dogs either love the movement inside the vehicle or feel a bit sick, depending on how they travel, oh, and by the way, one of our cars rolled over in the trail, but we don't think we will take this dog again, as he really didn't enjoy it…
To her credit it didn't take her long to realise that her casual comment about rolling over caused all the blood to drain from our faces as well as have the potential to seriously compromise socially acceptable bladder control (although she probably didn't realise that…), and she quickly backtracked to explain a bit more…
While the insanely happy Lab puppy bounded around her feet, she told us that it was one of the heavily modified vehicles that had done the rolling. It turns out that massively raised suspension and an angry big V8 is not exactly the ideal way to tackle the rocks of the Rubicon. Sure, it gives you massive articulation, huge ground clearance and big, noisy power (the best kind!), but its downside is a high centre of gravity.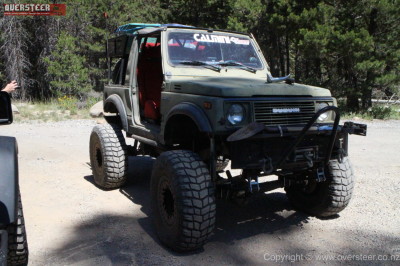 It seems the vehicle in question had got hung up on a rock, whereupon the driver gave it more gas. This didn't unstick the car, but rather got the front suspension pogoing. This soon got him off the rock, but probably not in the way he really wanted.
By this time I have come to relies that the bouncy Labrador pup is probably the most sensible creature in the car park, and that his boundless energy and sheer joy are actually down to knowing he is out of the trail and survived, rather than just natural puppyness.
"Have a great time!" cried the attractive young lady as she and the puppy bounced happily away and we heard the call for us to mount up and head into the trail, "You guys are gonna love it!"
We will find out soon enough…