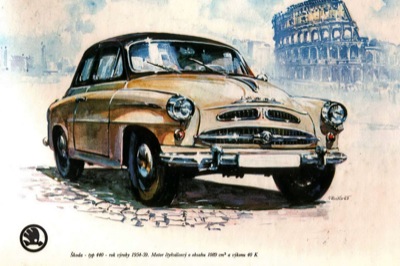 Allan Dick is about to become a Skoda owner . . .
Skoda is a brand that's struggled to overcome a dim, dark period in its history when Czechoslovakia was in the grips of Communist rule and the cars that were produced were low-tech to the point of being primitive and were the butt of several million jokes. Why do Skodas have heated rear windows? — To keep your hands warm when you are pushing them. In New Zealand, Skodas were most closely associated with the definitely odd Social Credit political party.
But Czechoslovakia and Skoda have long changed. Czechoslovakia is no longer — it's back to being the Czech Republic and Slovakia, two separate countries. Skodas are still built in the Czech Republic where they were always built, but now the company is part of the giant VW group and it was the injection of vast amounts of German money and VW technology that brought Skoda into the brave new world.
Before WW2, Skoda was a highly regarded European car-maker, producing quality and innovative cars and, like so many, had its roots back in the pushbike world. Originally called Laurin and Klement the company quickly moved into cars and eyed the world as it's potential market. In fact, deep in the bowels of the Skoda PR Department there is a photograph of a car, taken about 1912 in Wellington and it's filled with Maori folk!
In the mid twenties Laurin and Klement got into financial trouble and were taken over by arms manufacturer Skoda. This revived the company quite nicely and throughout the thirties Skoda cars sold well in Europe.
After the war, the dead hand of Communism sought to stifle any creativity, but at the same time the Communist rulers of the amalgamated Czechoslovakia demanded that Skoda try to find export markets. At this stage Skoda were still relying heavily on their excellent prewar products for technology, but with freshened body designs. Technically, the cars were quite good, they were certainly robust, but the styling was a little odd to our eyes, used as we were, to British and American cars.
But this was the era of corruption and endless waiting lists for popular new cars in New Zealand. You could get a car if you left a brown paper parcel of unmarked money in the top drawer of the salesman's desk, such a move elevated you to the top of the list.
So, in the mid-fifties Skodas started appearing in backstreet car dealerships in New Zealand where they found ready-enough buyers, not only because they were relatively cheap, but simply because they were available.
I was at school in Dunedin with a fellow called Peter Steele who told me his father had just bought a new car. I was car-mad, but when he told me it was a Skoda, I looked at him as though he was barmy. I hadn't heard of such a car! This was the Skoda 1200.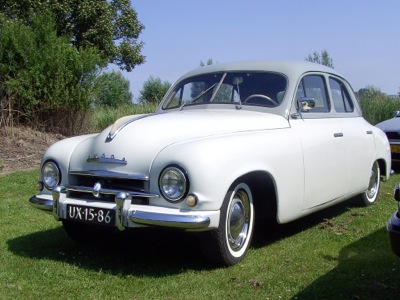 But, when I saw one, the thing that impressed me was how slippery the shape looked. Everything sort of flowed and the door handles were little vestiges of things that barely created a blip in the doors. It looked "European" and nothing at all like a Zephyr, a Vauxhall or a 1954 Chev, but it was far from being ugly.
From that point on Skoda became part of our automotive diet and the 1200 got new styling to become the 440, then the 445 and the 450 before morphing into the very familiar Octavia.
This was a period before the name Skoda became a joke and the cars were almost well-regarded and some people bought them from choice, rather than desperation.
The convertible version, the Felicia was and still is, regarded as an very, very attractive car that was surprisingly affordable.
And of course, the Skoda Octavia has become part of New Zealand folk lore, providing the mechanical components for our most successful home-grown vehicle, the Trekka. The Octavia went out of production in 1964, but the New Zealand distributors had such a stockpile of CKD Octavia packs they had to find a use for them — and, in mid-1966, Trekka was the answer. Even so, the Trekkas couldn't absorb them all and by 1969 the NZ importers were offering packs of Skoda chassis, engine, gearbox, diff and suspension parts for use in "building your own sports car . . ."
The real turning (back) point for Skoda came with the introduction of the rear-engined 1000MB in 1964.
While the world was turning to Issigonis-inspired front wheel drive technology, Skoda turned back the pages of automotive design to create a rear-engined car with swing axle suspension. This was the dead-hand of Communism. Not only was it old-fashioned, but it was ugly and it was dangerous. The handling was abominable at anything above walking pace.
However some body styles became collectible despite the technical shortcomings.
Oddly, despite everything seeming to be against them, these rear-engined Skoda were rallied with some success, in classes — they were never outright contenders.
In 1987 Skoda moved into the modern world with the front wheel drive Favorit, but by now, factory representation in New Zealand barely existed and very few were ever sold here. Really though, the cars were quite old-fashioned and technically challenged.
Since the takeover by VW, Skoda has entered a new period in its history. At first it was generally accepted that Skoda relied so heavily on VW input, they were almost VWs with different badges. But today Skoda is as independent as any brand in the VW group and no longer is the marque regarded as entry level, but in New Zealand it's being pitched with a slight whiff of exclusivity about the name.
After attending the 2007 A1GP race meeting at Brno in the Czech Republic I headed off to visit the town where the Skoda factory and museum is located. The museum is extensive and is jam-packed with cars, not only from Skoda's glory days, but heaps of other intriguing European cars as well. I spent a day there and could have gone back the next day for more, but I wanted to go across the country to the Tatra museum.
Getting from Germany to Prague, Brno and on to the Skoda town was not difficult — there is a limited network of motorways which, in English, becomes "speedway" when translated from the Czech!
Even though it was a relatively short trip from the Skoda museum to the Tatra museum, it was a journey on secondary roads that were jammed by tractors and other agricultural machinery. The result was a journey that I thought would take three hours, ended up taking eight and the museum was closed when we got there!
I am not what you would ever call a Skoda enthusiast, but I have always understood the history and that they produced fine cars with the exception of the rear-engined cars of the sixties, seventies and eighties.
When I moved from Auckland to Oamaru, much of my "collection" was disposed of. A "needs-restoration" Sunbeam Talbot 90 was sold, a Hillman Avenger was sent to China via the crusher, my Rover 3500S was sold, as were my BMWs — a 2002 and a 525e. That left us with a 2007 Daihatsu Charade, the last NZ-new MGTF to be sold here and the 2008 Nissan Pathfinder. Now established in Oamaru, I am, cautiously looking at extending the fleet again. I have bought a one-owner, 1986 Toyota Corolla sedan and now Gisborne-based mate Sam Lyle is giving me a Skoda 440 Spartac.
This is the model that replaced the 1200 that I had seen as a 14 year old kid in Dunedin and while it's not a highly regarded car in New Zealand, European collectors regard it as one of the best-looking cars from Europe in the fifties. It's two-door and is nicely proportioned with elegant lines. The frontal treatment is a little heavy-handed with secondary grilles seemly slashed into the bonnet above the main grille.
Sam's had the car for a while. It's a one family owner car, that's been brush painted and the chrome's gone rusty, but Sam says the body is straight and rust free, the interior is almost unmarked and it did go well. It needs some work — brakes mainly. But one of these days I'll go up to Gisborne, see Sam and his wife Lynn and head back with my first Skoda. When I do, I will also update an earlier story I wrote on Sam. He's a remarkable bloke who is an automotive artist, who has created some wonderful cars in a busy and full life.