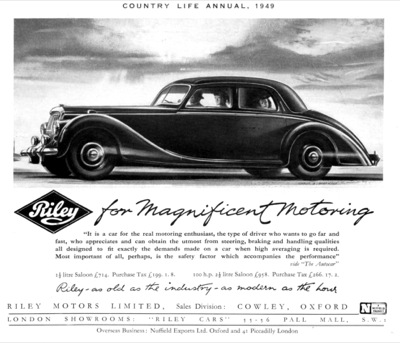 When I was a teenager and my parents bought the shop next to the boatsheds at Brighton near Dunedin, I was in the midst of my initial car-mad phase. I was quite eclectic in my tastes — British, American or "foreign", I didn't mind, although I steered away from the mundane and preferred oddballs, or orphans as mechanics called them.
Along the road from the shop was an oddball looking house — Hestbank — built by one of the Baxter family, famous for their anti-war stance and relatives of James K Baxter. It was unoccupied although people who had the holiday home across the road, used it to store their car when they were in summer residence.
Their car was, I believe, a mid thirties Riley Kestrel, blue in colour, that made a distinctive whining noise when they started it up and reversed it out of the garage. I was told the whine came from the preselect gearbox.
The car fascinated me although I knew little of what a Riley was.
As I matured and my mind expanded to also take in girls, rock and roll, and beer I would dream of the cars that I would like to own — when I could afford one.
High on the list was an RM Riley.
Like so many early car makers, Riley started life making push-bikes, in this case the Bonnick — a company that was purchased by William Riley in 1896. Riley soon added a motor to his cycles but resisted family pressure to move into cars. So, in 1902 three of his sons, Victor, Percy and Allan set up their own business, producing just engines at first, but with an eye on building their own car. They supplied engines to their father's motorcyle company as well as emerging Singer.
Victor was a thinker and he is credited with developing the first mechanically opened inlet valve — prior to this, engines relied on the suction of the descending piston to open the valve.
The first Riley car appeared in 1905 and a year or two later father and son merged and cycles and motorcycles were dropped.
From that point on Riley was all go, producing cars that offered advanced engineering, luxury and performance.
The range of engines and body styles was bewildering and the name Riley was highly regarded. There were great successes on the race track as well.
Percy Riley's high-revving Nine engine designed in 1926 is regarded as a ground-breaker with hemispherical cylinder heads, inclined valves operated by short pushrods from twin camshafts mounted high in the engine block — a practice copied by BMW!
The Great Depression took its toll on Riley and throughout the mid to late thirties the company went into financial decline, although the marque still enjoyed a great reputation.
They supplied engines to the ERA racing outfit.
Riley had a brief flirtation with building a top-end, luxury saloon powered by a 2.4 litre V8 engine that had three camshafts. For this, they created the short-lived Autovia company (1936-38). Only about 40 cars were built.
Eventually, in 1939, Riley went into receivership and the assets were bought by Lord Nuffield and placed under the control of the Morris division of the Nuffield Group, but remaining as a semi-independent company.
After the war, Riley dusted off the prewar Continental model and with minimal changes called it the RM. It was initially available as the RMA with 1.5 litre engine, or the RMB with 2.5 litres.
These were traditional looking cars with wooden framed bodies. British newspaper comic strip detective Buck Ryan drove a Riley RM.
The RM appeared in 1945 and continued through to 1953 in various guises when it was replaced by the far more modern Riley Pathfinder and the Riley 1.5. The Pathfinder was virtually a Wolseley 6/90 in disguise, while there was also a Wolseley version of the 1.5.
Because the first Pathfinders were powered by the 2.5 litre Riley engine, Riley aficionados regard this as the last true Riley. From 1957 on it became the Riley 2.6 and was powered by BMC's inline six.
From that point on it was all downhill for Riley as the once proud marque was dragged into the morass of BMC badge-engineering.
For the record, the last Riley was produced in 1969 after we had had Riley version of the Mini, the 1100/1300 and the Farina design Austin/Morris ranges.
It's now history that in a moment of Anglophile madness, the men who were running BMW in 1994 bought what remained of British Leyland (MG Rover) and Chairman Bernd Pischetriede gave the world reason to think he had totally lost his marbles by saying he wanted to revive the Riley brand!
Of course that never happened. BMW eventually realised it had no hope of saving MG Rover and, after establishing the new MINI as a stand-alone brand, cast off the remains which were bought by the Chinese and now revived.
But back to the late fifties. When I had saved enough money to buy a car, I looked longingly at a Riley RM. Riley sold surprisingly well in New Zealand and there were a few around, but most were the RMA with 1.5 litre engine. However my preference was for the 2.5 RMB.
Cars with engines of around 1.0 litre were common place at that time and a 2.5 litre engine was a pretty big unit and I thought that a Riley RMB would be a pretty quick car. And so it was, with a top speed of around 100mph.
So a Riley was on my wish list — as was a Sunbeam Talbot 90, another car that had sporting overtones and with the promise of good performance.
In the finish I could afford neither at that time — my weekly pay packet wasn't enough to take out girls, buy Elvis Presley 45s, dress in Teddy boy duds, drink illicit beer and save to buy a decent car. I wanted it all!
In the finish, I had to settle for a tired old 1935 Ford V8 — but at least it had a nod in the direction of the Riley as it had been built in Dagenham in the UK in 1936. It served me well in many ways, imbuing me with a love of sidevalve Ford V8s that I still have.
But, to this day, I have not driven an RM Riley in either 1.5 or 2.5 litre form. But the old appeal is still there.