OVERSTEER ROAD TEST: Honda Euro Civic L
There is a strange mental disconnect when you approach the Honda Euro Civic hatch for the first time. You find yourself slightly confused. Surely, you think to yourself, this can't be in any way related to the other car to carry the Civic name, that dull, uninspiring sedan with the awful interior and conservative looks. This Civic is sleek and interesting, that other one is, well, a boring crapbox…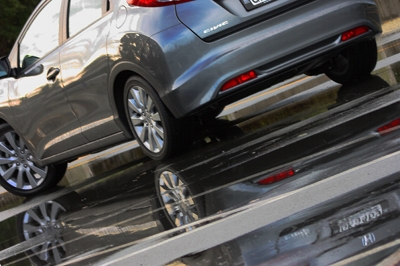 The confusion continues when you climb inside, because this Civic has a high quality interior with great materials and build quality. It grows even more when you drive it and find out that it is smooth, refined and actually fun to throw around a bit. What is going on here? Are there two companies called Honda that build a car called the Civic?
Well, yes and no, because while the Civic sedan comes directly to you from the USA, the Euro hatch comes from, you guessed it, Europe. Which means the two Civics are worlds apart…
Where the sedan is inoffensive and dull, the hatch is edgy, interesting and, something that hasn't been said of a Honda on these shores for some time, exciting.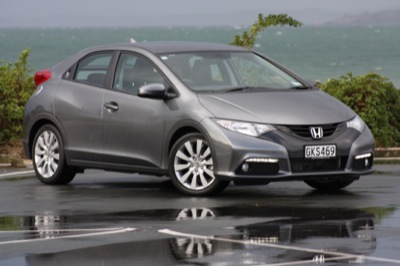 On the outside the hatch impresses with its aggressive nose and heavily-style rear, which could easily drop into the "over-styled" folder, but manages neatly not to. The hidden rear door handles are a nice touch and, unlike most other cars with this styling touch, almost manages to convince you that the Euro is a three-door hatch. Almost.
Inside is a startling improvement over its sedan cousin, with a more sedate approach than the exterior, but a hugely high quality one. Soft-touch materials are everywhere and the feeling of quality is undeniable. The seats are excellent, being both comfortable and supportive, and the instrument and control layout is sensible and nice to use.
Despite having a slightly underwhelming 104kW 1.8-litre engine, the Euro feels tractable around the mid-range, and it is a smooth, quiet unit, while the five-speed automatic is a slick shifter. It is noticeably lacking a sixth cog though, as there is an obvious hole between second and third and, to a degree third and fourth. Nothing a good six-speeder wouldn't fix…
Apart from looks and quality, the single biggest area that the Euro improves on the sedan is on the road. Both ride and handling are far superior to the three-box equivalent, and the Euro feels exciting and alive out on the road, despite lacking any real performance.
The ride is firm, but not too firm, meaning it feels taught and ready for action, but never harsh or unpleasant. Which in turn translates into surprisingly enjoyable handling. The body is well controlled and turn in is sharp and crisp. The steering is beautifully weighted and, while lacking slightly in feel, is nicely accurate.
Throw the Euro into a corner and, quite unlike the sedan, it flicks its nose in crisply and confidently. The tail tracks predictably and the far higher momentum you can carry through a corner means you don't feel the engine's lack of torque on the way out.
At $38, 900, the Euro L is the top of the hatch range, and easily with the money asked. Well-equipped, sexy and great to drive, the Euro Civic is a winner.
Need to know
Price: $38,900
Engine: 1799cc 4-cylinder petrol
Power/torque: 104kW/174Nm
Transmission: Five-speed automatic
0-100km/h: 8.8 seconds
Fuel consumption: 6.5L/100km
CO2 emissions: 155g/km