OVERSTEER ROAD TEST: Mitsubishi Starion
It is arguably the car that started the avalanche of RWD Japanese GTs in the 1980s and remains one of the more enigmatic today. The Mitsubishi Starion may have a funny name, but it has passed into the realms of desirable classic remarkably easily. We take one for a blast!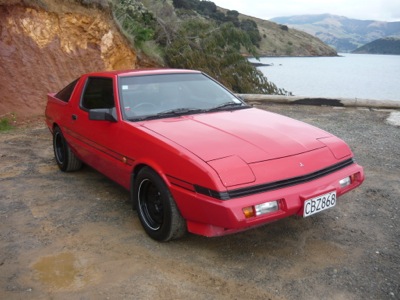 Have you ever played a game of whispers? I have, it's always been a great icebreaker at those "I am here and its great but I hardly know anyone" sort of parties. The game starts by having everyone playing to sit in a circle. The first person then starts by whispering a phrase, sentence or famous quote into the other person's ear, then they will whisper what they heard into the next persons ear and so on and so forth until the message comes back around to the person who started.
Now nine times out of ten the message will be almost completely different when it comes back around, due to some people failing to pronounce it clearly or in the right order. This game is often played unintentionally in business and in one notable case, the car industry. When Mitsubishi launched its new coupe rival for the likes of Porsche 944 and Mazda RX7 in 1982, it was given the name "Starion." Mitsubishi claimed the name referred to a squashed version of "Star of Orion", but urban legend tells us it was originally meant to be christened "Stallion", but thanks to some "Engrish" mistranslation between different cultural parties, the name Starion stuck like glue!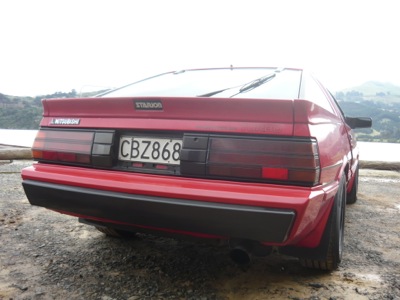 Now I will come straight to the point here and won't beat about the bush, the Mitsubishi Starion is an underrated gem and one of the Japanese motor industry's best kept secrets. First versions were saddled with a 2.0-litre four-cylinder turbocharged engine punching out 147kw enabling a zero to 100km/h time of 7.4 seconds. Some cars for the American market (some of which were sold as a Chrysler Conquest) had 2.6-litre which produced more torque than the more rev-able 2.0-litre. The car was also sold with a five-speed manual box with an optional four-speed being available to the previously mentioned Yank Club.
Produced as either standard or wide body models and with regular or EX luxury trim from 1982 to 1989, the Starion certainly was a star. One only has to watch "Flying Finn" Pentti Airikkala's antics contesting the British RAC Rally in 1988 behind the wheel of his Starion to get the picture. To drive such a wonderful, rare but largely forgotten future classic is something I believe very few petrol heads, such as myself would find hard to resist.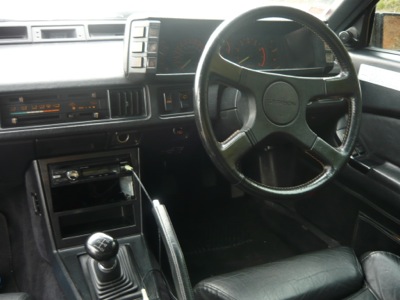 Getting inside you find a comfortable and easy to understand interior. Everything thoughout is just pure 80s, orange on black dials, leather bucket seats, rubber gate round the gearlever, and plenty of plastic knobs and switches. All you would need is some Human League on the stereo and hey presto!
Turn the key and the sound of the turbo four burbles into life before resting at a smooth 1000rpm idle. I can fairly say the engine at idle sounds similar to a Sumo match, all that deep rumbling and popping of parts moving around. Moving off and heading around suburban Christchurch you find the ride to be a wee bit firm and incompliant, mind you what car rides well on post-earthquake Christchurch streets these days! Rear visibility is good and although you sit right back and low in the seat, the driving position and headroom is very good allowing plenty of movement to be made.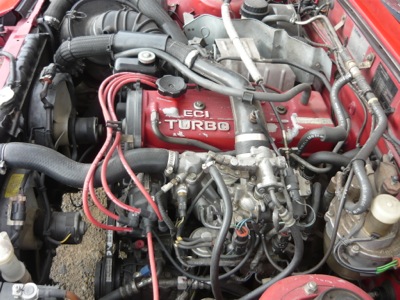 Putting your foot down out on the open road you experience a famous trait of many 80s performance cars, chronic turbo lag! Plant your right foot and nothing happens till about 3500 revs whereupon you need to be ready to catch it when accelerating hard out of a corner. The Starion is a car you have to drive by the scruff of its neck, however if you keep in the power band and shift gears between 3500 to 5500 revs you can have some serious fun with it. It is engaging and pretty damn quick for 25 year-old car. On high speed corners the chassis copes really well giving you great handling. It is a bit nose heavy at times, but with a drag co efficient of 0.32, that wedge body shape does competently for aerodynamics.
The Starion was then replaced in 1990 by the GTO/3000GT, however the DNA of the Starion live on today in the latest Mitsubishi Evo X. In the final analyses I will always remember the Mitsubishi Starion as being a great car. A real "regend" so to speak!
Need to know
Year: 1985
Production: 1982 – 1989
Engine: 1997cc inline four-cylinder petrol
Power/torque: 168kW/n/a
Transmission: Five-speed manual