OVERSTEER ROAD TEST: Audi A1 Sportback
While "Sportback" may sound like some kind of injury that a firmly-suspended German car might cause if you drive one for too long, it is actually Audi's term to describe it's… erm… five-door hatches. Probably because it sounds far more sexy and exciting that "five-door hatch". The diminutive A1 is the latest Audi to get the five-door – sorry, Sportback – treatment. So we spent some time with it and really rather quite liked it!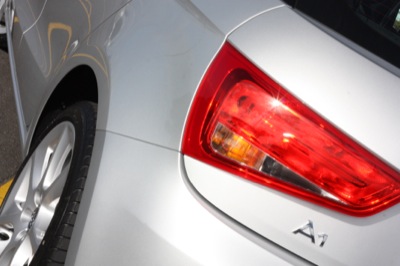 Forty thousand dollars is a lot of money to drop on a supermini. That is why Volkswagen will not sell you a Polo for that much. But Audi will.
You see, despite Audi's marketing department's best efforts to convince everyone otherwise, the A1 is essentially a VW Polo under the skin. And a Skoda Fabia too.
But what lurks under the skin is largely irrelevant to buyers these days, as everyone does it. Platform sharing is all the rage. That sexy Camaro you daydream about? That sits on the same platform as the humble Commodore. That big luxurious Rolls Royce Ghost? That'd be a BMW 7 Series platform that sits on there. The same one that lurks under the awkward curves of the 5 Series GT too.
The Mitsubishi Outlander, ASX, Lancer and Peugeot 4007 and 4008 all share a platform, in fact it is the same platform that the Jeep Patriot and Compass sit on. And the now-departed Dodge Avenger, Dodge Caliber and Chrysler Sebring too.
So all the cool kids are doing it, and to be honest, the VW Audi Group (VAG) have been masters of this for some time now. VWs, Audis, Seats and Skodas have shared the hard to see bits underneath in one way or another for decades now. To varying degrees of success, it has to be said.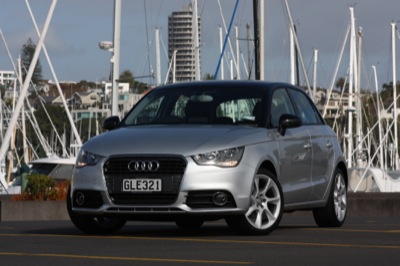 Previously the A1 has only been available as a three door hatch and, as such, has been a limited-appeal proposition. Kiwis just generally don't buy three door hatches. And the A1 has really not been an exception to this rule. For the same money as an A1 you could buy a vastly more practical, vastly faster and vastly more fun VW Polo GTi. Or even the far cheaper Skoda Fabia vRS, both of which had five doors.
But now the A1 does as well. Have five doors that is, it's still a lot more expensive than the other two…
So what exactly do you get for the extra money? Well, quite a bit as it turns out. The extra two doors improve the little A1's looks vastly for some reason. Despite sharing an identical wheelbase with the three-door, the five-door looks far more balanced. Probably because the front door is shortened to make room for the rear, but whatever the reason, it works better.
Jump inside and you instantly see why the Audi costs $42,800 (for the 1.4TFSI Sport model we drove here). The interior is very special indeed; instantly identifiable as an Audi interior, it is beautifully put together and of a remarkably high standard all round.
The silly little pop up screen on the top of the dash serves no real purpose, especially without the navigation feature (which isn't available in NZ yet), but otherwise the rest of the interior is wonderful.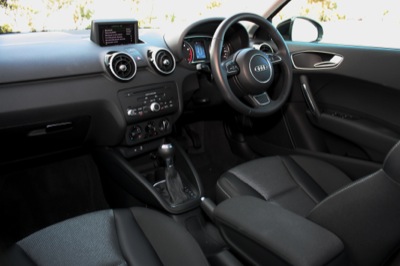 On the road, the A1 feels quite special too. Surprisingly not unlike a Polo, but in a very, very good way…
The 1.4-litre turbo petrol four-cylinder engine is strong and lusty, bellowing up to the redline and then snapping eagerly into the next gear for more, via the 7-speed S Tronic (Audi's name for the VAG dual clutch DSG) that is as spectacularly fast as ever.
There is a degree of turbo lag and transmission dither present that makes going for that gap in traffic a finely judged exercise, but other than this, there is a lot to enjoy about the little A1's drivetrain.
Surprisingly enough, even the A1's steering is decent. Audi usually feel the odd need to neuter their cars by cursing them with wooden, lifeless steering that leaves you feeling like you are playing a video game. But the A1 actually has a bit of life to it. It still feels slightly artificial, but the steering in the A1 does talk to you and let you know what is going on.
Which is a good thing indeed, as the A1 is a wonderfully tenacious little handler, as you would expect from something that shares a platform with the brilliant little VW Polo. Tip it into a corner and it leaps in sharply and eagerly, nail the throttle on the way out and the growly engine barks into life and hauls it out, with very little electronic intervention ever needed. It just hangs on and is massive fun through the curvy bits.
$40K for a supermini is still a big ask, but the A1 has a lot of compelling answers to that question. But then again, VW will sell you a hot Polo GTi for $38,250… so there's that then…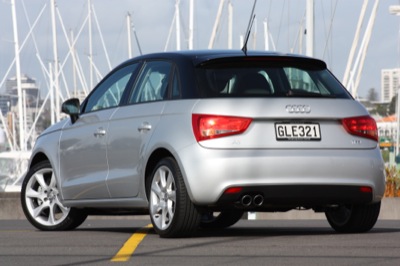 Need to know
Price: $42,800 (as tested)
Engine: 1390cc four-cylinder turbo petrol
Power/torque: 90kW/200Nm
Transmission: Seven-speed automatic
0-100km/h: 9.0 seconds
Fuel consumption: 5.3L/100km
CO2 emissions: 122g/km