What is it?
The Ioniq is Hyundai's first stab at a dedicated EV. It is also Hyundai's first go at a a unique hybrid platform. And it is also Hyundai's first ever plug-in hybrid.
How does that work then? Well, the Ioniq is a car that comes with three different drive-train choices – hybrid, plug-in hybrid and pure electric.
All three share the same platform, pretty much the same looks (there are a few differentiators) and equipment.
Roughly the same size as an Elantra (same wheelbase and 100mm shorter overall, but 20mm wider and 20mm taller) the Ioniq is aimed squarely at the Toyota Prius, but with the addition of a pure electric version that Hyundai claim a range of around 200km on a full charge for.
While the plug-in hybrid version is still a while off for us yet, the hybrid and EV versions have just landed here, and we got to take both for a blast from Queenstown to Kinloch at the top of Lake Wakatipu, a round trip of roughly 162km.
Not a lot of EV chargers in those parts. In fact, there are none, so Hyundai had to be very confident of that range…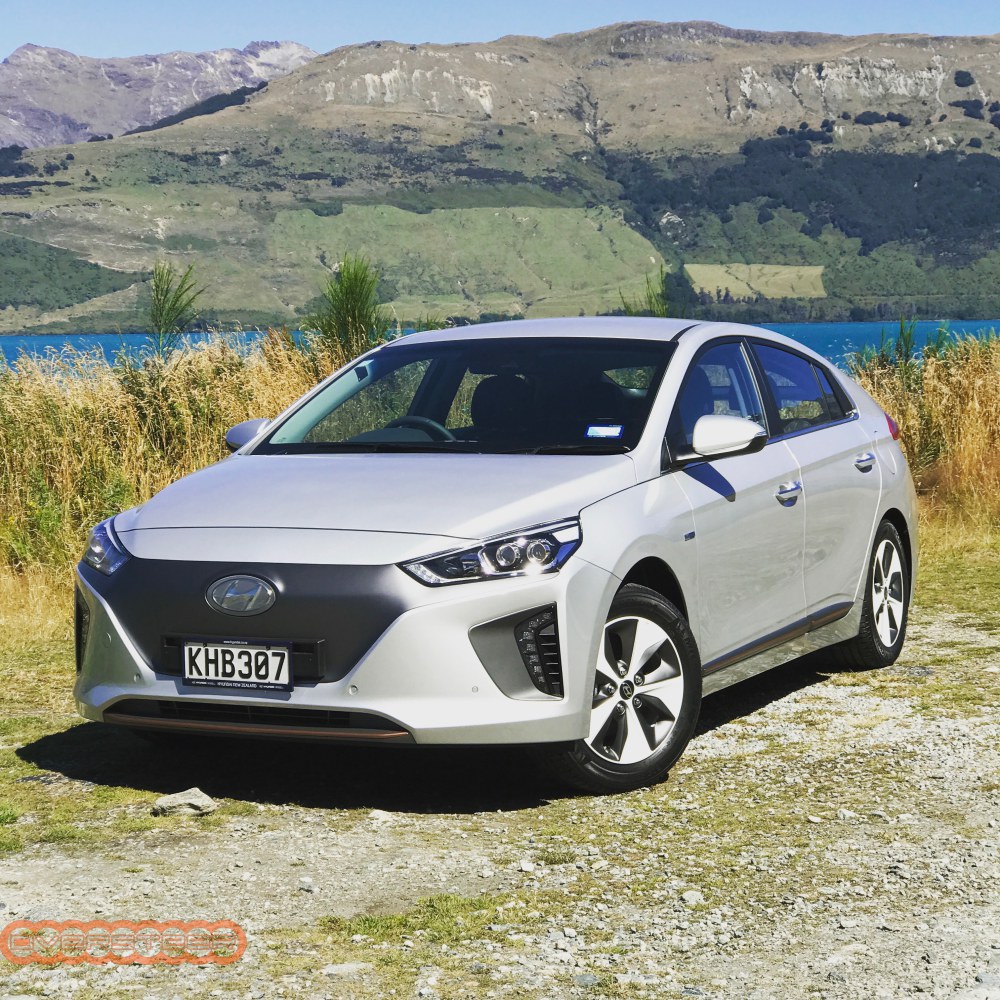 How much does it cost?
The hybrid starts at $46,990, with the Elite version costing $52,990, while the EV lands at $59,990 and topping out at $65,990 for the Elite.
What is its opposition?
As I mentioned previously, the Prius, obviously, but it also lines up against other Toyota hybrids in the form of the Prius-based Lexus CT 200h and the larger Camry hybrid.
In terms of other EVs, the entry level Ioniq's price handily undercuts the likes of the Renault Zoe and BMW i3, while offering a similar or even better electric range.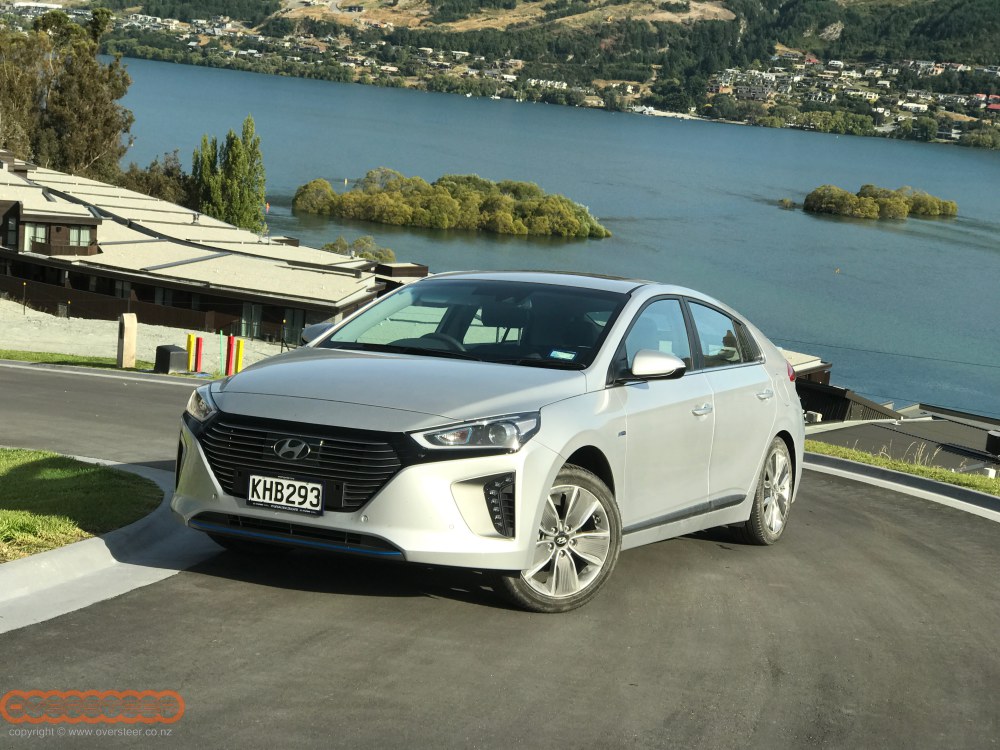 What powers it?
The hybrid gets a conventional hybrid drivetrain (petrol engine up front with an electric motor helping out) with a twist – instead of a dreaded CVT the Ioniq gets a six-speed dual clutch transmission.
The petrol engine is an Atkinson cycle version of Hyundai's 1.6-litre four-cylinder petrol engine that produces 77kW of power and 147Nm of torque, while the permanent magnet synchronous electric motor adds 32kW bringing the system total to 104kW and 265Nm.
The plug-in electric will be similarly powered, but with a larger battery than that hybrid's 1.56kWh unit to allow extended running on electricity alone.
The EV, of course, has no petrol engine or transmission, but rather a permanent magnet synchronous electric motor hooked up to a 28kWh battery that produces 88kW of power and 295Nm of torque.
Hyundai claims fuel consumption of just 3.9L/100km for the hybrid and, obviously, absolutely nothing for the EV.
What's it got?
The Ioniq comes to New Zealand in two trim levels across both the hybrid and EV, with both following broadly similar equipment levels.
The entry car in both hybrid and EV forms come standard with 7 airbags, autonomous emergency braking, radar cruise control, lane keep assist and departure warning, a touchscreen infotainment system, rear parking sensors and a reversing camera, Bluetooth audio streaming and phone connectivity and electric heated side mirrors.
While the hybrid rides on 15-inch alloy wheels, the EV comes on 16-inch alloys. The electric-only cars also gets a larger touchscreen (8-inch versus the hybrid's 5-inch screen, with the addition of Apple CarPlay and Android Auto), an electric park brake, tyre pressure monitoring and front parking sensors.
Elite form in both adds automatic headlights. rain sensing wipers, LED daytime running lights, the tyre pressure monitoring system, front parking sensors, chrome belt line and door handle mouldings, LED headlights, side mirror indicators, leather seats, door trim and centre console trim, an electrically adjustable driver's seat, wireless phone charging, keyless entry and start, a heated steering wheel, a premium sound system and dual zone climate control.
While the Elite EV runs on the same 16-inch alloy wheels as the entry EV, the Elite hybrid gets unique 17-inch alloy wheels.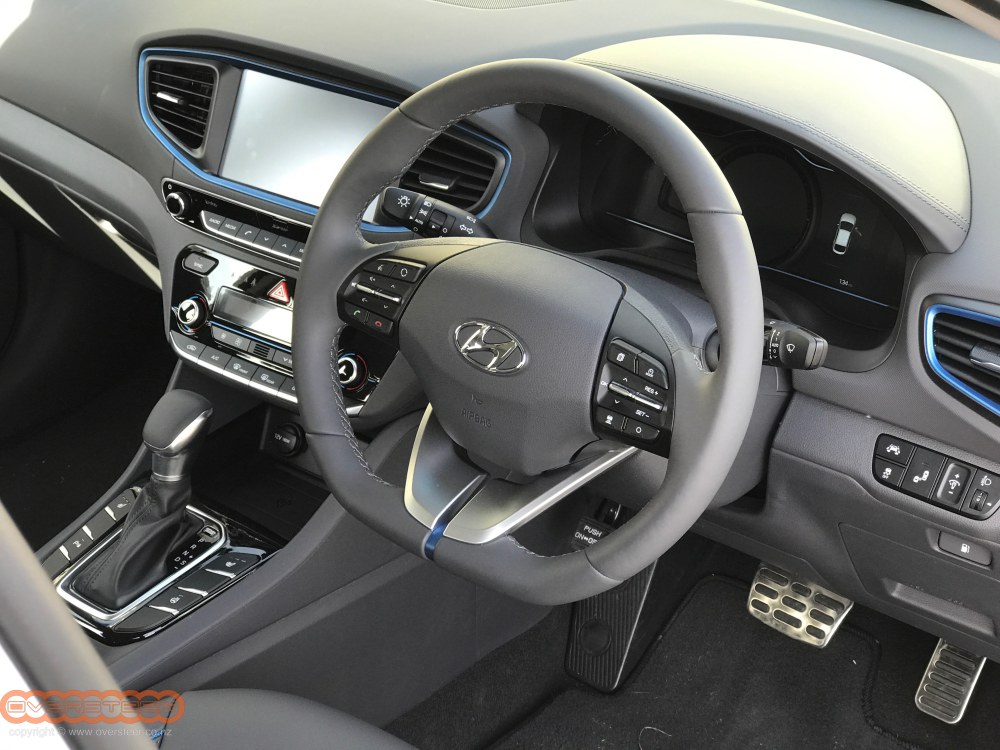 What's good about it?
Probably the best thing about both the hybrid and the EV is that they both just look and feel like normal cars. Neither make any demands on you to alter your driving style in any way to get the best out of them, although the EV does require a bit more planning before you head off on a long journey, obviously…
Interior quality is very high, again with a remarkable level of normalcy to proceedings – no space-age gimmicks of (shudder) white glossy plastic in either car.
Both have a nicely balanced feel on the road and impressively refined rides. While they ain't exactly sports cars, they can certainly hold their own in an enjoyable fashion on the winding roads around Lake Wakatipu.
The high level of standard equipment – even on the entry level hybrid – is impressive, as is the fact that Hyundai are the first to get such a highly equipped EV under $60K (the Nissan Leaf was cheaper, but had nowhere near the level of standard equipment as the Ioniq).
What's not so good?
Can't say I'm too excited about the big plastic nose on the EV in place of the hybrid's grille, but that's about it really.
And despite the impressive claimed range of the EV, range anxiety still rears its ugly head, but that is an issue with every EV and is a matter that will resolve itself soon enough as fast charging stations become more prevalent.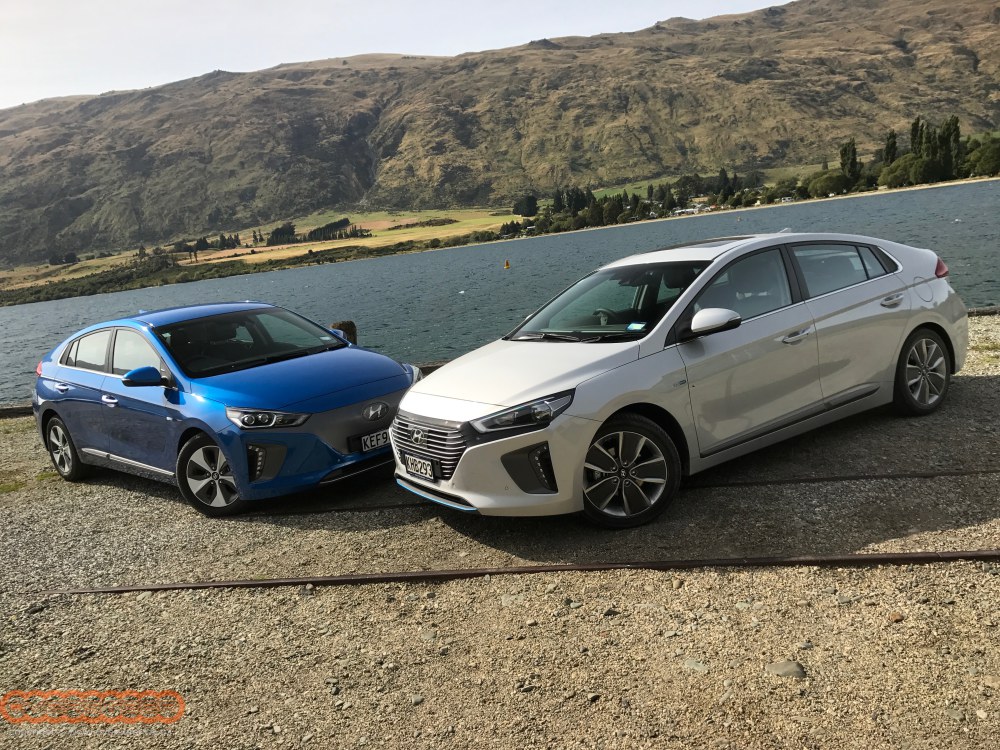 First impressions?
I was lucky enough to drive the Ioniq in Korea in the middle of last year (click here to read that story) and came away impressed then, but I am happy to say I am even more impressed with it on New Zealand roads.
The Ioniq is a deeply impressive car in both forms we get here so far. Although I can't help but imagine that the plug-in hybrid may well end up being the pick of the range when it arrives here…
In the meantime, however, the hybrid and EV both do what they are supposed to do extremely well.
The hybrid is extremely efficient, actually rather enjoyable to drive (largely thanks to the dual clutch transmission, healthy torque and pleasant chassis), while the EV is all of those things, plus with the added smugness of using no fuel and having even more torque.
While on the drive route at the launch a colleague and I made a video for Stuff Motoring (click here to check it out!), meaning we headed out on our own after lunch to film some extra scenes.
Or at least we planned to. As it turned out, while the EV was more than capable of completing the drive route as planned, the extra distance of shooting for the video meant our range was stretched to the maximum.
We made it back, but literally only just. In fact, the cars we supposed to go to Hyundai's Frankton service centre for charging, but ours probably wouldn't have made it, so a few hours topping it up at the hotel was required first.
Which brings us to charging – more to the point, how long does it take?
On a DC fast charger (such as the kind that ChargeNet are currently installing up and down the country) an 80 percent charge will take around 20 to 30 minutes, while plugging it into a wall socket at home will take a rather eye-watering 16 to 18 hours.
Fortunately Hyundai will sell you (for $1,500 plus installation) a home wall charger that will cut the time down to a far more reasonable 4 to 5 hours for a complete 100% charge from empty.
Personally, I would say the wall box is an essential purchase if you are buying an Ioniq EV, and it is only $1,500 (plus around $1,000 for installation, according to Hyundai), or you could just negotiate hard with your local Hyundai dealer and get him to throw on in with the deal…
But if all that charging a worrying about range is all too much for you, then the hybrid is a perfectly good choice. You don't get the silent running, but you do get impressive fuel economy and a damn fine car with it.