Mid-size cars are starting to suffer the same fate as their larger cousins at the moment – they are not selling in anywhere the numbers they used to. Why? Three letters – SUV.
People are deserting traditional family-sized sedans in favour of the more practical SUV segment.
But there is still a decent amount of life left in the mid-size sedan segment, and some utterly brilliant cars, which is why Hyundai has launched its latest mid-sizer, and even reverted to an old name for it!
What is it?
Well, it used to be the i45. Which used to be the Sonata. So now it is the Sonata again.
Umm… yep, that's right! While it departed from the Sonata name for one generation, Hyundai have decided that people identify better with an actual name as opposed to a collection of numbers and letters, so have reverted to the Sonata name for their medium sized car.
That may well be true if you have a good name for your car, but I would imagine if you called it something like the "Hyundai Ratcock" it would not be quite so applicable.
Still, the i45 only really achieved great things in terms of epic body roll anyway, so the change back to Sonata is probably a good thing, especially seeing that the new car is leagues ahead of the old i45 in terms of handling. And ride. And looks, equipment, steering feel… and pretty much everything else really.
The new Sonata comes to New Zealand in three guises: an entry level model and an Elite model, both of which get Hyundai's venerable 138kW/241Nm Theta II 2.4-litre four-cylinder petrol engine and a six-speed automatic transmission. Then there is an Elite Limited model that gets the new 180kW/350Nm 2.0-litre four-cylinder turbo engine, also with the six-speed auto.
The entry level Sonata comes standard with 17-inch alloy wheels, rear parking sensors and a backing camera, Bluetooth phone and audio connectivity, electric folding/heated mirrors, cruise control, hill start control, a leather steering wheel with audio and phone controls, a leather gear knob, daytime running lights and a multi-function trip computer and kicks off the pricing at $45,990.
The Elite adds 18-inch wheels, rain sensing wipers, front parking sensors, a premium audio system, power-adjustable leather seats in the front, climate control, an electric park brake, front and rear seat warmers, a heated steering wheel, puddle lamps, a windscreen de-icer, keyless entry and start and a chromed radiator grille into the mix and retails for $49,990.
The Elite Limited gets a unique suspension tune, a 7-inch satellite navigation system, automatic headlight levelling, blunt spot detection, a panoramic glass sunroof, xenon HID headlights, headlight washers, covering lamps, ventilated front seats, LED taillights, retractable rear door curtains and a memory system on the driver's seat. The Limited also is the only model to get the turbo engine and costs $55,990.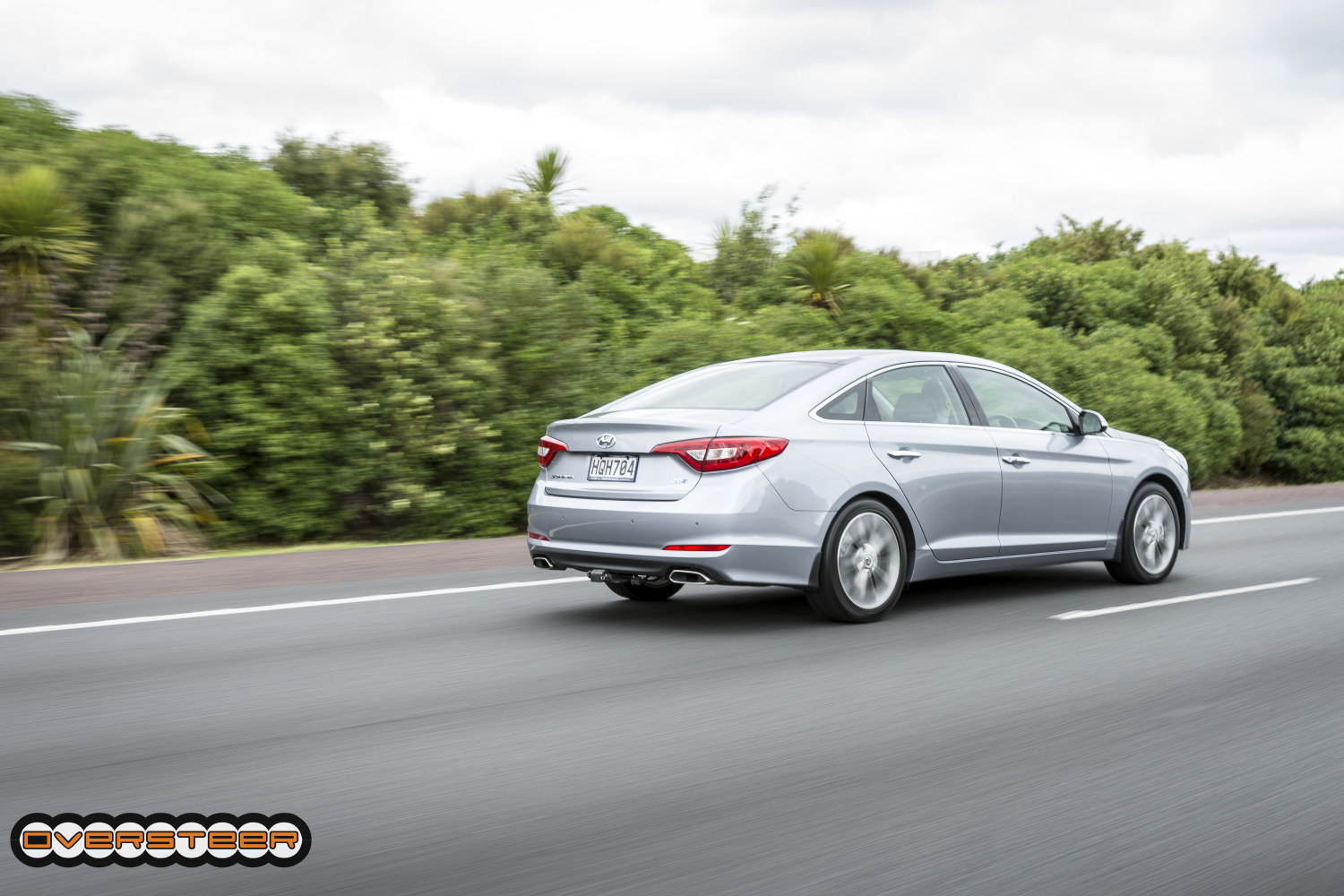 What's it like?
Much better than the car it replaces in virtually every regard.
While it is still far from being sporty, the Sonata now can handle a corner without the body roll and tyre howling protests of the i45.
Although slightly larger in every dimension than the car it replaces the Sonata can go around a corner in a controlled, competent and somewhat eager fashion. The turbo feels more eager in this regard, no doubt due to the smaller engine over the front axle, but both cars are remarkably more controlled than the soft i45.
Push it too hard and things still fall apart somewhat, with both the chassis and stability electronics throwing their hands up in the air and crying "whatever!" in a somewhat disconcerting fashion. But you really do have to be pushing it hard for that to happen.
Impressively, the ride hasn't suffered as a result of the improved handling. In fact, the improvement in body control has made for a car that is actually more comfortable (particularly for the passengers) than the i45.
The 2.4-litre engine does an admirable job of hauling the Sonata around, and will more than suit most buyers. But the star is the 2.0-litre turbo, even though it doesn't really feel like a car with 180kW…
The 2.0-litre's power is linear in its delivery, but ever-so-slightly underwhelming – it doesn't really get going until it is up in the revs and doesn't really come to life until around 80 to 100km/h. This means it powers out of corners and makes passing an absolute effortless exercise, but also makes keeping to the speed limit an exercise in concentration (or cruise control).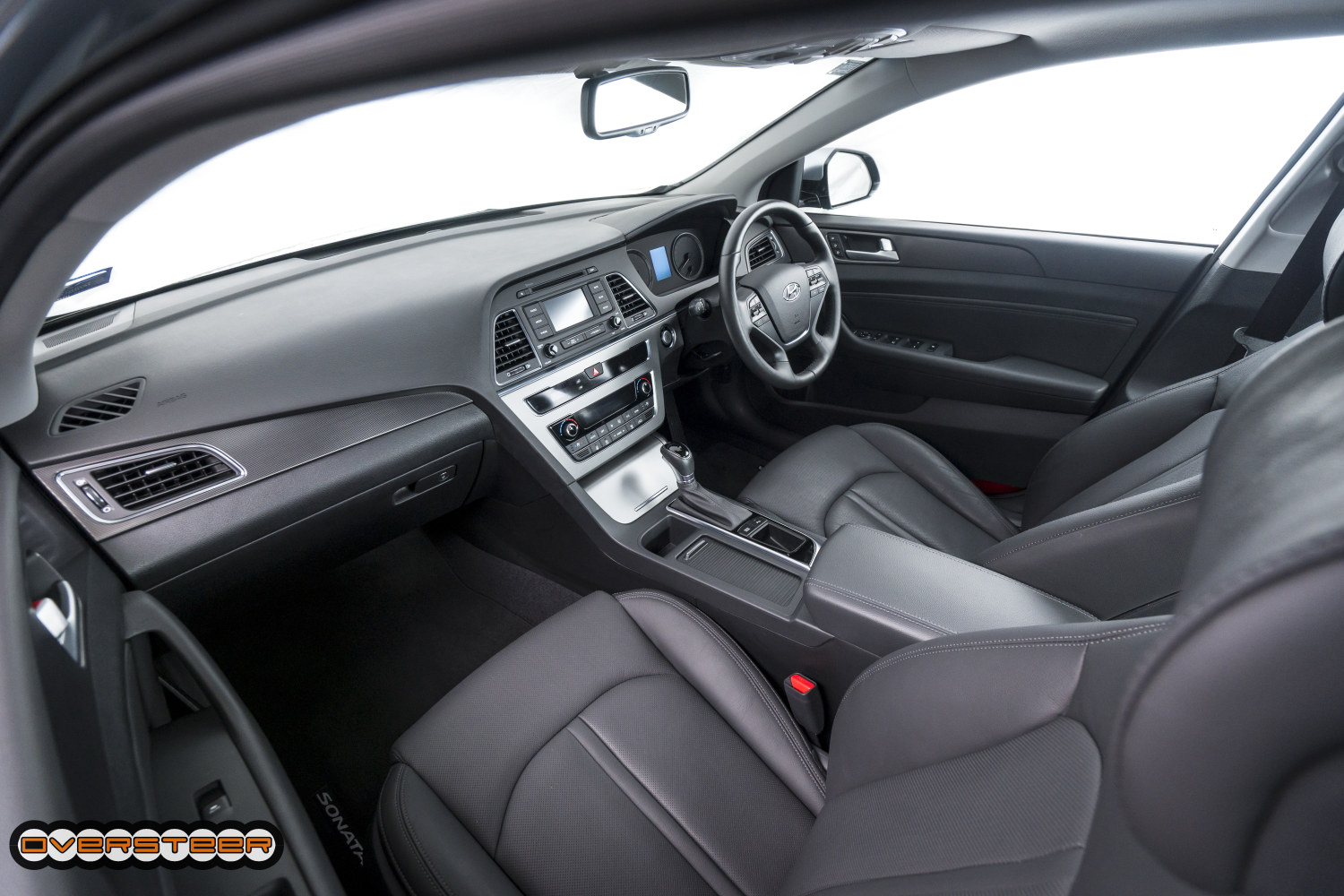 What's good about it?
It is a far better looking car than the i45, with strong hints of Mazda and Honda about it. Well equipped for the price, which is also pretty sharp. Very comfortable and a supreme cruiser.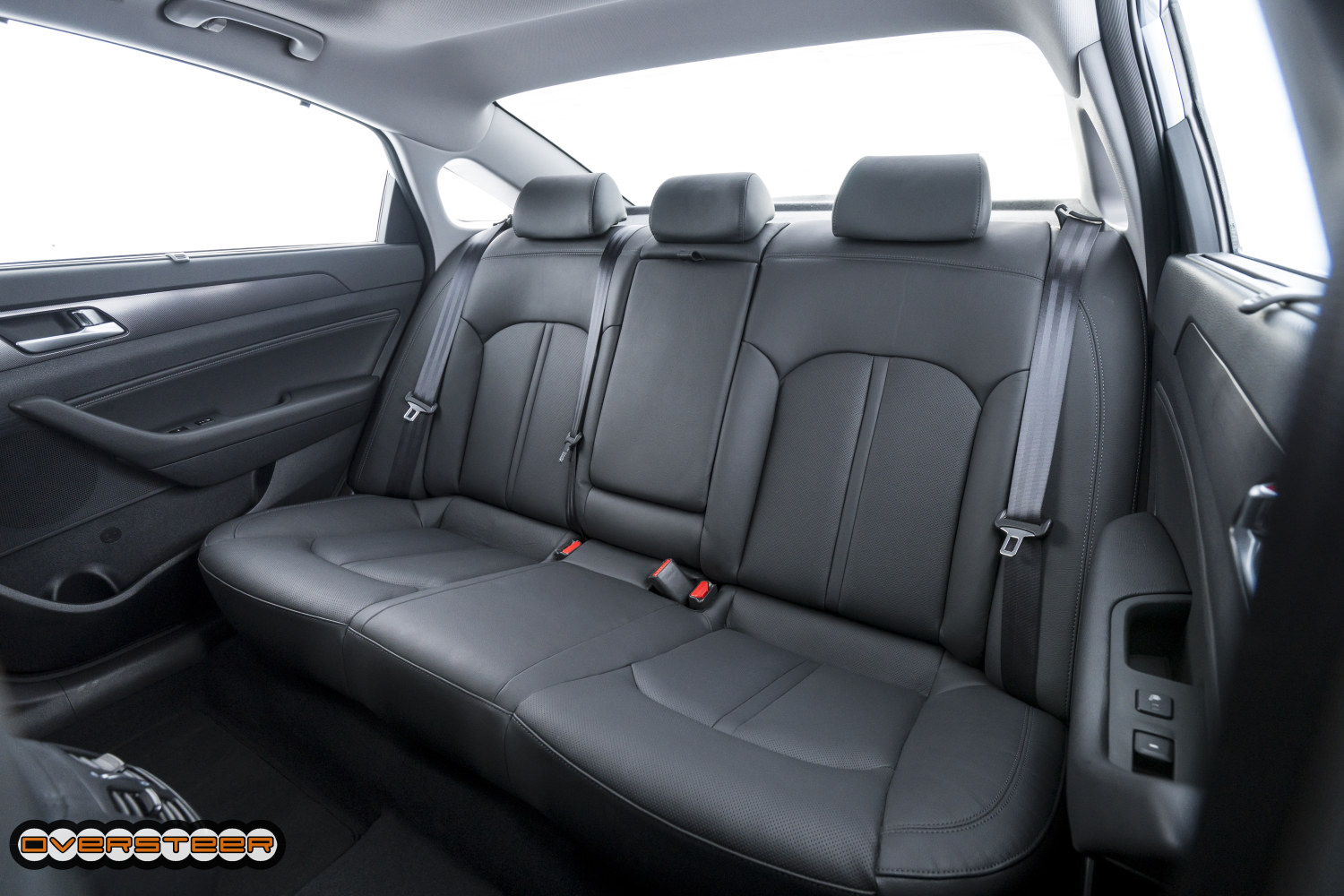 What's not so good?
Both engines are surprisingly thirsty, particularly the turbo. While it looks good from 3/4 angles, it tends to become oddly generic when on the road. Interior is strangely bland and the dash oddly flat.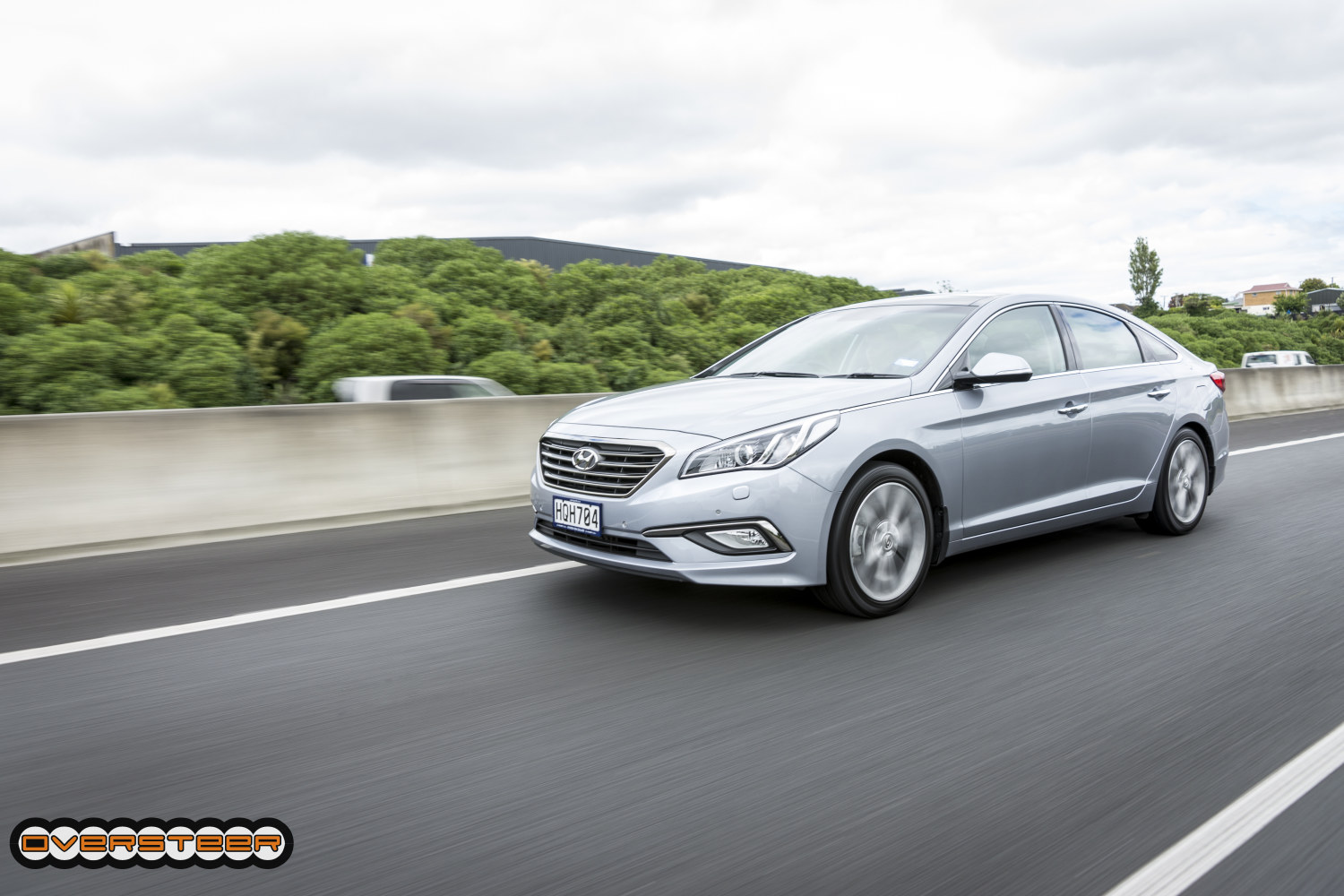 First impressions?
While a massive improvement over the car it replaces, it will remain to be seen if the Sonata can make a mark in a segment that is rapidly losing ground to the tidal wave of SUVs that has more or less consumed the large car segment and is now absorbing the medium segment.
The Sonata does very little wrong, but that may not be enough against the appeal of the space and practicality that a similarly-priced and sized SUV can offer.
That said, it will still have plenty of appeal to a buyer that still wants a mid-size sedan, as value-for-money and quality are still its strongest points. Add into this the massive improvements in handling and looks and you have a car that can easily hold its own against the like of the Mazda and the Ford Mondeo.
Models/prices
2.4 – $45,990
2.4 Elite – $49,990
2.0 Turbo Elite Limited – $55,990
Powertrain
2.4-litre inline four-cylinder petrol producing 138kW/241Nm; six-speed automatic transmission; front-wheel drive (2.4, Elite), 2.0-litre inline four-cylinder petrol turbo producing 180kW/350Nm; six-speed automatic transmission; front-wheel drive (Elite Limited)
Fuel consumption: 8.3L/100km (2.4, Elite), 9.2L/100km (Elite Limited)
CO2 emissions: 194g/km (2.4, Elite), 194g/km (Elite Limited)
Safety
ANCAP/EuroNCAP rating: not tested yet
Air bags: 6
Stability control: yes
Lap/diagonal belts: 5