Once upon a time, back when the Mini really was mini, having the Cooper name attached to it meant it was the serious go-fast version.
But eventually it became essentially a trim level, a rather sad standing that was only reinforced when BMW took things over and made the Mini less mini, but also far, far safer, much faster and WAY better equipped.
However, also since that time a new serious go-fast version of the Mini was born – the John Cooper Works – otherwise known as the JCW – version of the not-so-mini-Mini.
The JCW was born out of a collaboration between Mike Cooper, the late John Cooper's son, and was originally a range of bolt-on go-faster bits that grew into a full-blown model after BMW also bought-out the John Cooper Works company.
So now the JCW name means serious Mini performance, with the new model pumping out a ferocious 170kW of power and a robust 320Nm of torque from its turbocharged 2.0-litre four-cylinder petrol engine. This places it squarely in Hot Hatch territory populated by the likes of the VW Golf GTi, Ford Focus ST and Renault Megane RS275.
We headed off to Melbourne's legendary Phillip Island race track to find out if it matches up.
What is it?
It's a Mini, but a ferally fast one.
The Mini JCW lands in New Zealand as a single model that retails for $54,800 for the six-speed manual transmission-equipped standard car. A six-speed auto with steering wheel paddle shifters is a $3,500 option. The manual car will belt to 100km/h in 6.3 seconds while the auto will do it in 6.1.
The JCW comes standard with sports suspension and dynamic damper control, 17-inch alloy wheels and run-flat tyres, as well as a remarkable amount of other equipment, including some thoroughly excellent JCW sports seats, dual zone climate control, Mini's signature adjustable mood lighting, Bluetooth phone connectivity and audio streaming, a head-up display, satellite navigation, a newly-developed Brembo brake system (with massive 17-inch discs), LED headlights and the aggressive JCW body kit.
Of course, being a Mini, the JCW also has a thoroughly massive range of options available, including the automatic transmission that brings launch control to the Mini for an additional $3,500. The traditional range of exterior and interior styling options are also available, as well as the Driver Assist package that adds active cruise control, speed limit info, high-beam assist and pedestrian recognition with autonomous braking for $2,200.
You can check out the full specifications of the Mini John Cooper Works by clicking here.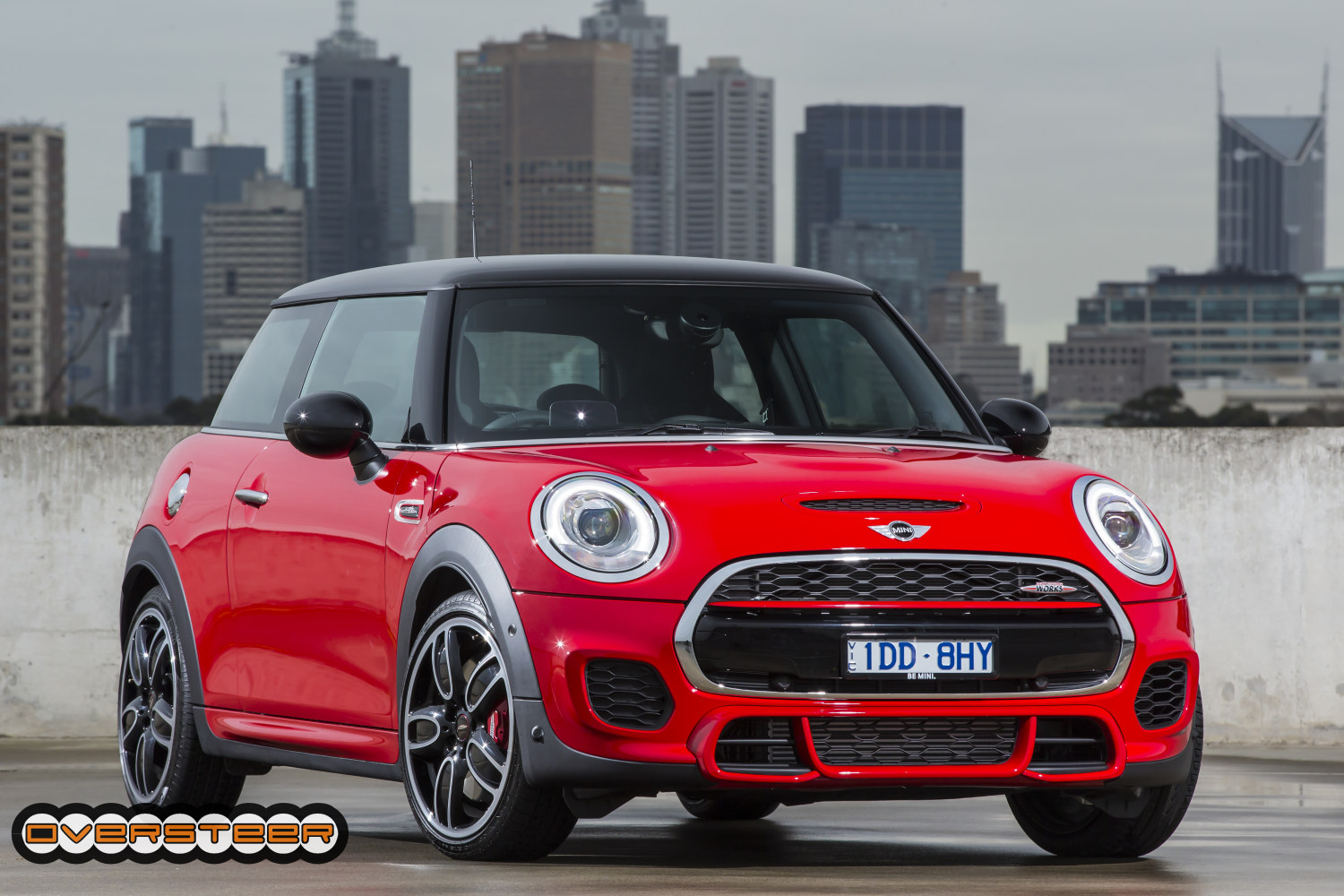 What's it like?
Thanks to BMW's eagerness to promote anything to do with the Mini's general enjoyability while being thrown around with wild, joyous abandon, they decided to launch the new JCW at a race track. But not just any race track; the launch was held at the formidable and brilliantly fun Phillip Island Grand Prix Circuit just outside Melbourne.
Now, while a race track generally tells you remarkably little about how a car will behave on a normal road, it is excellent at quickly exposing any weaknesses at its limits, so launching a car on one takes considerable confidence on the part of the manufacturer. Particularly as BMW insists on banging on about the Mini's "go-kart handling" prowess…
Fortunately for everyone, the JCW proved itself to be utterly brilliant on both the wet gymkhana course and the dry and brilliantly technical Phillip Island track.
With power up 10 percent and torque up 23 percent over the old model, the JCW belts off the line courtesy of a new turbo specifically developed for it. The exhaust has a pleasingly angry roar, with the obligatory-for-the-segment barrage of small explosions whenever you lift off or change gear.
While the acceleration is pleasantly angry, hammering the brakes into the first corner that demands the serious removal of speed is utterly hilarious – the JCW squirms around under heavy braking like a happy cat under a blanket. The JCW will happily wag its tail into a corner, if you so desire, with the rear end being delightfully playful through corners.
Up the other end, the JCW is fantastically sharp and precise, with fast, characterful steering providing razor sharp turn-in and excellent feel and feedback.
On the roads back to Melbourne, the JCW's "Sport" setting proved a little too firm and fidgety for our tastes, but dropping it back into normal smoothed the ride out without having any real detrimental effect on the razor-sharp handling.
On the road, the JCW proved itself to be every bit as ferocious and fun as it was on the brilliant Phillip Island circuit, and is certainly a very worthy entrant into a segment that is made up almost entirely of standout cars.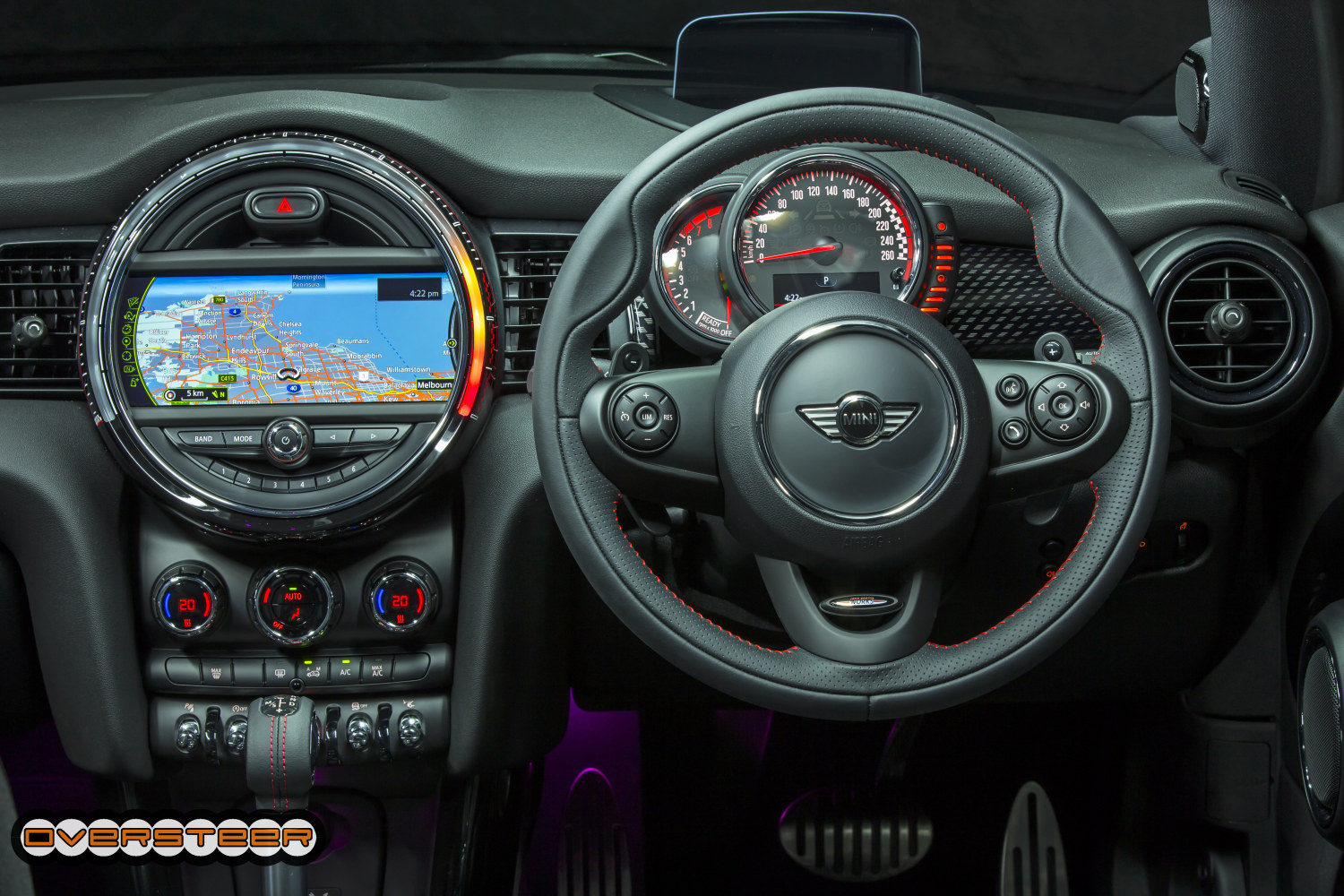 What's good about it?
The ferocious performance and tenacious handling, obviously. It is an absolute blast to thrash violently pretty much anywhere – and it loves it too. The high level of standard specification is impressive, while the seats are simply fantastic.
What's not so good?
Being a Mini means that, while it is very well equipped for the money, there is also a lot of extra stuff that is optional that also should be standard, like the autonomous braking, for example. Also, $3,500 is a mighty heft ask for the automatic transmission that the vast majority of customers will probably want.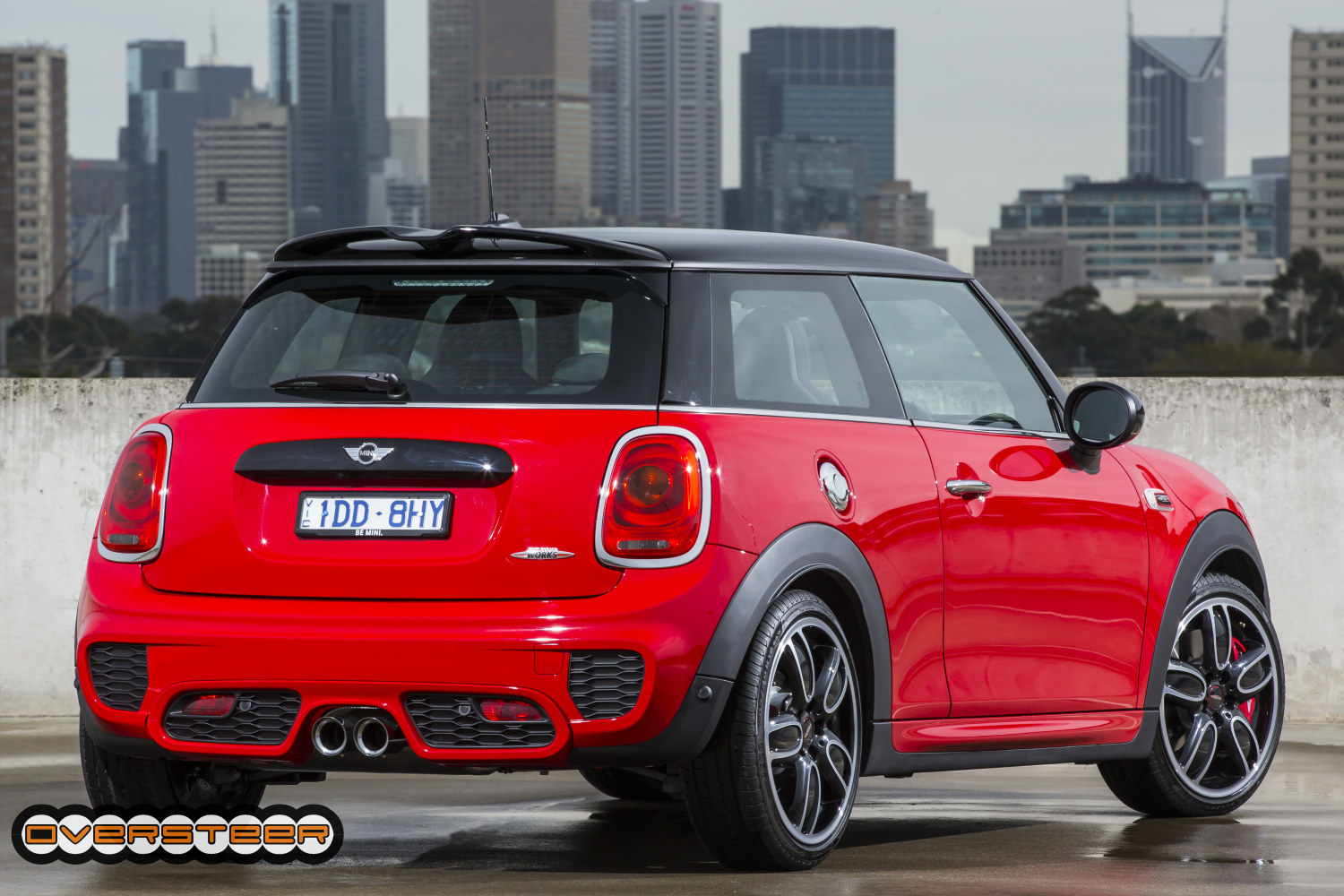 First impressions?
The Mini John Cooper Works is an utterly fantastic car to play with. Make no mistake; it is easily one of the most fun cars on sale today.
But fun doesn't usually equal practicality. The Mini's size is a big disadvantage when compared to similarly-priced, similarly fun cars, with the JCW being considerably smaller and more cramped. Still, not many people buy cars like this to do the school run in, so it may not be that much of a downside for a lot of people.
The upsides, of course, is the fantastic handling and savagely quick performance. And those are two upsides any true enthusiast would find it very hard to go past…
Models/prices
Mini John Cooper Works – $54,800
For full specifications of the Mini John Cooper Works click here.