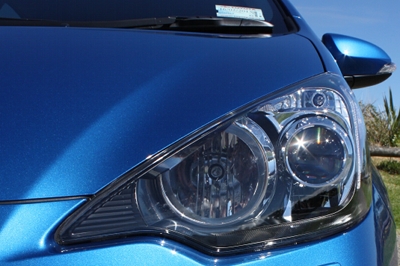 A hybrid you could actually like? Sounds impossible, but Toyota may well have managed it with its new compact hybrid, the Prius C; a new entry in the Prius family and Toyota's first attempt to expand the Prius name into a family rather than a single model.
What is it?
Basically a smaller Prius that uses old Prius technology in a more compact and modernised form. Put that simply it sounds a bit crap, but it really isn't as the Prius C is a lot cleverer than that rather unfairly simplistic explanation might suggest.
The Prius C is roughly somewhere between Yaris and Corolla in size and packs a 54kW 1.5-litre four cylinder engine under the bonnet. As expected for a Prius, the internal combustion engine is hooked up to a 45kW hybrid system that is packed, along with a smaller battery pack, under the rear seats rather than the boot. Meaning that the Prius C actually boasts a decent amount of usable space behind the rear seats. The combined output of both power sources is 74kW.
The sole transmission found in the Prius C is a CVT and it will be available in a choice of two spec levels – the standard Prius C available with or without alloy wheels, and the up-spec s-Tech.
The standard car comes fairly smartly equipped with keyless entry and starting, climate control air con, 15-inch alloy wheels (unless you chose the obviously-fleet-spec steel wheel version and save $1,000), 7 airbags, Bluetooth phone and audio streaming, iPod integration, a USB and auxiliary audio jack, projector headlamps and cruise control.
The s-Tech adds 16-inch alloys, a bigger rear spoiler, rear privacy glass, power mirrors, auto-leveling LED headlights with washers, a leather steering wheel and "synthetic" leather seats.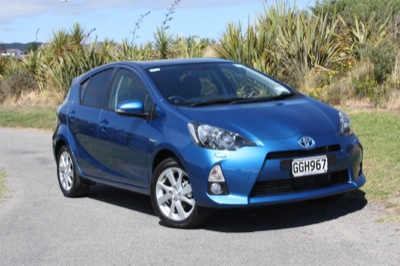 What's it like?
Surprisingly good!
Actually, I should qualify that – you see, I am not particularly a fan of the bigger original Prius. Lifeless steering, wooden brakes and the unsettling feeling that the people who buy it are more interested in appearing to care about the environment than they are in actually doing something meaningful about it, all conspire to put me off it. The fact that it is visually locked into that "classic" hybrid body shape is also off-putting…
So it has to be said that the Prius C is a breath of fresh air in the hybrid segment, not only in a visual sense, but also in terms of drivability.
Looking like a normal smallish five-door hatch, the Prius C actually brings a refreshing touch of aggression to the hybrid arena, particularly as it is pretty much the only one that doesn't look like a Japanese caricature of smiling slug. Honda Civic and Toyota Camry hybrids aside that is. But then they just look like a Honda Civic and Toyota Camry respectively, so you probably can't remember what they look like anyway…
The aggressive-yet-not-overly-aggressive nose, with its obvious hints of GT-86 sports car, shows off Toyota's new, more "emotional" styling direction. Apparently Toyota feel they have the quality nailed and just need to work on the desirability now. No arguments here…
Anyway, the Prius C is certainly a step in the right direction in that regard, as not only is it visually appealing, it also isn't too bad a thing to steer either.
Now, don't take this to mean that the Prius C is a stunning, responsive firecracker of a car, with razor-sharp handling, lightning-fast responses and eye-blistering power, because it simply isn't. Neither should you expect it to be.
What it IS however, is a wonderfully personable little city car that can acquit itself very competently out on the open road as well. As this is exactly what it should be, you would have to say that Toyota have hit the target here, but possibly the most remarkable thing about the Prius C is that it manages to do this without you even being remotely aware that it is a hybrid. In "normal" mode it makes no demands on you to alter your driving to save fuel, the planet, pandas and whatever else may be concerning you, it simply goes about its business in a remarkably fuel-efficient manner.
Hit the "eco" button and things take on a more traditional hybrid feel, with a dulled throttle response and other various methods to force you into a more economical mood. But it is the fact that "normal" is so, well, normal that makes the Prius C so likable.
Despite also lacking the traditional hybrid shape and behaviours, and appearing for all the world to be a conventional hatch, the Prius C still manages to leave you in no doubt that it is a hybrid thanks to the plethora of blue hybrid badges on the outside of the car and the very shouty screens and menus in the dash that scream out how awesomely eco-friendly and fuel-miserly it is.
Screens that tell you where the power is coming from and going to, screens that tell you how much money you have spent on fuel (you programme in the pump price and it does the rest), screens that show the percentage of time you spend in EV (electric running only) mode, screens that give you a score out of 100 for your driving, the list goes on. And it IS all very interesting. Except your simply best to ignore it all and just drive the thing.
Toyota claims an average combined fuel consumption of 3.9L/100km and this is fairly easy to achieve even in "normal" mode. On the launch drive around Wellington we saw 4.4L/100km on a route that included a mix of city, motorway, suburban and state highway driving, left in normal, with the air con on and not trying in the slightest to be economical. Other who actually tried easily got under Toyota's claim.
Speaking of driving, the Prius C isn't too bad at that either. The steering is nicely light, but a bit on the woolly side, while the brakes are a touch mute and wooden, but neither are anywhere near as awful as the standard Prius' efforts. In fact after a few kilometres to get used to them, you hardly noticed it.
Through a series of corners the Prius C feels confident and even a bit fun as its nice low centre of gravity (no doubt thanks to that battery pack being tucked under the rear seats) comes into play.
The transmission is a bit of a droney drag, as CVTs always are, but it does a good job around town and only really starts to sound desperate after extended periods at full-throttle. Which you're not supposed to do in a hybrid anyway…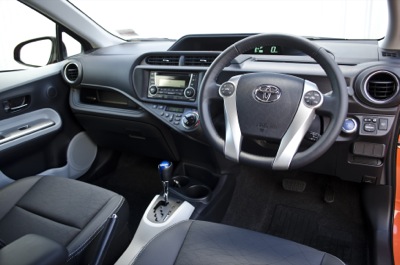 What's good about it?
The fact it doesn't insist you change your driving style to suit it. The fact it is a conventional, if admittedly attractive, five-door hatch, rather than a tear-drop shaped badge of smugness.
But mostly the fact that it is a good-looking little car that is enjoyable to drive.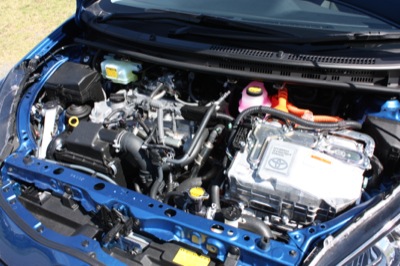 What's not so good?
The transmission is a traditional CVT, meaning it's a bit crap really and the interior in the entry-level model will test your love every time you get in it, with its two-tone plastic dash and the array of various blue highlights that are all a slightly different shade from each other. But particularly horrific are the aquamarine highlights on the door trim and dash. Best just to find a bit extra cash and buy the more sober black-on-black of the s-Tech really…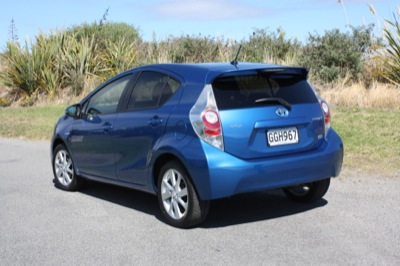 First Impressions?
There is one hybrid that beats the Prius C in terms of drivability and fun and that is the Honda CR-Z. The fact that the Honda has only two doors, effectively only seats two people, is a lot more expensive and will sell in tiny numbers, makes the Prius C a far more convincing prospect.
Attractive, well-specced and practical, the Prius C also happens to be a fun car to drive. Whether you are trying to beat your best eco-score, throwing it through a series of corners or admiring your reflection in a shop window, driving the Prius C just makes you smile. Something I didn't think I would ever say about a hybrid…
Specifications
Models/prices
Prius C w/steel wheels (auto) – $30,990
Prius C w/alloy wheels (auto) – $31,990
Prius C s-Tech (auto) – $34,990
Powertrain
1.5-litre four-cylinder petrol producing 54kW/111Nm plus Hybrid Synergy Drive for total output of 74kW; continuously variable transmission; front-wheel drive
Fuel consumption: 3.9L/100km
CO2 emissions: 90g/km
Safety
ANCAP/EuroNCAP rating: Not tested yet
Air bags: 7
Stability control: Yes
Lap/diagonal belts: 5