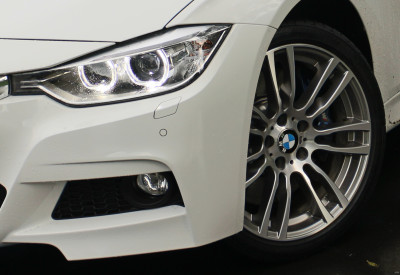 Adding 4WD to the BMW 3 Series' mix of attributes has been something that has been done in Europe for some time now – and even very briefly here – but it has largely been something that BMW has left to fellow Germans at Audi in this part of the world.
Until now, that is. With the launch of the new-generation 3 Series Touring, BMW has not only bought newly sexy lines to its wagon variants, it has also added the possibility of 4WD, taking the fight right up to Audi's A4 quattro wagons that have easily dominated the segment.
We drive the top-of-the-range 330d to see just who well they have nailed it…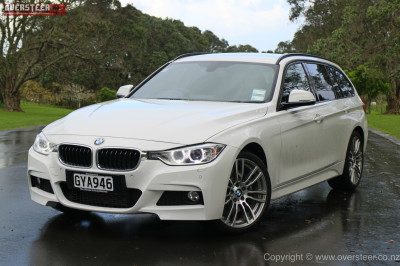 Outside
Likes: Sexy looks of the 3 Series sedan only enhanced by the wagons sleek profile. BMW felt no need to put anything other than a very discrete xDrive badge on the taildoor to differentiate it.

Dislikes: Not a hell of a lot. The new-generation 3 Seriespretty much took care of any appearance whinges we had, retaining a strong family resemblance without simply becoming a smaller 5 Series.

Inside
Likes: High quality everywhere. Seats are spectacular; comfortable and supportive. Stereo has a fantastic sound…

Dislikes: Except, like a lot of new BMWs, it refuses to recognise my iPod touch and also plays silly-buggers when trying to stream audio via Bluetooth.

Under the bonnet
Likes: 3.0-litre 190kW/560Nm inline turbo six is a thoroughly magnificent engine. Doesn't sound at all dieselly from the inside and bellows like an angry bear when prodded along. 8-speed automatic transmission is living proof that dual clutch transmissions don't have the "super-fast and slick" market cornered yet. Stupidly powerful engine is also laughably economical…

Dislikes: Can't think of a single thing…

On the road
Likes: Absolutely, startlingly, insanely good. The xDrive AWD system is an absolute master of the art of putting the torque exactly where it is needed at the exact moment it is needed. Hooked up to the powerful diesel six and the slick transmission, the 330d xDrive becomes utterly intoxicating to drive. Turn-in s as sharp as it is in a 3 Series sedan and the added weight of both the wagon body and the xDrive system is literally unnoticeable. Throw in a fantastic ride and you have everything…

Dislikes: Ummm…
Verdict
Adding a staggeringly good four-wheel drive system to what is already a startlingly good car always sounds good on paper, but it doesn't always work. Sometimes the extra weight of the 4WD setup ruins the balance of the car. Other times it just all comes together badly.
But not here. Not with the BMW 330d Touring xDrive. Here, everything works perfectly to create a car far better than we would ever have thought. It is a car that feels for all the world like a RWD BMW 330d (ie: brilliant) until you chuck it into a corner a bit harder than you meant to.
Then it surprises you by simply going around it anyway with no complaints. Try again, a bit harder this time. Still no drama. Do it in the wet and you will understand.
In the wet, you can feel the incredible xDrive system working – only just though – and it is a true wonder to behold.
Go into a corner, very fast, on a soaking wet day and the 330d xDrive will turn in as eagerly and sharply as any other 3Series. If it is slippery enough, you will feel the xDrive system working with the stability control to keep a grip on things.
Then do the unthinkable – nail the throttle to the floor on the way out. One of two things will happen, depending on whether or not you are in Sport Plus in the Driving Experience Control settings.
If you are in any mode other than Sport Plus, then the car will rocket out of the corner like it is bone dry underfoot. You will feel the unusual sensation of a six-cylinder BMW channelling some of its power through the front wheels and then it will just go, ready for the next corner.
If you are in Sport Plus, you will experience something very similar, except that the rear end will want to get a bit more playful, so will swing gracefully into action for a few moments, just like the smile on your face that always follows it…
The BMW 330d Touring xDrive is a simply stunningly good car that has power to burn and a poise and confidence on the road that buggers belief. In any conditions.
Price: $112,500
Engine: 3.0-litre inline six-cylinder diesel
Power/torque: 190kW/560Nm
Transmission: Eight-speed automatic
0-100km/h: n/a
Fuel consumption: 5.4L/100km
CO2 emissions: 142g/km