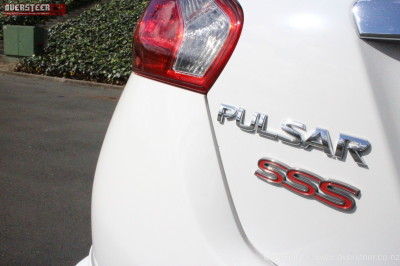 For many years having a SSS badge on you Nissan meant exciting things. Then it didn't.
Now Nissan are having a crack at putting some sizzle back into the SSS badge again with a hot version of the deadly-dull Pulsar hatch.
Have they got it right? Well, sort of… only sort of…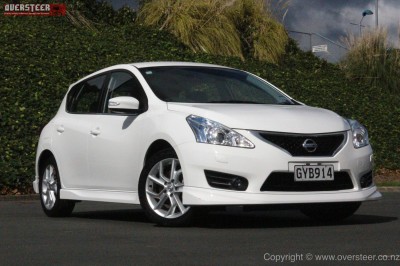 Outside
Likes: Subtle body kit tries its best to lift the dull-looking Pulsar into more exciting realms…

Dislikes: …but ultimately fails. Looks like a dull Pulsar hatch with a plastic body kit that is desperately trying to make it look more exciting…
Inside
Likes: Well made and put together. The majority of the contact points feel at least decent. Seats are flat, but surprisingly supportive when you start chucking it around. Leather is also surpassingly pleasant. Excellent stereo. Very roomy and practical.

Dislikes: Still quite a bit of hard plastic floating around the cabin. Start/stop button hidden in a silly place. It's all very dark and drab.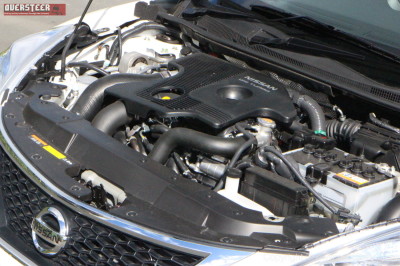 Under the bonnet
Likes: The 1.6-litre turbo four-cylinder engine is a sharp and torquey little tool. With 140kW of power and 240Nm of torque, it is surprisingly muscular and responsive around the mid-range.

Dislikes: IT'S HOOKED UP TO A CVT!!! Which is a massive shame, but not quite as terrible as you might initially suspect…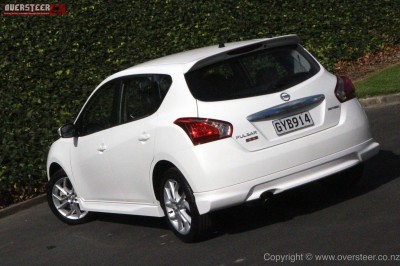 On the road
Likes: The flexible power and fat chunk of torque around the mid-range actually work surprisingly well with the CVT transmission. Steering feels nice and accurate, with good weight. Chassis enjoys being grabbed by the scruff of the neck and thrown around a bit. Remarkably good grip in the wet.

Dislikes: The dire groan of the CVT is an annoyance, but surprisingly doesn't hamper performance as much as you might expect. Ride is a bit firm at low speed on rough surfaces, but not overly intrusive most of the time.
Verdict
Still ultimately well short of being a hot hatch, the Pulsar SSS is still a massive surprise in terms of what it will do and does well.
The presence of a CVT transmission in a "performance" car is questionable thinking on Nissan's part, but it doesn't actually ruin the SSS's performance potential by as much as you would first think.
Sure, a slick traditional auto, a DSG or, preferably, a good manual would be better, but the horrid little continuously variable transmission actually does a good job of keeping the power and torque right where you want it most of the time. It still makes even the keenest of engines (and this one is a bit keen) into an annoying droney irritation – but turn the stereo up and you can drown most of that out…
Alternatively there is a manual mode on the Pulsar's transmission that does a decent-ish job of pretending to be a proper manual, but will still slur sneakily around, never entirely convincing. It is quick enough to respond to manual shifts, but the lack of steering wheel paddles and the fact that the shift points are the wrong way around (I can never get used to pushing forward to change up and backwards to change down…) make it more of a hassle than it is really worth.
That said, the Pulsar SSS is a surprise package. It offers a surprising dynamic and performance lift over the standard dull hatch and the luxury extras – such as leather, sat nav, keyless entry, dual zone climate control, backing camera and automatic Xenon headlights – make for a nice package.
But there is a flaw in the SSS package, and I don't actually mean the CVT transmission – it is actually the presence of the mechanically identical ST-S hatch that boasts the same engine as the SSS, but none of the luxury extras and drops in $5K less than the SSS at $34,990. $5K for above-mentioned kit and a body kit IS decent value for money, but puts the Pulsar SSS on the market at $39,990.
Unfortunately for Nissan though, for the same money as the lesser ST-S you can have a proper (albeit smaller) hot hatch in the form of a Ford Fiesta ST or for the same money as the SSS you can have a properly up-market hatch in the form of a VW Golf 103kW TSI that boasts more torque, similar performance and a 7-speed DSG transmission…
Price: $39,990
Engine: 1.6-litre inline four-cylinder petrol
Power/torque: 140kW/240Nm
Transmission: Continuously variable transmission
0-100km/h: n/a
Fuel consumption: 7.8L/100km
CO2 emissions: 187g/km