The Ford Focus RS is a car that enthusiasts have been demanding for some time now as Ford made even better, hotter and faster versions of the brilliant ST.
But as brilliant as the FWD ST is, a full-blown, even more powerful AWD car was something Blue Oval loving Hot Hatch fans simply lusted after.
And now it is here and, to be honest, it is even better than we hoped it would be!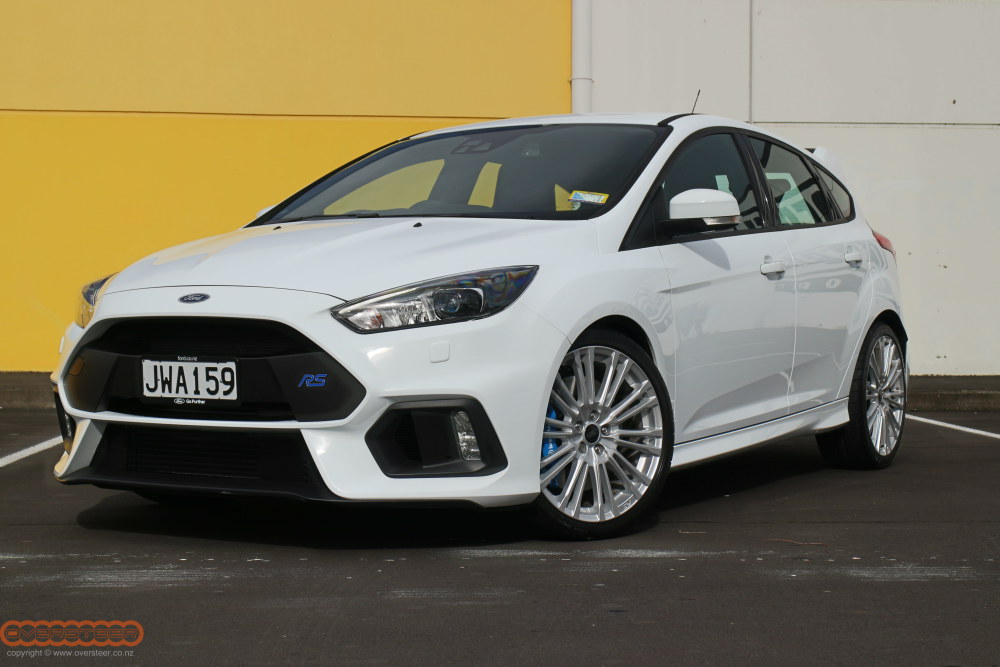 Outside
Likes: Looks like it wants too eat your face. Bluntly purposeful, almost like a rally car with its almost-rough-around-the-edges exterior additions. White not the best colour for it, but the searing blue with black wheels looks incredible.

Dislikes: Looks better in bright colours, of which there is only one – Nitrous Blue. Looks a bit oddly bland in white. 

Inside
Likes: Recaro seats are amazingly supportive. Steering wheel is chunky and feels great.

Dislikes: A bit down-market for a $70K car. Still typically Focus – a few hard plastics, etc. Sync is brilliant, but the touchscreen interface is sluggish and takes the shine off. While the seats are brilliantly grippy and supportive, they are a literal pain in the arse to get in and out of, with the rigid bolster jamming into your arse. Every. Single. Time. Also, the seating position is way too high…

Under the bonnet
Likes: 2.3-litre EcoBoost turbo is sensational. Insanely powerful, yet incredibly flexible and docile at low speeds. Sounds fantastic too. Six-speed manual transmission is a delight – slick, crisp shift action.

Dislikes: Almost nothing. Okay, the fuel usage is somewhat horrifying…

On the road
Likes: Grips like a limpet and changes direction faster than Donald Trump. Incredible steering is perfectly weighted, incredibly talkative and staggeringly sharp and direct.

Dislikes: Ride quality at low speeds is jittery and brittle. Sport mode ride will chip teeth. Direct, sensitive steering and a jittery ride means you are constantly chasing it.
Verdict
The Focus RS is an amazing car. Brutally fast and staggeringly responsive, it is the perfect car for a weekend back road blast or, even better, a good hard track day thrash.
But what it isn't is something that you could live with as a daily driver.
Now, while you may says "Duh! That's not what it is about" – and I would fully agree with you – something like a Mercedes-AMG A45 or an Audi RS3 offer (slightly) more performance and ability, yet are also infinitely more useful as daily drivers, albeit at a significantly higher price point.
And it's not like the RS couldn't do that either – the engine is capable of remarkable civility and is extremely flexible and forgiving, while the manual transmission is a breeze to use, with a great shift action and nice (and surprisingly light) clutch action.
The problem is the ride and the seats. Both cause you discomfort ,and in the case of the seats, actual pain.
That said, the Focus RS is brilliantly good at what is was truly made to do – namely go very, very fast and utterly destroy corners. When you can do that, who really cares about anything else?
Price: $69,880
Engine: 2.3-litre inline four-cylinder turbo
Power/torque: 257kW/440Nm
Transmission: Six-speed manual
0-100km/h: 4.7 seconds
Fuel consumption: 8.1L/100km
CO2 emissions: 190g/km
Click here for full specifications and more information on the Ford Focus RS