OVERSTEER ROAD TEST: Honda CR-Z
Honda has looked back to its past for the new CR-Z, resurrecting the spirit of the classic CR-X for what could potentially be the most exciting Honda in years.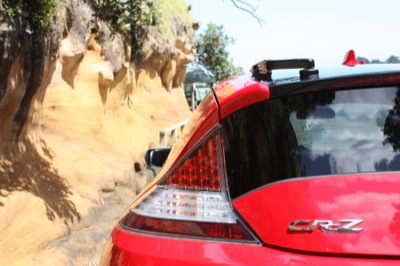 Hondas used to be exciting. Even the boring ones like the Civic. Honda gave us VTEC engines that revved up to ridiculously high redlines and punched you back in the seat like a turbo had kicked in when the second set of cam lobes joined the fun. Honda gave us small cars that went like the clappers, handled amazingly and chipped you teeth from their rock-hard rides. Honda had Ayrton Senna driving for them in Formula One and got him to help create a supercar that was so good and so damn accessible that it changed the way everyone else made supercars. Honda was the BMW of Japan.
Then, for some reason, Honda decided enough was enough of all this silly "being exciting" business and got serious about being boring. And now we have the Jazz and the Accord V6. And hybrids…
So that is whey the CR-Z is such a surprise. Yes, it is a hybrid, which means by almost universal definition that it should be boring. But it isn't. It is exciting. Well, at least it should be…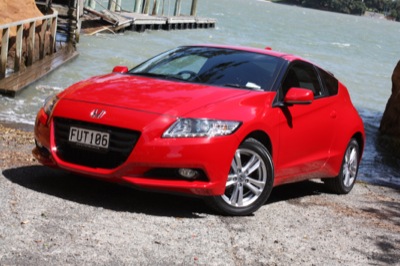 Outside
It all starts off exciting enough on the outside, as the CR-Z rather obviously harks back to/pays tribute to/rips off/tries to look like the original Honda CR-X of the '80s. And that is not a bad thing at all.
The chopped off rear and swoopy wedge shape works well, although the more modern update on the CR-X's shape does veer dangerously close to Insight/Prius territory. Still the aggressive headlights and taillights, and the gaping, angry grille move it a nicely safe distance from the traditional hybrid droop.
The high rear hatch may look quite cool – and requires the revival of another CR-X design cue; the split rear window – but it doesn't do much for rear visibility.
Being a Honda, there is a Mugen body kit and MASSIVE rear wing available, which apart from probably obliterating what rear visibility you do have, also makes the CR-Z look utterly ridiculous. This is best avoided really.
Of course, if you are buying a CR-Z, then you need it in red, like our test car was. It looks awesome in the stunning, glowing red and is a real head-turner. And let's face it – you're not buying a CR-Z to blend into the crowd, after all…
Inside
The inside of the CR-Z is almost as exciting as the outside, although it does look a bit like someone at Honda has got a bit of a button fetish. Or maybe they have a hatred of empty space, as every spare bit of space on the dash has a largely unnecessary button jammed into it.
Where other manufacturers seem to be going out of their way to eradicate unnecessary buttons on their dashboards, Honda has made special effort to add more, even going as far as to jam in three where one would do.
I am referring here to the separate buttons for Eco, Sport and Normal modes. Where one, or possibly at the outside, two would do the job perfectly well, Honda decided on one each. This is a common theme across the dash and it really does look like the bloke in charge of buttons had a seizure and scattered all the buttons he had left wildly across the dash.
Excess buttons aside, the interior of the CR-Z is a well put together affair, made out of quality materials. In traditional the Honda way, everything you come into contact with inside the cabin is of high quality, from the fat, chunky little leather steering wheel, to all the many, many buttons and the especially nice leather and metal-topped gear knob.
The digital display, dominated by a large central analogue tachometer with a digital speedo in the middle, is all very space-age and brightly coloured, but is clear, easy to read and works well.
The CR-Z's seats also deserve special mention here being, as they are, comfortable and spectacularly supportive. Larger-bottomed drivers and passengers may find them a bit too snug, but for the average person they grip you confidently in all the right places.
There is, however, no rear leg room. I don't mean that in the sense that there is very little leg room, I mean there is literally NO rear leg room. With a taller driver, the back of the front seat actually touches the front of the back seat. In the USA they don't even pretend the CR-Z is a four-seater – it merely has a shelf where the rear seats are in the New Zealand model, and a warning label not to sit there or you will die…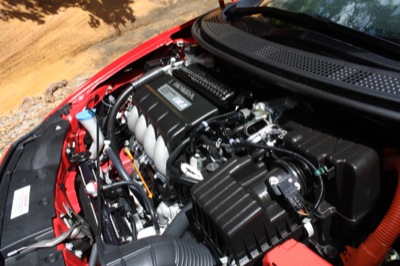 Under the bonnet
It is here that the excitement starts to wane. The CR-Z is the latest car in New Zealand to be propelled by Honda's IMA (Integrated Motor Assist) hybrid drive system as previously seen in the Civic hybrid and Insight.
The CR-Z's is a 91kW/174Nm 1.5-litre petrol four-cylinder engine/electric motor combo. As opposed to the usual CVT found in hybrids, our test CR-Z came with a six-speed manual transmission.
The CR-Z has a claimed combined fuel consumption of 5.0L/100km and in reality this is only achievable creeping along in Eco mode. Which you don't do in a sports car.
In the real world, the CR-Z's fuel consumption is pretty good, without being particularly astounding. That is, pretty good for a sporty car, not that hot for a hybrid.
Still, the engine is only really strong around low revs, where the IMA system likes to play the most. Higher in the revs it all disappears, leaving the little Honda a bit breathless.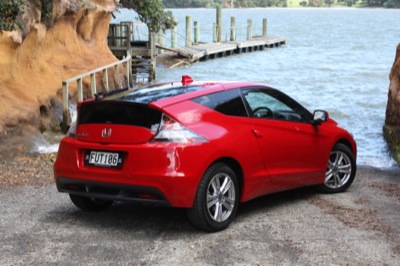 On the road
This is the most confusing aspect of the CR-Z.
Around town, in Sport mode it feels energetic and lively. It leaps off the line from a standing start and carves up slower traffic with ease. Pop it into Normal and it feels a bit more relaxed, while dropping it into Eco mode makes it feel like it has gone to sleep.
This is to be expected, but given that it is still fairly economical in Sport mode, I'll just stick with that thanks.
Out on the open road it is, sadly, a different story. The lively energy is all over fairly low down in the revs, meaning that while it feels like it should be a firecracker on the open road, given its lively around town performance, it simply hasn't got the grunt to pull it off convincingly.
While this is frustrating coming out of a corner, when trying to pass someone it can be downright terrifying, as the CR-Z runs out of breath almost ridiculously quickly when trying to ply up in the revs.
This is a shame, because the handling is wonderful; it feels firm, confident and willing to give anything a go through corners and despite its short wheelbase, even relatively large mid-corner bumps fail to unsettle it.
The CR-Z can be thrown into corners with wild abandon and it cheerfully wags its tail and asks "is that all you got?" The steering is sharp and direct and, while lacking a little in ultimate feel, offers good feedback.
This all makes the ultimate lack of performance on the open road even more disappointing, because the CR-Z is a car crying out for more grunt.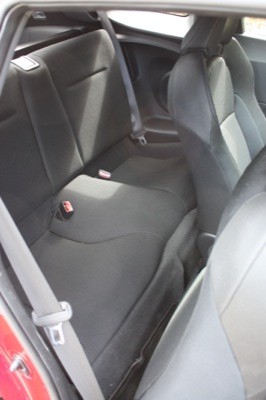 Verdict
Driving the CR-Z brings up a whole bunch of conflicting feelings in you. On one hand it is a fabulous-looking sporty car that is exceptionally well built, nippy around town and a blast to throw through a corner.
But on the other hand it is impractical, at times almost dangerously slow on the open road and at $44,900 very expensive.
If you are after a small, stylish city car that has a decent boot, but don't care about taking more than one passenger, then the CR-Z is not a bad choice, but anything outside this demographic, it is limited in its appeal.
It has the potential to be an exciting Honda but falls unfortunately short in reality. Around town it is a blast, but out on the open road it is far less impressive. It is still a lot of fun to throw around, but the lack of power leaves it feeling underwhelming. The best thing Honda could do with the CR-Z would be to forget this hybrid nonsense and drop in a screaming VTEC from the 90s. Now THAT would be an exciting car…
Honda CR-Z specifications:
Price: $44,900
Body type: 3-door coupe
Drive: Front-wheel drive
Engine Type: 4-cylinder
Engine Capacity: 1497cc
Max power: 91kW @ 6000rpm
Max torque: 174Nm @ 1000rpm
Fuel Consumption: 5.0L/100km
C02 emission: 115g/km
0 to 100kph: 9.9 seconds
Front suspension: MacPherson strut
Rear suspension: Multi-link
ABS Brakes: Yes
Air Bags: 6
ESP: Yes
Air Conditioning: Climate
Lap/diagonal belts: 4
Satellite Navigation: No
Electric seats: No
Burglar Alarm: Yes
Panic Button: No
Wheel type: 16-inch alloy