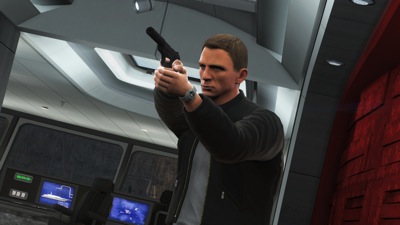 As a massive James Bond fan it pains me to say this, but the latest 007 game to appear on the next-gen consoles – Blood Stone 007 – just isn't very good…
Vastly derivative and plagued with niggling annoyances, Blood Stone 007 is particularly frustrating simply because it could have been so good. The most challenging aspect of the game doesn't come from cunning enemy AI or challenging level design, rather it comes from the frustrating aiming system and incredibly dumb enemy and civilian AI…
One nice aspect of Blood Stone 007 is the fact that you aren't virtually bulletproof like a lot of shooters, necessitating the use of cover and a more strategic approach to the game.
The biggest problem I have with Blood Stone 007 however, is one that has plagued the recent films – the  move away from traditional Bond towards gritty realism. Casino Royale and Quantum Of Solace were great action films, but they lacked the charisma and humour of traditional Bond films, as well as lacking a truly over-the-top Supervillian bad-guy…
Basically it means the latest films, and this new game, lack any real personality and sense of Bond-ness. Throw in the dodgy aiming, dumb AI and woefully short playing time and Blood Stone 007 only comes across as being worth a weekend rental at best and it will leave you neither shaken nor stirred…
Rated: M
Reviewed on: Xbox 360
Also Available on: PS3
Rating: 2.5/5 Looks great, but the lack of depth, frustrating controls and general lack of Bond-ness ruins the fun.