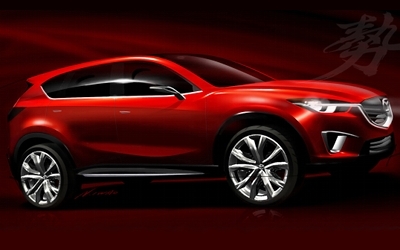 Loved the uber-sexy Shinari concept shown by Mazda a few months ago? Yeah, us too… Say something very rude when you found out it would never make production? Yeah, us too…
But the sexy Shinari was always more of an indication for the future of Mazda design than an actual production possibility, and now Mazda has taken the wraps off a new concept that uses the "Kodo" design language introduced by the Shinari, and it is far more likely to make it into production. Yay!
Prior to it being officially shown at the Geneva show in March, Mazda has released the first illustrations of the Minagi crossover concept. From the front the Shinari's influence is the most obvious, with the crossover concept sharing the Shinari's aggressive headlights and grille, as well as the swooping glasshouse profile and the nicked-from-BMW Hofmeister kink of the C-pillar.
But unlike the Shinari, the Minagi is an almost dead-cert for production – most likely wearing the CX-5 tag and slotting rather obviously in below the CX-7 in the Mazda family, finally giving the Japanese company a competitor in the thriving crossover segment, currently populated by the likes of the VW Tiguan, Hyundai ix35, Mitsubishi ASX, Nissan Qashqai and many, many others.
The Minagi is motivated by undisclosed members of the new Mazda SKYACTIV family of engines and transmissions, featuring super-frugal direct-injection petrol and diesel engines, along with automatic and manual transmissions.
The Geneva show will also see the first official showing of the Shinari in Europe.