Once upon a time Jaguar made a mid-size car. It was called the X-Type and it was crap.
It wasn't crap because it was based on the Ford Mondeo – which it was – and neither was it crap because it was FWD – which it also was, although 4WD models were available – rather it was crap because it was a half-baked effort with derivative design and an awful interior.
It sold dismally and was quietly dropped, whereupon everyone resolved never to speak of it again. Except for motoring journalists looking for an intro to an article about a new mid-size Jaguar.
That's right – Jaguar are having another crack at the mid-size segment. This time with what, on paper, would seem to be a far more convincing effort than the unpleasant X-Type.
We headed to the launch of the new XE to find out.
What is it?
As stated above, the XE is a new mid-size Jaguar, taking on the rapidly diminishing segment that the X-Type failed to even dent.
But there is very good reason to expect things will be different this time around. The first car to be built on Jaguar Land Rover's new modular vehicle architecture, Jaguar claim the XE is capable of taking on the best in the segment as far as dynamics go, and with the current Jaguar design language featuring heavily both inside and out on the XE, things certainly look good.
The XE initially comes to New Zealand with a choice four trim levels and three engines. The Pure, Prestige and R-Sport models come with a choice of either a 147kW/320Nm 2.0-litre inline four-cylinder petrol turbo engine or a 132kW/430Nm 2.0-litre inline four-cylinder diesel turbo, both hooked up to an eight-speed automatic transmission.
The single S model is only available with a 250kW/450Nm 3.0-litre supercharged petrol V6, also using the ZF eight-speed transmission.
The Pure starts off the range at $74,900 for the petrol and $76,900 for the diesel and comes standard with cloth upholstery, gloss black interior trim highlights, 17-inch alloy wheels, dual zone climate control, electric front seats, front and rear parking sensors, rain sensing wipers, satellite navigation, an 8-inch touchscreen, Bluetooth phone connectivity and media streaming, autonomous emergency braking, lane departure warning,and a tyre-pressure monitoring system
The Prestige costs $78,900 for the petrol and $80,900 for the diesel and adds leather upholstery, ambient lighting, brushed aluminium highlights, 18-inch alloy wheels and an upgraded 80W audio system.
The R-Sport lands at $79,900 for the petrol and $81,900 for the diesel and brings mesh fabric inserts to the leather seats, etched aluminium highlights, a rear spoiler and sports suspension.
The V6-powered S model costs $106,000 and is the sportiest (so far) of the XE variants. It comes standard with suede cloth panels in the leather seats, dark hex aluminium highlights, a body kit, red brake callipers, 19-inch alloy wheels, a rear spoiler, keyless entry, a 380W Meridian sound system, xenon headlights and Adaptive Dynamics.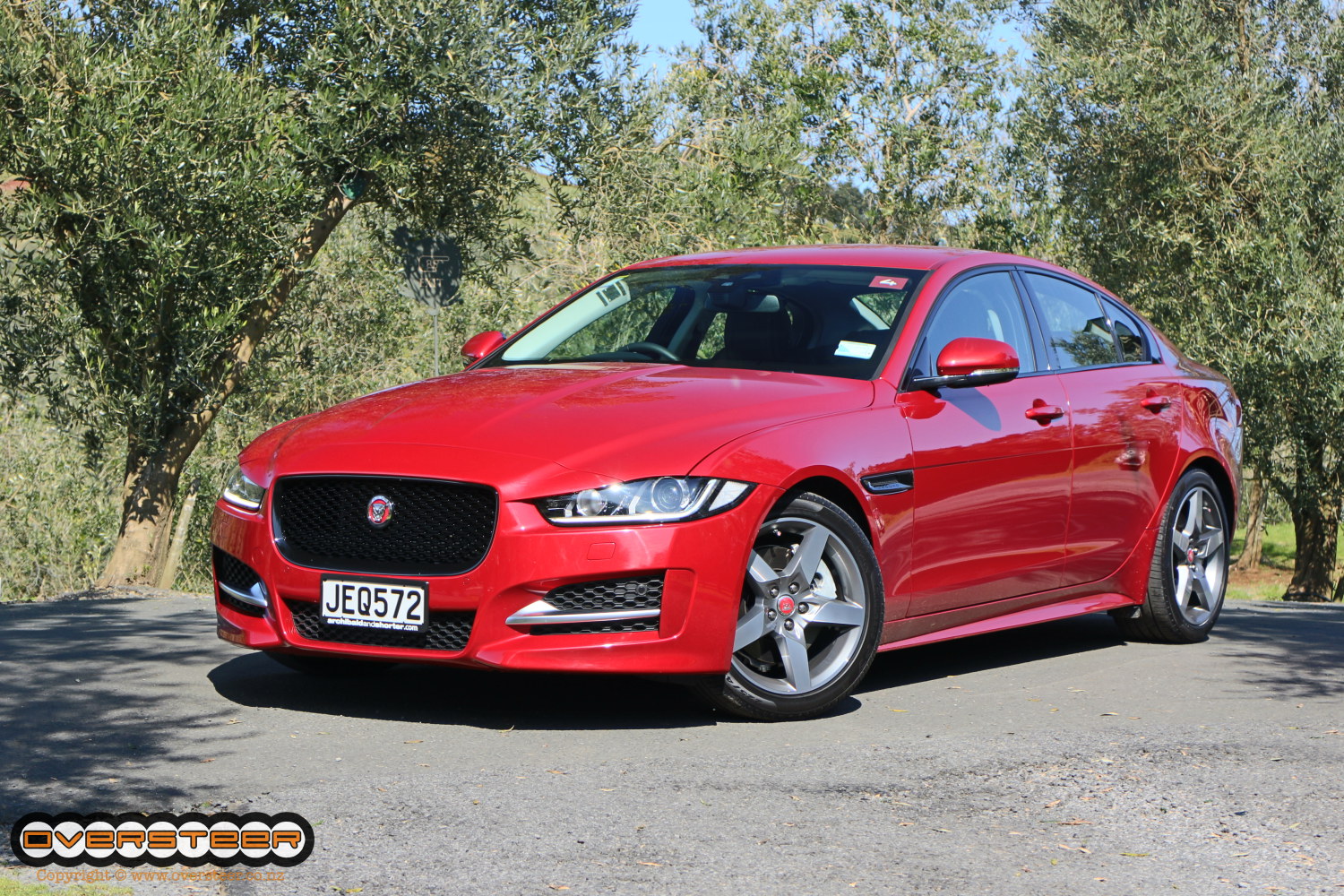 What is it like?
The XE can truly stand toe-to-toe dynamically with anything in the segment. It possesses razor sharp and precise turn-in, while also boasting lithe playfulness to the chassis that is quite unlike anything else in the segment.
While the 3 Series BMW may offer more involvement and feedback, the XE excels in super-fast responses and agility. Where it doesn't do quite so well, however, is in terms of character, particularly where the engines are concerned.
While the diesel engine was unavailable at the launch, we did get to spend some time in both the petrol cars – the four-cylinder turbo and the supercharged V6.
Both pack plenty of power to make the most of the excellent handling, with the V6 having a particularly strong punch in the mid-range, but neither produces anything in the way of an evocative sound. The four-cylinder almost gets there with its slightly raspy tone, but the V6 is simply flat and characterless, despite being relatively loud.
Inside it is also a mixed bag. The base model Pure's cloth upholstery and plain dash is rather drab, if beautifully built and finished, but is never as classy as the excellent interior in the C-Class Mercedes.
The upper spec cars fare better, but still fall short of the Mercedes in terms of sheer excellence. This isn't to say they are in any way bad – quite the opposite in fact – its just that the Germans in general, and Mercedes in particular, have a definitive upper hand in terms of interior design and quality.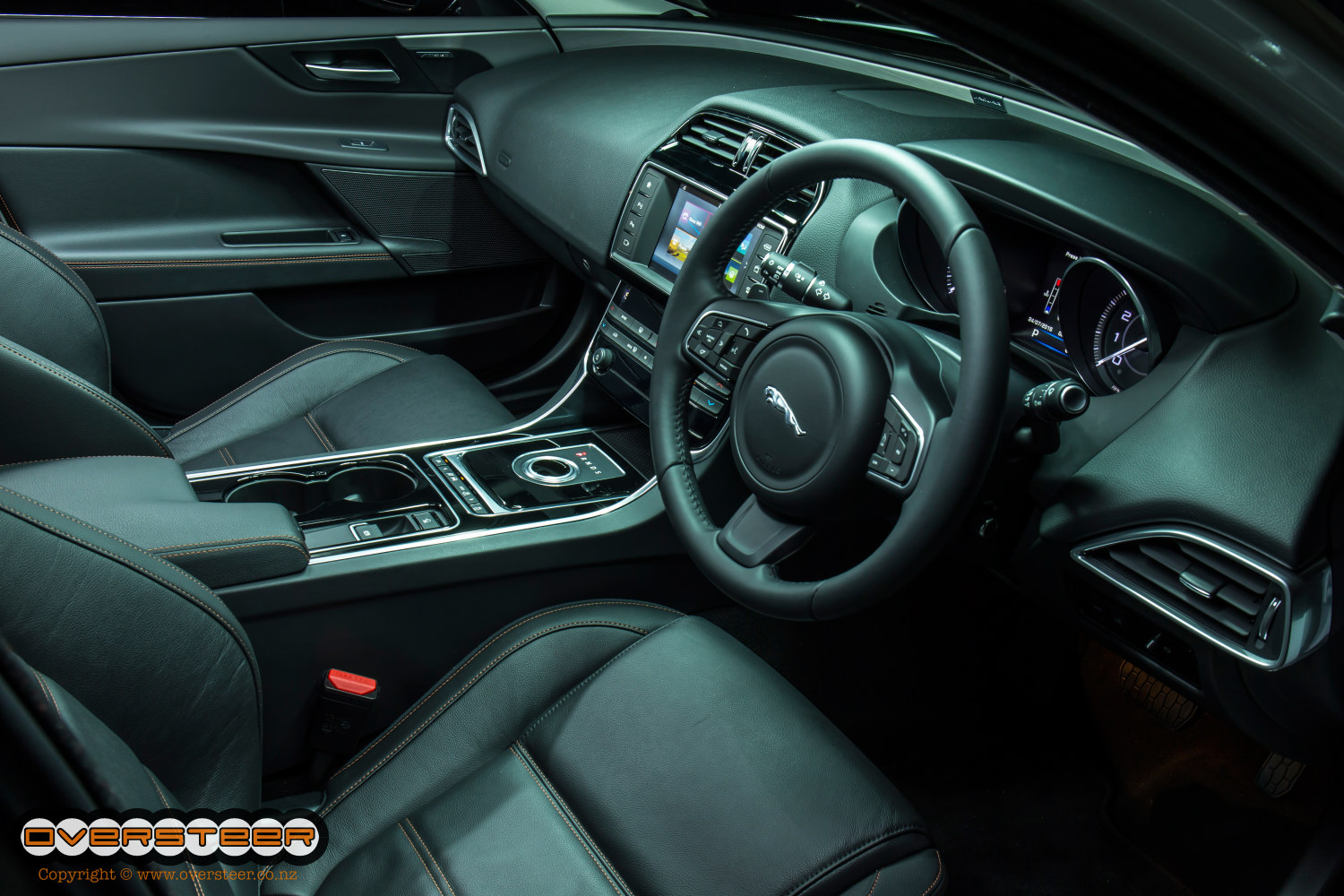 What's good about it?
It looks sensationally aggressive from the front and has the performance to match. Strong engines fantastically compliment the excellent, agile handling. Despite the sharp handling, the XE still manages to have an excellently supple and compliant ride. Brilliantly comfortable interior is well built, attractive and sensibly laid out. Quintessentially Jaguar character resonates throughout.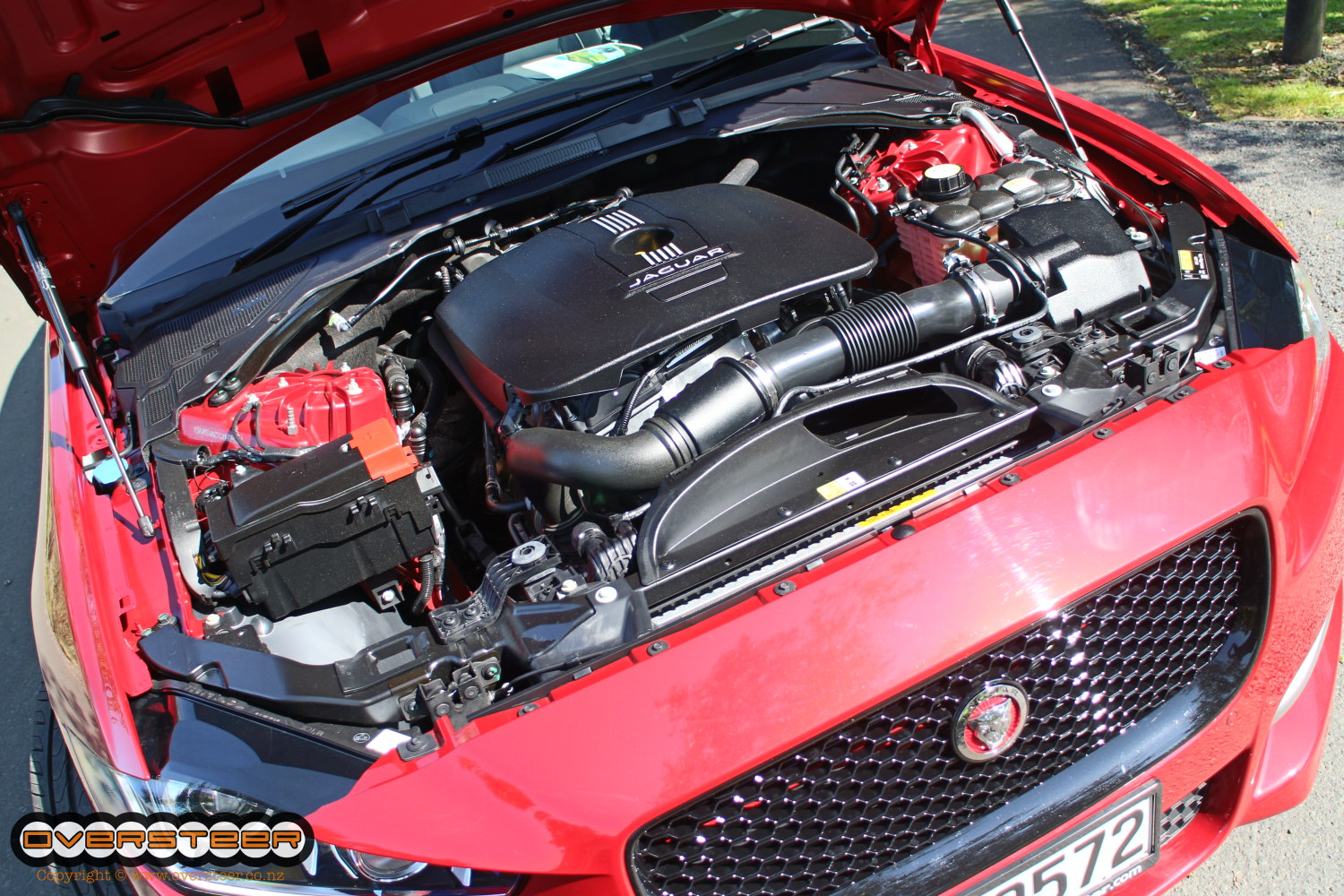 What's not so good?
Base model interiors slightly drab and uninspired. Engines have plenty of power, but lack character. Styling is a little too much like the XF from the front and a lot too much like an Audi A4 from behind.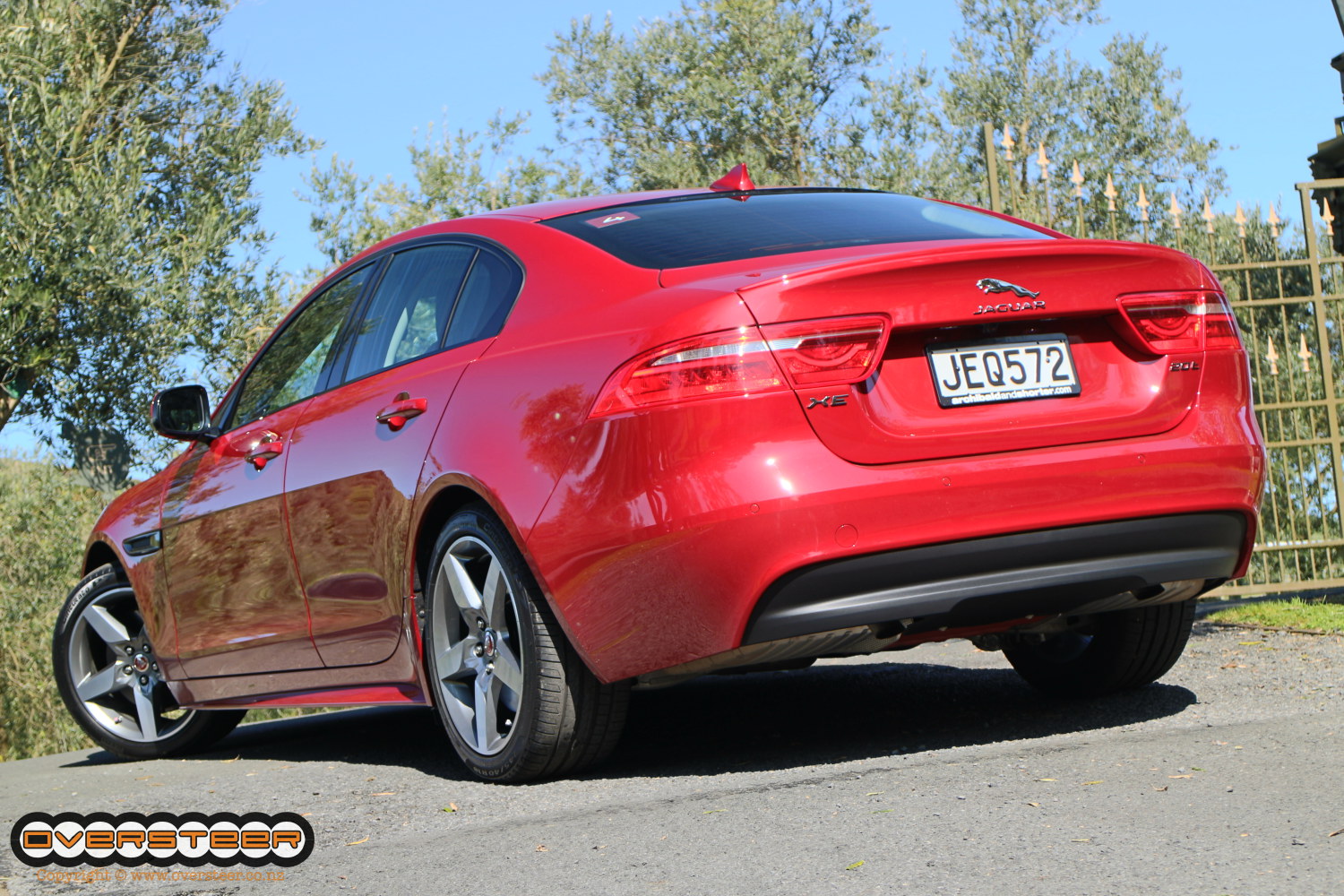 First impressions?
A deeply impressive effort that successfully erases memories of the X-Type, the XE is a car that can truly take on the Germans.
Whether it beats them or not will depend on what you want out of a car. The XE excels in handling, has a superb ride and is something outside of the obvious in the segment.
It doesn't, however, quite offer the same level of intrinsic quality and excellence as the leaders in the luxury mid-size segment. The BMW 3 Series still offers a more involved driving experience, while the Mercedes C-Class is utterly gorgeous and has a thoroughly magnificent interior and the Audi A4 simply oozes quality and confident elegance.
Still, one thing is certain; Jaguar has never been so startlingly close to the Germans as it is with the XE, even beating them in a few key areas. The fact that it is NOT German, handles brilliantly and has an exceptional ride will be more than enough for some people, and rightfully so.
The XE is a thoroughly wonderful car.
Models/prices
XE Pure 20t – $74,900
XE Pure 20d – $76,900
XE Prestige 20t – $78,900
XE Prestige 20d – $80,900
XE R-Sport 20t – $79,900
XE R-Sport 20d – $81,900
XE S 3.0 V6 SC – $106,000
For full specifications of the Jaguar XE click here.