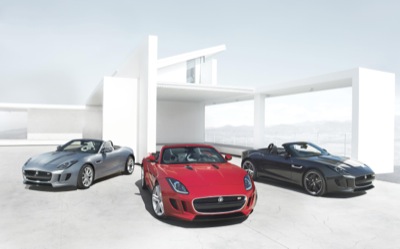 New Zealand Jaguar distributor, Motorcorp, has revealed local pricing and spec for the forthcoming small Jaguar sports car – the F-Type.
The long-awaited convertible will be available in three models, with two different engines.
The 3.0-litre 250kW/450Nm supercharged V6 kicks off the range at $140,000, while the more powerful 3.0-litre 280kW/460Nm supercharged V6 drops in at $155,000.
The range-topping 5.0-litre supercharged V8 pumps out a mighty 364kW and 625Nm and will set you back an equally mighty $180,000. All three variants are hooked up to an 8-speed automatic transmission.
The 250kW V6 will scamper to 100km/h from a standing start in 5.3 seconds and on to a top speed of 260km/h, while the 280kW V6 gets the 0-100 down to 4.9 seconds and cranks the top speed up to 275km/h.
Of course, the supercharged V8 is the King of the Sprint, clocking in at 4.3 seconds to 100km/h, with a top speed of 300km/h.
The full spec-sheet can be downloaded here: F-Type spec sheet