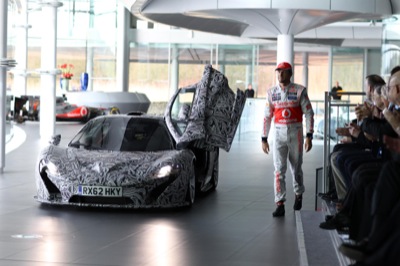 McLaren's new hypercar, the P1, has made its first public appearance, driven by none other than 2009 Formula 1 World Champion Jenson Button.
Button drove the new, still disguised P1 during a drive-through of several cars from McLaren's history at the launch of the company's MP4-28 F1 car. Although a very low-speed run, it was the first time Button has driven the new car and he is keen for more.
"I obviously didn't learn anything about the car in a short, low-speed run, but everything I've heard about it makes me want to get more involved in the programme," British website, Autocar, quotes Button as saying. "For now, the the car has its own development team, but I hope to get more involved."
While the P1 has been shown in concept and development prototype form, the first appearance of the actual production version of the car is expected to be at the Geneva motor show, with the company's 50th anniversary being the expected delivery date for the first of the customer cars.