OVERSTEER ROAD TEST: Subaru Legacy X
The new Subaru Legacy sedan range-topper is a slightly unusual beast – it is a sedan with the increased ride-height of crossover. Fully-loaded with tech and toys, the Legacy X may look a bit odd and fill an extraordinarily narrow niche, but it is quite convincing…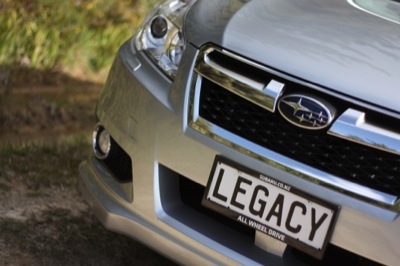 Alright, I will admit I was skeptical about the idea of a jacked-up Legacy sedan. What was the point? If you wanted to go slightly further off the road than a standard Legacy would allow, then there was the Outback, which is more or less a jacked-up Legacy wagon anyway.
Subaru argue that the Legacy X, as it is known, will be of interest to rural businesspeople who want to maintain a "premium image". Obviously a wagon isn't "premium" enough for these people (which will no doubt come as a surprise to Audi…), but I have to admit it does kind of makes sense, in a very niche way. Which is also why Subaru NZ only expects to sell about 20 Legacy Xs a year in this country.
If the argument seems slightly flawed, the execution is actually very convincing indeed. The Legacy X has a 50mm increase in ride height over a normal Legacy sedan, giving it an impressive ground clearance of 200mm. Now, this is absolutely useless to your average city-dweller, but this is most certainly not who the Legacy X is aimed at.
In taking photos of the Legacy X for this article I decided to take it to a spot I usually take car-based SUVs for "off road" photos. It is not exactly a hard-core off road spot, but a normal car would have no hope of reaching it. I will admit I had my reservations, but the Legacy X handled it with aplomb.
While the added height does add somewhat to the standard Legacy's tall, thin, awkward look, it actually works quite well at any viewing angle other than straight front- or rear-on.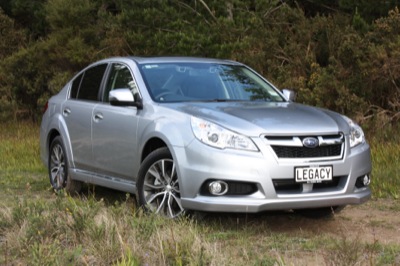 Despite this tallboy stance the Legacy X still handles remarkably well. Throw it not a corner and you would be hard-pressed to guess you were in a vehicle with 200mm ground clearance, as it tucks in as nicely as a standard-height Legacy and betrays very little body roll.
The 3.6-litre horizontally opposed six-cylinder engine is strong and throaty, with a fat mid-range that makes cruising effortless in the Legacy X. It is a bit dull off the line, but once the revs build and you are in the middle of the fat torque curve, everything comes right.
The Legacy X clocks in at $57,990, making it the top of the Legacy sedan range, as such it basically comes with everything: leather upholstery, powered/heated front seats, satellite navigation, automatic lights/wipers, windscreen wiper de-icer, a ear-bleeding McIntosh 10-speaker sound system and the new, high-tech EyeSight active safety system.
EyeSight is most impressive, and I could easily devote many, many paragraphs to how it works, but why do that when Subaru USA has a video that explains it far better than I ever could…
The radar-based cruise control is particularly effective in Auckland's stop-start motorway traffic, while the lane departure warning can thankfully be turned off on the open road, where it simply becomes an annoyance.
Because it is camera-based, it does have its limitations, but once you get used to it, it is a very easy system to live with.
All up, the Legacy X is a very easy car to like. If you spend a lot of time in rural areas it is a car that actually makes a lot of sense. Providing you really don't want a wagon, that is.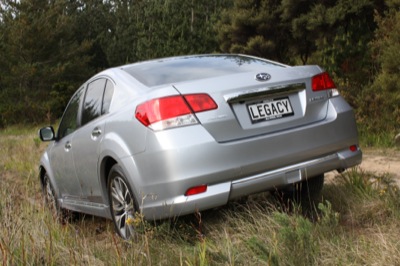 Need to know
Price: $57,990
Engine: 3630cc 6-cylinder petrol
Power/torque: 191kW/350Nm
Transmission: Five-speed automatic
0-100km/h: n/a
Fuel consumption: 10.3L/100km
CO2 emissions: 242g/km