The Lexus IS is the car that scared the hell out of BMW when it first car out. With a choice of a screaming four-cylinder or a refined V6, the IS was the car that looked set to challenge the 3 Series as the ruler of the medium sporty sedan segment.
Except that never really happened. The IS grew bigger and more refined as the years went by and it was always never quite as good as a 3 Series. But now there is a new one.
And what a startling-looking car it is too. The looks alone mark the IS out as something distinctly different in the segment, and that attitude continues into the interior as well – the IS has become Japanese again. And, by God, does it look brilliant…
But does it go as good as it looks? We spend some quality time with a hybrid IS300h F Sport to find out…
Outside
Likes: The gaping grille, pointy lights and super-aggressive swooping lines that look a bit overwhelming at first glance (and in photos) work well in the metal, giving the IS a truly distinctive and aggressive look. IS styling particularly suits the F-Sport body kit. Finally Lexus have stopped trying to be German and have gone distinctly Japanese with their styling.

Dislikes: while looks are VERY subjective and the IS will be a very polarising car, we personally think it looks brilliant – after spending time with two examples, there isn't a single exterior feature we would change on it!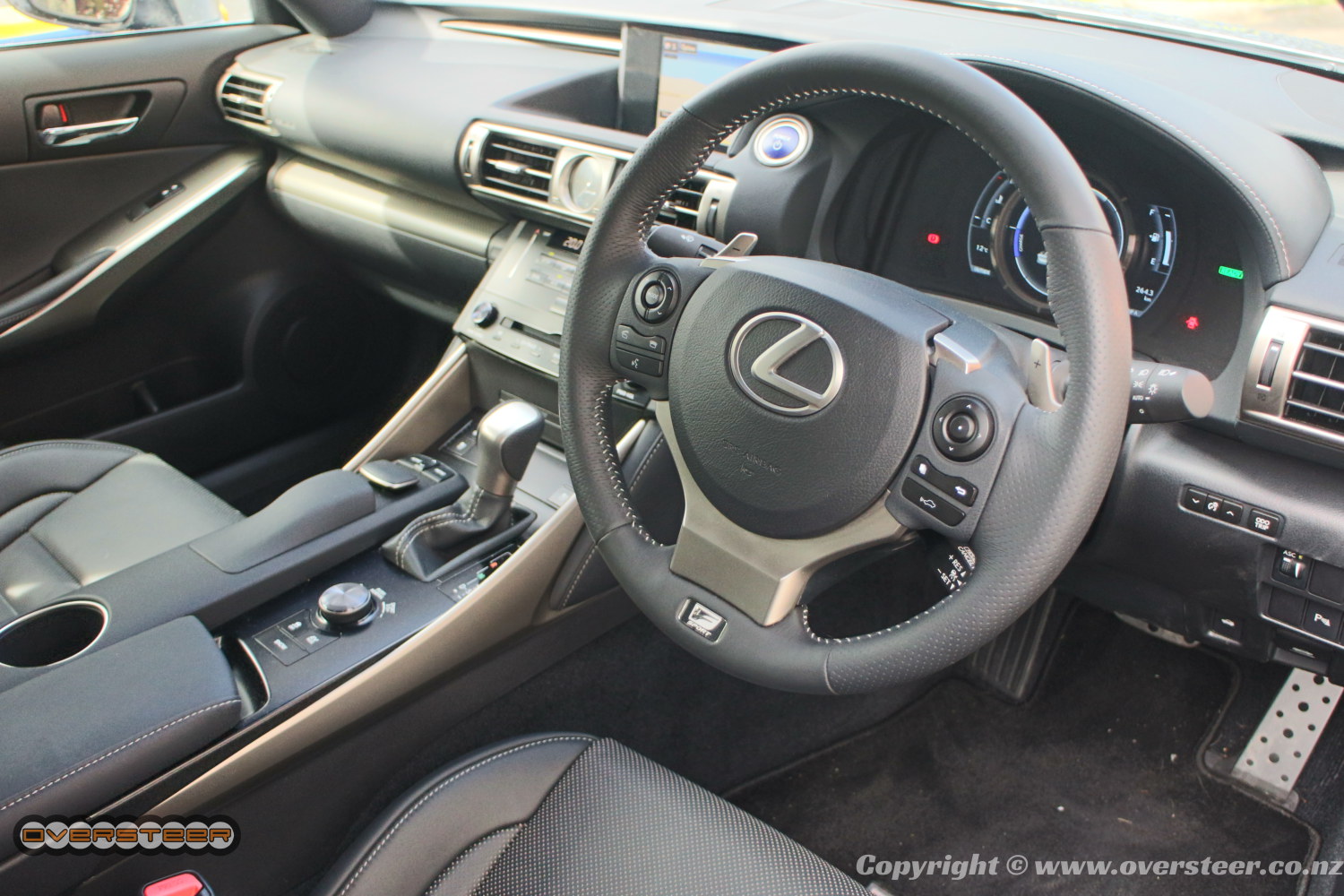 Inside
Likes: Quite possibly the best interior in a mainstream car. The build quality is fantastic, but the styling is utterly unlike anything else on the road – and it looks brilliant! Amazing seats and a perfectly sculpted steering wheel. The dahsboard is simply incredible and the sliding instrument bezel in the main display is terribly gimmicky, but utterly awesome all the same.

Dislikes: The cupholders are in a very silly place, right where you constantly smack them with your elbow. The traditional Lexus "melted plastic slug" joystick controller for the car's various systems is back and just as annoying to use as ever, even mores now that the button on the side has gone…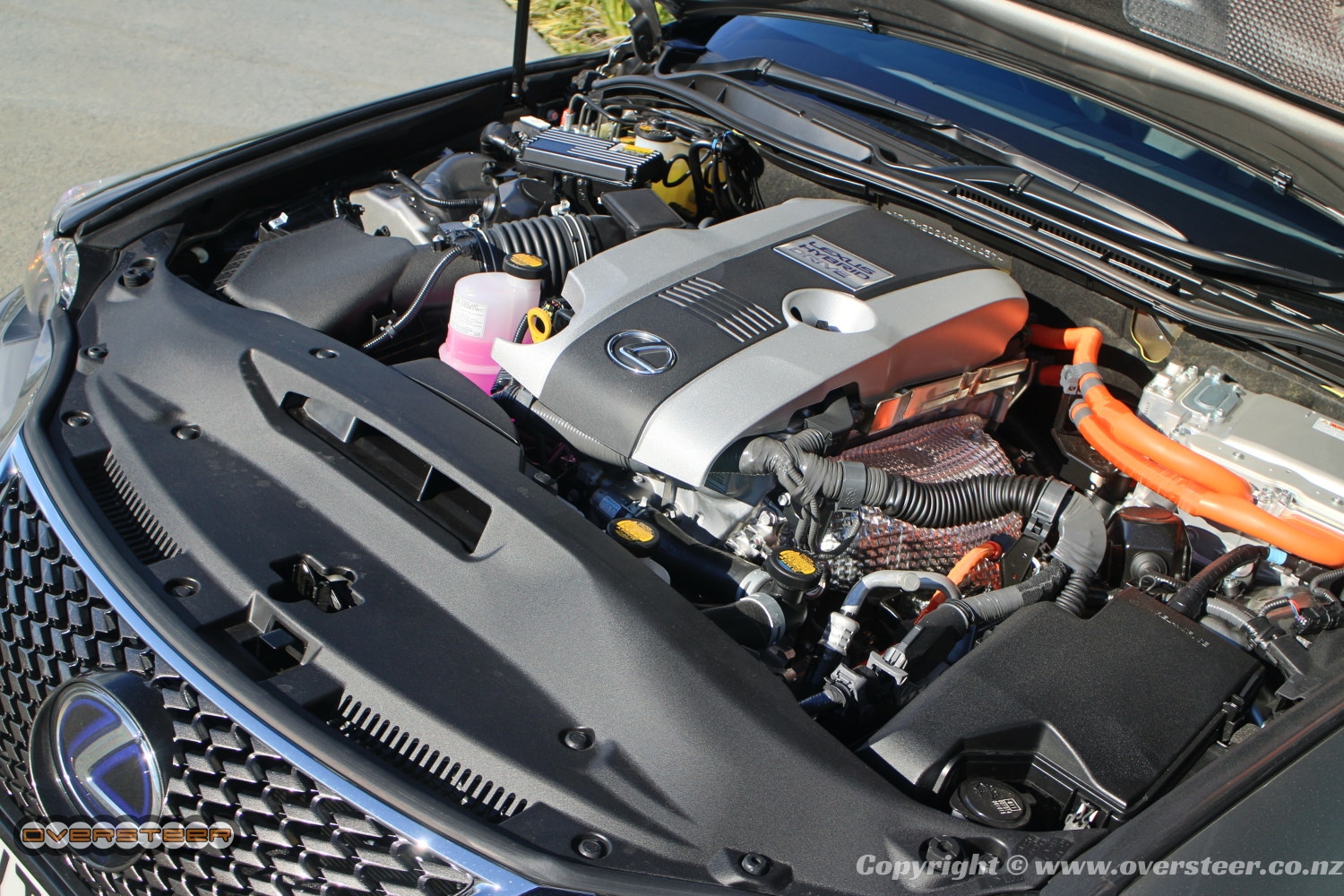 Under the bonnet
Likes: The IS300h's hybrid drive system is a strong and willing unit that is capable of a surprising amount of electric only running around town. CVT is well suited to the petrol/electric drivetrain.

Dislikes: But it's still a CVT. Switching to manual mode doesn't really do much, as the transmission still does exactly what it wants, regardless of what "gear" it claims to be in…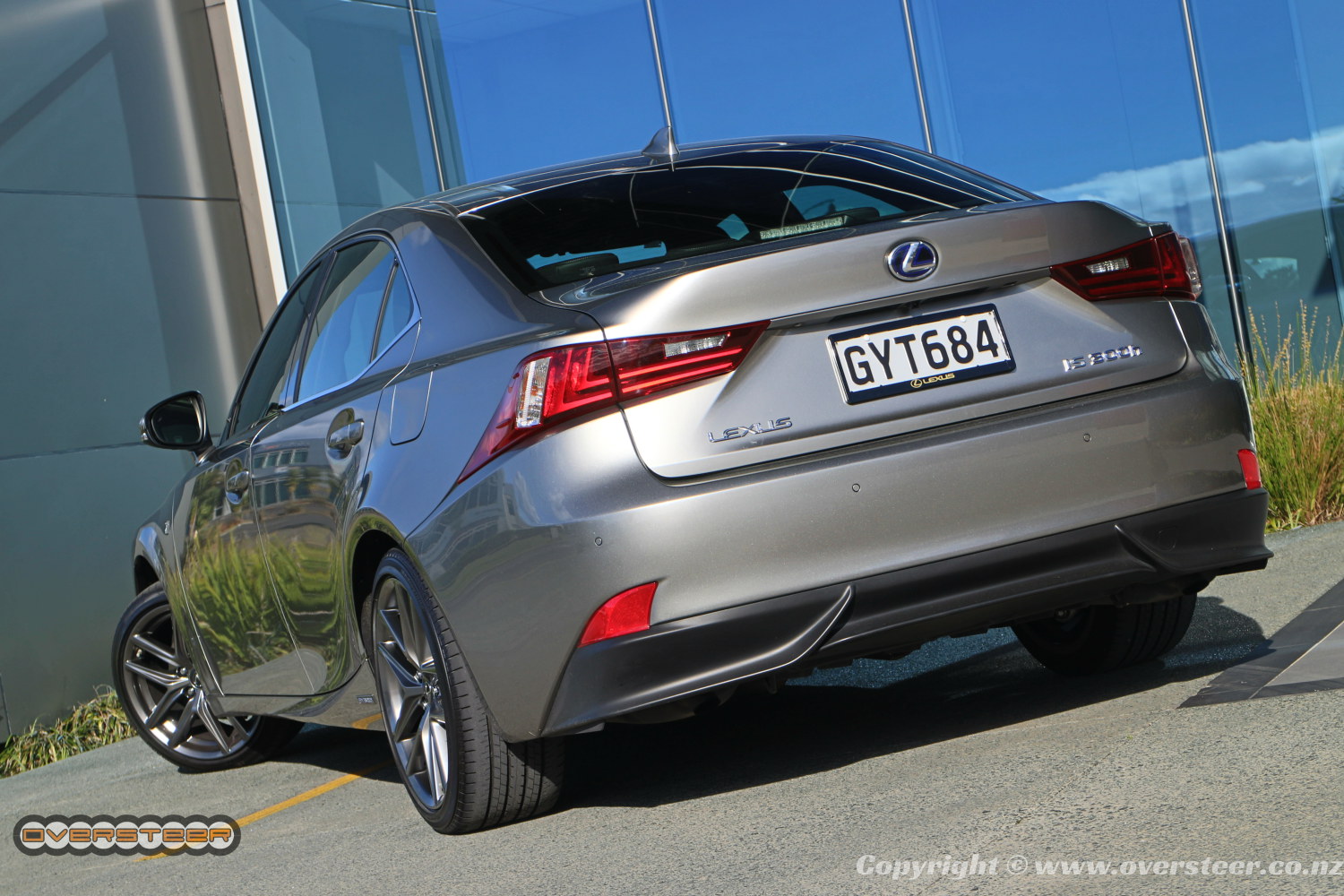 On the road
Likes: Power delivery is never ballistic, but pretty much always just right. Smooth, unflustered ride with confident and capable handling. Digs into a corner and will doggedly stay there, with minimal drama. Impressive ride quality over all surfaces.A superb high speed cruiser.

Dislikes: Not as sharp or playful as a 3 Series. Steering slightly mute, but nicely weighted.
Verdict
There is simply no way it would be possible to mistake a Lexus IS for any other car on the road. Whether you are standing outside or sitting inside, the IS is a singularly unique design.
Whether you consider this a good thing or a bad thing will pretty much decide your opinion on the IS300h. You will either love it or hate it.
Personally, I love it, but that wasn't always the case. When I first saw photos of the new IS I was horrified. It was all massive, gaping grilles and weird, swoopy lines. Then I saw one in the metal and it seemed to work a bit better. Then I spent a week with the IS300h and I came to absolutely love its aggressive and unique design, but most particularly its distinctly Japanese character.
For years Lexus has tried to be like the Germans, but with the new IS it is almost like they have realised that there is more value in simply being Japanese. And that works spectacularly well here.
Our IS300h came to us in F Sport guise, meaning a body kit that makes the car even more aggressive and gaping, and suits it perfectly.
In terms of performance and handling, the IS300h is still traditionally where Lexus has been – i.e: not quite as good as BMW. Still very good, very comfortable and very entertaining, but never quite as visceral and thrilling as a BMW.
Still, comfort has always been the Lexus skew when it comes to things like this, and the IS300h is no exception there, being amazing comfortable as well as amazing looking.
For a Quick Drive of the Lexus IS250 F Sport click here.
Price: $91,995
Engine: 2.5-litre inline four-cylinder petrol engine/electric motor
Power/torque: 164kW/221Nm
Transmission: Continuously variable transmission
0-100km/h: 8.5 seconds
Fuel consumption: 4.9L/100km
CO2 emissions: 113g/km